Photos: West Coast Premier Of GOTTA DANCE Hosted By Carol Channing
"Bravo!  A complete and total home run!!! Dori topped herself," says Joan van Ark.  Dori Three-time Tony-winning Broadway producer Dori Berinstein has added another hit to her already extensive film and television producing and directing career with "Gotta Dance."
"The title says it all, as you watch you have an almost uncontrollable urge to get up and dance. I guarantee you'll be hip hopping up the aisle and wishing it were just beginning." -
Mary Jo Catlett
"Gotta Dance is incredible!  It proves that you can enjoy life at any age.  This was the first time I recall seeing an audience give a movie a standing ovation." -
Roland Kickinger
Included among the star studded evening at the The Academy's Pickford Center for Motion Picture Study's Linwood Dunn Theatre for the West Coast Premiere of "Gotta Dance" were
Jack Carter
,
Mary Jo Catlett
,
Romi Dames
,
Ilene Graff
,
Tippi Hedren
,
Roland Kickinger
, Sally
Kirkland,
Kate Linder
,
Ruta Lee
,
Julie Newmar
,
Joan van Ark
,
Dee Wallace
,
Lesley Ann Warren
, and the evening's host
Carol Channing
. If you morphed the movies "Fame" and "Cocoon," you would have "Gotta Dance." The movie chronicles the debut of the New Jersey Nets' first-ever senior hip-hop dance team, 12 women and 1 man - all dance team newbies, from auditions through to center court stardom.  The movie absolutely destroys aging myths and misperceptions."If you feel like you haven't got "it" anymore, go see "Gotta Dance"!!  After you see, "Gotta Dance" I think you will agree with me, those senior citizens rock!....and hip hop!!!!  Bravo!" -
Tippi Hedren
"This movie is inspirational, life affirming and ultimately just plain joy filled! I was smiling and cheering the whole time!" -
Lesley Ann Warren
Three time TONY winner, Ms. Berinstein, is also a co-founder of Camp Broadway, a behind-the-scenes theater camp aimed at giving kids a life-long love for the arts, which may be why she asked three time TONY winner and children's advocate for Arts in public schools,
Carol Channing
, to introduce the evenings premiere screening in Los Angeles.  Miss Channing explained how she herself began dancing as a young girl, when she met her now husband
Harry Kullijian
, exclaiming,
"Ohhhh, Dori!  She is so wonderful!  "Gotta Dance" is just so much fun.  I got to Rap with
LL Cool J
ay on the TONY Awards, so watching these talented seniors Hip Hop was no real surprise to me.  After all it is the first 80 years that are the hardest. Yeah!" And as the movie points out, Miss Channing is absolutely correct.  Who says you can't hip-hop if you're 80-years-old? Who says your days as a performer are long gone? Just because you're a card-carrying member of AARP, do you
have to give up on your dreams? "An evening with
Carol Channing
is always special.  The film, "Gotta Dance," by
Dori Bernstein
depicts the role of dance in the lives of The Young and The Rest-of-Us in a very entertaining manner.  Don't miss this!  It will make you cry, laugh and most of all, smile."  -
Kate Linder
"How exciting it was to hang out with
Carol Channing
,
Tippi Hedren
, and Mr. Universe!  That was definitely the most fun I've ever had at an event. And I absolutely loved the movie, I thought it was so fun and very inspiring--it made me want to jump out of my seat and dance! My agent and I want to go take hip-hop classes now." -
Romi Dames
A highlight of the evening included a selection of Gotta Dance cast members (Audrey Eteng-Stevens, Edie Ollewerther, Joe Bianco, Claire Gaines, Betty/Betsy Walkup and Deanna Schwartz.) performing live for the audience - a routine that was rewarded with a standing ovation from the patrons.
Dori Berinstein
has executive-produced and/or supervised over 15 feature productions including
Isaac Mizrahi
's award winning documentary "Unzipped" (co-executive producer) and "Dirty Dancing."
It was only a year ago that Ms Berinstein offered moviegoers her debut as a feature film director with the hit "ShowBusiness: The Road to Broadway."  Currently her 11th Broadway show, "Legally Blonde: The Musical," based on the MGM movie, is touring the country. Dori's previous theatrical productions include: Best Musical winner "Thoroughly Modern Millie," "The Crucible" with Liam Neeson and Laura Linney, "Fool Moon" with Bill Irwin and David Shiner, "One Flew Over The Cuckoo's Nest" starring Gary Sinise and David Henry Hwang's "Golden Child."
For more information about "Gotta Dance" visit
http://www.gottadancethemovie.com/
.
Photo Credit: Bill Dow

Dee Wallace, Kimberlee Garris, Romi Dames, Sally Kirkland, Kate Linder, Carol Channing, Dori Berinstein, Tippi Hedren, Sid Ganis, Roland Kickinger, Lesley Ann Warren, Linda Goldstein Knowlton, Ilene Graff, Ruta Lee, Joan van Ark, Jack Carter, Joe Bianco, Audrey Eteng-Stevens, Edie Ollewerther, Claire Gaines, Betty/Betsy Walkup and Deanna Schwartz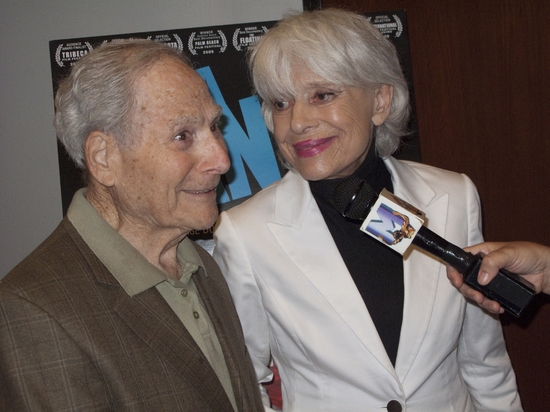 Harry Kullijian and Carol Channing

Roland Kickinger and Romi Dames

Sammi Cannold, Dori Berinstein, Roland Kickinger, Tippi Hedren, Carol Channing and Romi Dames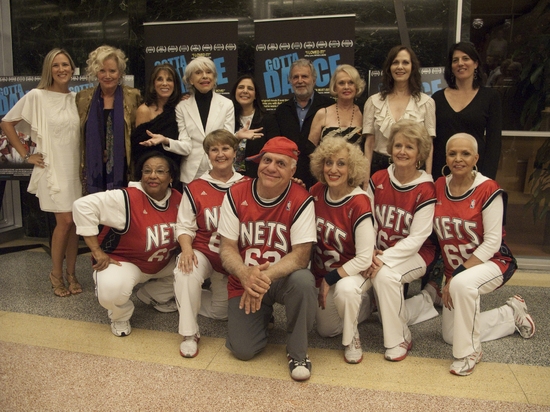 Kimberlee Garris, Sally Kirkland, Kate Linder, Carol Channing, Dori Berinstein, Sid Ganis, Tippi Hedren, Lesley Ann Warren, Linda Goldstein Knowlton, Audrey Eteng-Stevens, Edie Ollewerther, Joe Bianco, Claire Gaines, Betty/Betsy Walkup and Deanna Schwartz

Carol Channing and Dori Berinstein

Carol Channing