Photos: Rubicon Theatre Company is TAKING SIDES This Fall
Rubicon Theatre Company (RTC) opens the company's 2017-2018 20th Anniversary Season with a provocative and gripping drama based on the story of German conductor and composer Wilhelm Furtwängler, who remained in Germany after Hitler's rise to power and was later accused of being a Nazi sympathizer. Written by Academy Award-winner SIR Ronald Harwood ("The Pianist") and directed by Ovation Award-winner STEPHANIE COLTRIN, the play explores the terrible collision between art, power, politics and personal responsibility. The cast includes stage and screen veteran and returning Rubicon artist Peter Van Norden (A Christmas Carol, Copenhagen) as Furtwängler, Patrick Vest (Moonlight and Magnolias) as interrogator Major Arnold, and Cylan Brown, TARA DONOVAN, VIVIEN LATHAM and Adrian Sparks (Ovation Award-nominee for Papa).
TAKING SIDES opens at 7 p.m. on Saturday, October 28, 2017 at Rubicon Theatre, 1006 E. Main Street in Ventura's Downtown Cultural District. The opening night is followed by a party with the cast and local dignitaries at Rhumb Line Restaurant in the Harbor. Low-priced previews are Wednesday, Oct. 25, at 7 p.m., Thursday, Oct. 26 at 8 p.m. and Friday, Oct. 27 at 8 p.m. The production continues Wednesdays through Sundays through November 12, 2017. For tickets, go to www.rubicontheatre.org or call 805.667.2900.
Harwood's dramatization of the investigation into Furtwängler is set in 1946 in the American Zone of occupied Berlin. Major Steve Arnold interviews Wilhelm Furtwängler, a conductor at the pinnacle of his career, (and Hitler's favorite conductor) in preparation for his de-Nazification tribunal. Furtwängler had become increasingly controversial when he chose to remain in Germany while many of his colleagues had fled out of protest or persecution. Did he naively believe that art was above politics? Did he allow himself to be manipulated by the Nazi propaganda machine? Or was he, in fact, a collaborator?
Taking Sides starkly asks complicated questions about personal and artistic responsibility in the face of unspeakable horror. Furtwängler recognized that the Nazis needed him, and by many accounts often used this to effect good, flouting Nazi authority where he thought he could, helping some Jewish musicians escape, and even arguing with Josef Goebbels in the newspaper. When it became clear that Germany had lost the war, he became a Nazi target and escaped to Switzerland. But as Nazi crimes came to light during the trials at Nuremberg, and the Allied de-Nazification Tribunals took place, answers were relentlessly pursued. Where other artists who had been members of the Nazi party were allowed to quickly return to work, Furtwängler's case dragged on.
Says Taking Sides Director Stephanie Coltrin, "The investigation into Furtwängler's motives and the far-reaching consequences of his choices for himself and others lead us ultimately to ask ourselves what we might do in similar circumstances."
Low-priced previews for TAKING SIDES begin on Wednesday, Oct. 25 at 7 p.m., continuing Thursday, Oct. 26 and Friday, Oct. 27 at 8 p.m. Opening night is Saturday, Oct. 28 at 7 p.m., with a post-show party at Rhumb Line on the Harbor. The production continues Wednesdays at 2 and 7 p.m., Thursdays and Fridays at 8 p.m., Saturdays at 2 and 8 p.m. and Sundays at 2 p.m. through November 12. Talkbacks are scheduled after the Wednesday 7 p.m. performances on Nov. 1 and 8.
Regular tickets for TAKING SIDES range from $30 to $55 (plus a $4 processing fee). Opening night is $100, including the pre-and post-show reception. Tickets for students with ID for regular performances are $25; Equity members and military are $30. There is a $5 discount for seniors 65 and older. Discounts of 10% to 20% are available for groups of 10 or more, depending on the size of the group.
All performances are at Rubicon Theatre, 1006 E. Main Street in Ventura's Downtown Cultural District (the corner or Main and Laurel).
Tickets for TAKING SIDES may be purchased in person through the Rubicon Theatre Company Box Office at 1006 E. Main Street, the corner of Main and Laurel in Ventura (Laurel entrance and downstairs), or online at www.rubicontheatre.org. To charge by phone, call 805.667.2900. Box office hours are Noon to 6 p.m., seven days a week.
Photo Credit: Josh and Veronica Slavin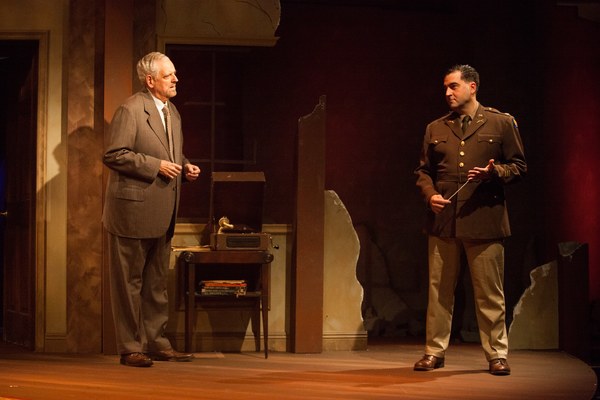 Stage and screen veteran and returning Rubicon artist Peter Van Norden (A Christmas Carol, Copenhagen) as German composer Wilhelm Furtwängler and Patrick Vest (Moonlight and Magnolias) as interrogator Major Arnold in Taking Sides by Academy Award-Winner Sir Ronald Harwood and directed by Ovation Award-winner Stephanie Coltrin

Patrick Vest as Major Arnold, Tara Donovan as Emmi Straube and Peter Van Norden as German composer Wilhelm Furtwängler in Taking Sides by Academy Award-Winner Sir Ronald Harwood and directed by Ovation Award-winner Stephanie Coltrin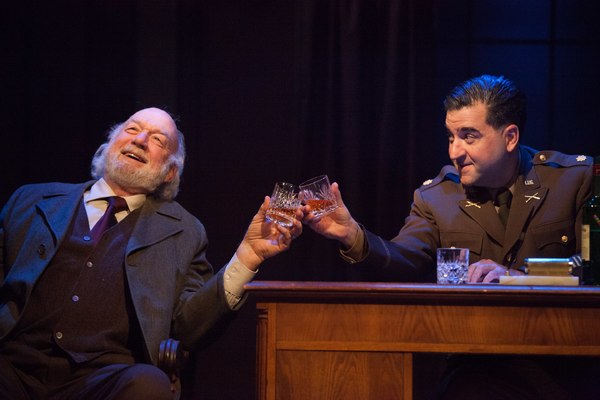 Adrian Sparks as Helmuth Rode with Patrick Vest as Major Arnold share a drink in Taking Sides by Academy Award-Winner Sir Ronald Harwood and directed by Ovation Award-winner Stephanie Coltrin

Vivien Latham as Tamara Sachs and Adrian Sparks as Helmuth Rode in Taking Sides by Academy Award-Winner Sir Ronald Harwood and directed by Ovation Award-winner Stephanie Coltrin

Broadway and film actor Peter Van Norden returns to Rubicon in the role of German composer Wilhelm Furtwängler. Taking Sides was written by Academy Award-Winner Sir Ronald Harwood and is directed by Ovation Award-winner Stephanie Coltrin