Photos: Loft Ensemble Celebrates Opening Night of THE VAGINA MONOLOGUES
A who's who of film and television stars will perform Eve Ensler's The Vagina Monologues in an intimate theatrical setting for four benefit performances only on May 10, 11, 17, and 18 at 8pm at the Loft Ensemble in Sherman Oaks, it was announced today by producer and director Sheena Metal. All proceeds will benefit V-Day (vday.org), A Global Movement to End Violence Against Women and Girls, and various local anti-violence charities.
Each evening will feature a different group of performers. Among the long list of actors who will be participating are (in alphabetical order) Alison Arngrim, Rae Dawn Chong, Frances Fisher, Carolyn Hennesy, Lainie Kazan, Cynthia Rothrock, Judy Tenuta, Suzanne Whang, and Debra Wilson. All appearances are subject to availability.
Sheena Metal is now celebrating the 12th anniversary of her involvement with the annual benefit readings of The Vagina Monologues. "It is thrilling to work with so many great actresses, all of whom are graciously donating their time and talents," said Metal, whose popular LATalkRadio show, The Sheena Metal Experience (M-F, 5-7pm) is only one of five programs she hosts on LATR each week. "I salute every artist, onstage and off, that is contributing to this special presentation of The Vagina Monologues."
Twenty years ago, Eve Ensler's play The Vagina Monologues gave birth to V-Day, a global activist movement to end violence against all women girls (cisgender, transgender, and gender non-conforming). Since 1998, The Vagina Monologues and other works have been performed across the world by local V-Day activists, raising over $100 million dollars for grassroots anti-violence groups, rape crisis centers, domestic violence shelters, and safe houses in places like Kenya and Afghanistan. In 2013, V-Day founded One Billion Rising, the largest mass action to demand an end to violence against women in history. V-Day and One Billion Rising are a crucial part of the global fight to stop gender-based violence through attacking the silence - public and private - that allows violence against women to continue.
Founded in 2016 by Sheena Metal, I Am Raising the Vibration of the Nation (and the World) is a global movement of peace, love, kindness, and unity. The movement strives to manifest a gentler, warmer, more light-filled planet. This year, RaisingTheVibration.org jumps aboard as one of the producers/presenters of The Vagina Monologues event in LA.
The benefit performances of The Vagina Monologues are on Thursday, May 10; Friday, May 11; Thursday, May 17; and Friday, May 18. Curtain time is 8pm. Tickets are $25 and may be purchased online at www.vdayla.com or by phone at (818) 437-0886. The Loft Ensemble is located at 13442 Ventura Boulevard, in Sherman Oaks, 91423.
Photos courtesy of Mike Pingel

Logo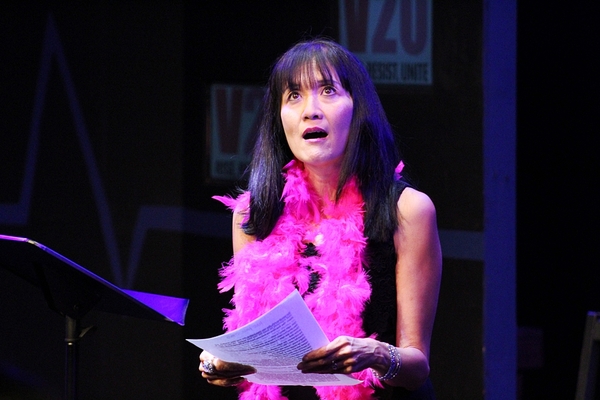 Suzanne Whang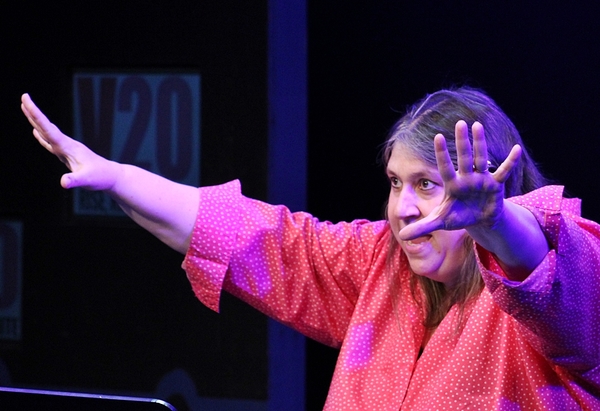 Sheena Metal

Jill-Michele Melean

Ericka Ervin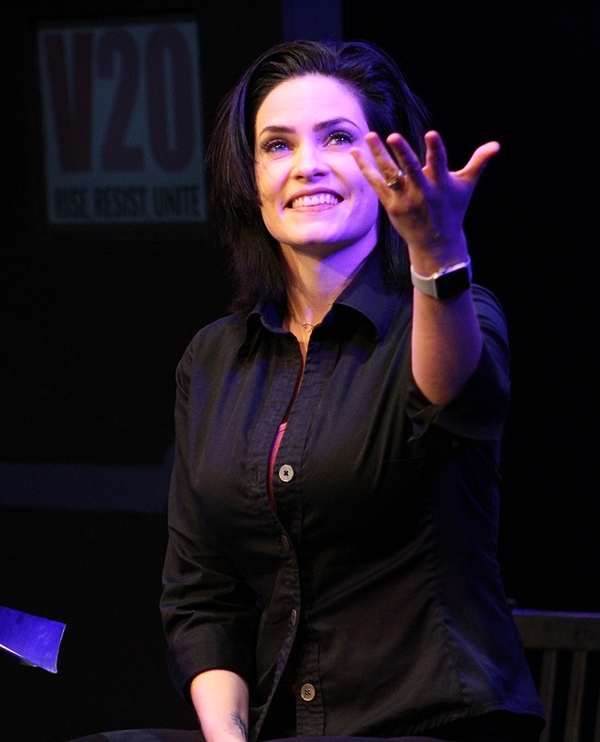 Jill Bennett

Sally Kirkland

Ensemble