Latest News on Mike Pingel
Mike Pingel News
Join a Tupperware Party with Tupperware Diva Kay Seida
by Chloe Rabinowitz - Nov 3, 2020
Tomorrow, Wednesday, November 4, 2020 at 7pm PST come join a virtual Tupperware Party with Tupperware Diva Kay Seida with a special fundraiser event to support AbilityFirst (www.abilityfirst.org)
Mike Pingel Releases New Book FLOWERS OF WEST HOLLYWOOD: FROM MY 2020 QUARANTINE WALKS
by Chloe Rabinowitz - Aug 11, 2020
The new book of photos called Flowers of West Hollywood: from my 2020 Quarantine walks by photographer Mike Pingel is now available on Amazon.com.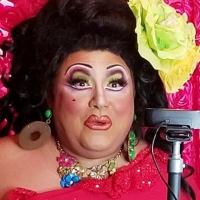 BWW Review: Kay Sedia's A HOUSE PARTY OF JUAN's Simply A Muy Necesario Alegría!!!
by Gil Kaan - May 6, 2020
A most welcomed hour of laughs and guffaws during our current stay-at-home status, Kay Sedia premiered her A HOUSE PARTY OF JUAN streaming online at StageIt.com on, most appropriately, Cinco de Mayo. With only one techie Mike Pingel and her husband Daron to help her broadcast, the show fabulously went off the rails with a few 'testicle' difficulties. Kay Sedia just went with the flow, smoothly commenting on the unexpected interruptions with her trademark Latina zingers.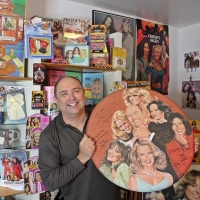 Charlie's Angels Toy Collection on Display for Charity Nov. 1 & 2
by Sarah Jae Leiber - Oct 28, 2019
The weekend of November 1st & 2nd at The Hollywood Show - Mike Pingel's personal Charlie's Angels Toy collection will be on display. The display will showcase over 100+ different Charlie's Angels toys which were made on the 1970s TV series Charlie's Angels.
Chat with Angelologist: Mike Pingel About the Classic TV Series: Charlie's Angels
by A.A. Cristi - May 22, 2018
Next week the original TV's Charlie's Angels will being its run on the MeTV channel on Monday, May 28, 2018 at 5pm est/pst.  The network will being with the very first episode  Hellride, starring Kate Jackson, Farrah Fawcett and Jaclyn Smith. 
Photo Flash: Loft Ensemble Celebrates Opening Night of THE VAGINA MONOLOGUES
by A.A. Cristi - May 11, 2018
A who's who of film and television stars will perform Eve Ensler's The Vagina Monologues in an intimate theatrical setting for four benefit performances only on May 10, 11, 17, and 18 at 8pm at the Loft Ensemble in Sherman Oaks, it was announced today by producer and director Sheena Metal. All proceeds will benefit V-Day (vday.org), A Global Movement to End Violence Against Women and Girls, and various local anti-violence charities.
Photo Flash: Pop Star Debbie Gibson Honored with Palm Springs Walk of Fame Star
by A.A. Cristi - Apr 23, 2018
On Friday, April 20, 2018, Chico's Angels were among the presenters for music icon, Debbie Gibson, who received her Star in Palm Springs, California.   Gibson  was honored with the 425th Golden Palm Star on the Palm Springs Walk of Stars, located at:130 N. Palm Canyon Drive, Palm Springs.

Photo Flash: New Film GONE ARE THE DAYS Premieres in Los Angeles
by A.A. Cristi - Mar 25, 2018
Last night, Oculi Entertainment & Directional Entertainment held the premiere of their new film Gone Are the Days at the Laemmle Music Hall Theater in Beverly Hills,  CA.  The film is set in early twentieth-century Old West drama starring, Golden Globe® nominee, Lance Henriksen and Academy Award® nominee Tom Berenger, and also starring Danny Trejo, directed by Mark Landre Gould.

Julie Brown's HOMECOMING QUEEN'S GOT A GUN: THE MUSICAL Opens 10/13
by BWW News Desk - Sep 19, 2017
Julie Brown's Homecoming Queen's Got a Gun: The Musical returns to the stage with a special two weekend run in October 2017 at the Celebrity Cavern Club Celebrity Theater (1920 Hyperion Ave, Silverlake, CA 90027 ).
Photo Flash: Rita Moreno Visits Closing Night of CHICO'S ANGELS
by BWW News Desk - Sep 7, 2017
Chico's Angels' stage/musical show Chicas are 4Ever closed its first two-week run this past Sunday. Chico's Angels got a big surprise from EGOT winner Rita Moreno, who attended Sunday's final performance. Moreno is an Oscar winner, two-time Emmy winner, Grammy winner and Tony winner and is currently starring in the hit Netflix show, ONE DAY AT A TIME. Scroll down for photos!