Photo Flash: First Look at Range of Light's TWO FISTED LOVE
Range of Light presents the world premiere of David Sessions' dark comedy Two Fisted Love, directed by Los Angeles stage veteran Jules Aaron, in a visiting production at the Odyssey Theatre. Opens February 10.

It's 2008, there's the presidential election, the economy, bank failures, rising foreclosures, a tough job market, and Hollywood A-Lister, Caroline Connors (Serena Scott Thomas), having recently been diagnosed with Multiple Sclerosis, braves her descent into an uncertain future while attempting to navigate her relationships with her ultra-conservative and less than politically correct husband Kevin (David Sessions), and her defiant and idealistic daughter Rachel (Laura Long).

Set in Atherton, an affluent community in the months leading up to the financial crisis and the election, Two Fisted Love makes good use of its irreverent and original characters and artfully incorporates a blend of styles, ranging from, as Mr. Sessions puts it, "...a modern drawing room comedy to painfully dark conversations for mature audiences only..."
The ensemble cast features Serena
Scott Thomas
(British actress; Paul
Michael Anderson
's Inherent Vice, The World is Not Enough, Buffy the Vampire Slayer,BBC's Diana) as matriarch Caroline Connors; Laura Long (AMC's Turn: Washington's Spies) as Rachel; David Sessions (Mail Call with R. Lee Ermey and Shootout; Candida at PRT, Hunger at the Odyssey, Bed Facing North at the Court Theatre, and Fortune and Men's Eyes at the Coast Playhouse directed by
David Galligan
) as Kevin;
Jason Downs
(Hairspray, Clara's Heart, The Homecoming directed by Guillermo Cienfuegos and Cigarettes and Chocolate at PRT) plays Andy, the offbeat and 'amoral' computer programmer;
Lynne Oropeza
(The Manchurian Candidate, HBO's Westworld, FX's Baskets) plays Caroline's best friend, Maggie; Jacob Osborne (Home Invaders, White River Tales) plays the underachieving son, Justin;
Robert Bella
(Involved in over 100 plays as an actor/director/ writer/producer,
Atlantic Theater Company
founding member, Award-winning independent filmmaker) plays Caroline's neurologist, Dr. Ryan;
Rene Rivera
(King of the Desert, Boleros, Disenchanted) plays Robert, a 'rags to riches' immigrant from across the border; and Paula Lafayette (Roxanna, Australian TV's Wonderland) plays Maria, an 'illegal' immigrant who finds herself living in the basement and scrubbing floors for this rich and famous, yet dysfunctional American family.

Two Fisted Love began its development at the Pacific Resident Theatre, where it was carefully tuned for nearly three years under the watchful eye of Marilyn Fox before receiving a staged reading at the Odyssey Theatre in October of 2016 (courtesy of Ron Sossi) which featured Orson Bean and Alley Mills in two of the leading roles; the script then received further dramaturgical input and revision over the first half of 2017 by Jules Aaron before finding its way to Serena Scott Thomas.

Jules Aaron (Director) Winner of over 40 Awards for direction over the country, including Bay Area Awards, Philadelphia Theatre Awards, Utah Theatre Awards, many Drama-logue Awards, Garland Awards, L.A. Drama Critics Awards, etc. Directed: South Coast Repertory, Utah Shakespearean Festival, Public Theatre (New York), Actors Theatre of Louisville (Humana Festival)., Philadelphia Theatre Company, Soho Rep (New York), Pasadena Playhouse, Falcon Theatre, Lonny Chapman Theatre, Capital Rep, ICT, McCoy/Rigby, among many others. Had the pleasure of working with many lovely actors including Julianne Moore, Don Cheadle, Michael Learned, Ralph Waite, Mercedes Ruehl. Most recently, award winning productions Separate Tables and Sherlock Holmes and the Case of the Jersey Lily played at Theatre 40.
David Sessions (Playwright) was born in Roswell, New Mexico and raised in Berkeley, California. He studied playwriting at the HB Studios in New York under the direction of
Uta Hagen
, and is the son of philosopher and deep ecologist George Sessions.

The creative team for Two Fisted Love includes scenic designer John Iacovelli, lighting design by Brian Gale, and sound designed by Cricket Myers. The assistant director is Ryan McRee and the stage manager is Morgan Wilday.

Two Fisted Love runs Feb. 10 through March 11, with performances on Thursdays, Fridays, Saturdays at 8 p.m., and Sundays at 3 p.m. Preview performances take place on February 2, 3, 4, 8, and 9. All tickets are $34 (reserved seating) except previews which are $15. The Odyssey Theatre is located at2055 S. Sepulveda Blvd., West Los Angeles, 90025. Secure, on-site parking is available for $5. For reservations and information, call 866-811-4111 or go to www.twofistedlove.com.
Photo Credit: Ed Krieger


David Sessions, Serena Scott Thomas

Serena Scott Thomas, Lynne Oropeza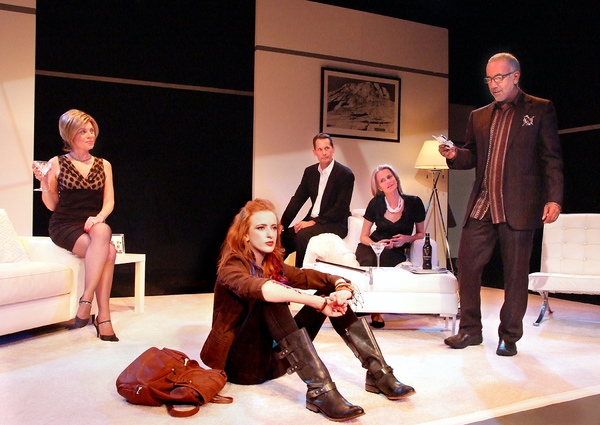 Lynne Oropeza, Laura Long, David Sessions, Serena Scott Thomas, Rene Rivera
Related Articles View More Los Angeles

Stories

Shows
More Hot Stories For You