Photo Flash: First Look at California Shakespeare Theater's WAR OF THE ROSES
California Shakespeare Theater (Cal Shakes) announced further details today for the Shakespearean centerpiece to the 2018 Epic Season, The War of the Roses. The War of the Roses is a monumental evening of theater spanning four history plays-the Henry VI trilogy and Richard III. Presented as an action-packed evening, The War of the Roses will deliver a fast-paced, far-ranging, vividly theatrical depiction of two powerful families-the Lancasters and the Yorks-and their decades-long fight for the English throne. Political unrest and power grabs collide with weak leadership and civil strife as the country fights against the threat of tyranny.
"I've been hungry to tackle a history play since joining Cal Shakes," commented Artistic Director Eric Ting.
"The War of the Roses offered a perfect opportunity to work closely with Resident Dramaturg Philippa Kelly, and to not just investigate the world of Richard III, but to release so much of the high tragedy through an exploration of the Henry VI trilogy which lays much of the groundwork for Richard's rise to power. At the heart of this production are a series of questions: What makes a tyrant? What combination of circumstances paves the way for tyranny? And how is a society-a nation-culpable?"
"I must applaud Eric and Philippa for their astounding work.The one thing I have to bring to the table is my experience with Shakespeare, and I am so grateful for every hour I spent learning how to make his work come alive as I prepare for probably the largest role I have played-and one that couldn't be more timely," adds longtime Bruns alum Danny Scheie (he/him; You Never Can Tell, Irma Vep, Comedy of Errors, Midsummer Night's Dream, among many others).
Making their Cal Shakes debuts with The War of the Roses are: Aysan Celik (The Making of a Great Moment at Z Below, The Undertaking at 59E59), portraying Queen Margaret in a tour de force spanning decades, taking Margaret from kidnapped princess to warrior queen and beyond; Abdulrahim Herara (Hamlet and A Streetcar Named Desire at Ubuntu Theatre Company; Arcadia at Shotgun Players); Catherine Luedtke (she/her; Revolt. She said. Revolt Again. at Crowded Fire Theater, The Lion in Winter at Custom Made), Tony Ortega (La Posarela at SFBATCO; Romeo and Juliet at Half Moon Bay Shakespeare); Joshua Pollock (he/him; Weightless at Z Space, Black Rider, God's Plot, and Beardo at Shotgun Players), Marie Sadd (The Circuit, Tartuffe, and Measure for Measure at Santa Clara University, Taming of the Shrew at Queen Mary University of London); and Iris Stone (she/her; King Lear at Theatre Rhinoceros, The Making of Medea's Medea at Shelton Theater). Returning favorites, in addition to Scheie, include Aldo Billingslea (he/him; black odyssey, Othello, Fences, and many others); Lance Gardner (he/him; Everybody, Much Ado About Nothing, Fences, You Never Can Tell, and Othello among others); Sarita Ocón (she/her; Everybody, Quixote Nuevo, Cal Shakes' All the Bay's a Stage touring production of Twelfth Night, A Streetcar Named Desire and To The Bone at Ubuntu Theater Project);
Joseph Patrick O'Malley (he/him; A Number at Aurora Theatre, The Liar at Center Rep, Nicholas Nickleby, Parts 1 and 2), Stacy Ross (Everybody, Much Ado About Nothing, Twelfth Night, Lady Windemere's Fan, and many others), and Jomar Tagatac (he/him; Everybody, As You Like It, Life Is A Dream). The War of the Roses' creative team includes: Scenic Designer Nina Ball (she/her; whose previous designs for Cal Shakes include Everybody, As You Like It, Othello, Twelfth Night, and The Comedy Of Errors); Costume Designer Anna Oliver (Pygmalion, The Tempest, Candida, Man and Superman, among others); Lighting Designer Jiyoun Chang (Sojourners and Her Portmanteau at New York Theatre Workshop An Octoroon at Berkeley Rep); Sound Designer Brendan Aanes (Othello and The Glass Menagerie at Cal Shakes, The Unfortunates at A.C.T.); and composer Byron Au Yong (The Orphan of Zhao and Stuck Elevator at A.C.T., Occupy Orchestra for Chicago Composers Orchestra). Movement Choreographer Erika Chong Shuch (A Midsummer Night's Dream, The Tempest, among others) joins Fight Director Dave Maier (he/him; Quixote Nuevo, As You Like It, among others) to create the dynamic battles and skirmishes that make up The War of the Roses. Eric Ting (he/him) is an Obie Award-winning director and was appointed Artistic Director of California Shakespeare Theater in November of 2015. Deeply committed throughout his career to the development of new and diverse voices for the theater, Eric has directed plays (many of them world premieres) by Lauren Yee, Sam Hunter, Aditi Kapil, Kimber Lee, Jackie Sibblies Drury, Branden Jacobs-Jenkins, Frances Ya-Chu Cowhig, Laura Jacqmin, Kenneth Lin, Kristoffer Diaz, Anna Deavere Smith, Toshi Reagon and many others. His work has been seen at Manhattan Theatre Club, Soho Rep, The Public Theater, Berkeley Rep, ACT, Goodman Theatre, Victory Gardens, Denver Center, Seattle Rep, Williamstown Theatre Festival, A.R.T., Shakespeare Santa Cruz, Hartford Stage, BAM Next Wave, Cincinnati Playhouse and the ALLIANCE THEATRE; as well as internationally, including Singapore, France, Canada, Romania, the Czech Republic, Hungary, Holland, UAE and Bali.
Philippa Kelly (she/her) has been Cal Shakes' Resident Dramaturg for xx years. Dr. Kelly's work has been supported by many foundations and organizations, including the Fulbright, Rockefeller, and Walter and Eliza Hall Foundations, the Commonwealth Awards, the Centre for Human Emotions, the Walter and Elise Haas Foundation, the California Arts Council, and the Bly Awards for the Literary Managers and Dramaturgs of the Americas. The best known of her several books is The King and I, critically acclaimed as dramaturging King Lear as a text for contemporary social justice. With Amrita Ramanan (Director of Literary Development and Dramaturgy, Oregon Shakespeare Festival), Dr. Kelly is editing a field-wide volume of case studies, Diversity, Inclusion, and Representation in Contemporary Dramaturgy: Case Studies from the Field,to be published by Routledge in the Fall of 2018.
Danny Scheie's (he/him) previous work at Cal Shakes over the last 14 seasons has included Walter in You Never Can Tell (critics circle for supporting actor); multiple roles in Mystery of Irma Vep; Dromio of Ephesus and Dromio of Syracuse (Comedy of Errors; the first Bay Area Theater Award for Leading Actor); Bottom, Puck, Dogberry, Feste, Mercutio, Launcelot Gobbo, Gremio, Harlequin, Lord Foppington (Amy Freed's Restoration Comedy); the Duchess of Berwick (Lady Windermere's Fan); and multiple roles in Hamlet, Nicholas Nickleby, Merry Wives of Windsor, An ideal husband and Pericles for directors Jon Moscone, Lisa Peterson Liesl Tommy, Aaron Posner, Sharon Ott, Shana Cooper, Daniel Fish, Joel Sass, Christopher Liam Moore, Lillian Groag, Sean Daniels and Mark Rucker. He is the former Artistic Director of Shakespeare Santa Cruz, where he acted and directed for thirteen seasons. Since then he has acted at Berkeley Rep, Arena Stage, Yale Rep, Trinity Rep, Asolo Rep, the Folger, South Coast Rep, Pasadena Playhouse, Actors Theater of Louisville, Two River, TheatreWorks, Marin, Aurora, Magic, Rhino, Merrimack and Z Space. He holds a professorship at UC Santa Cruz, BA from Indiana university, and a PhD from Cal Berkeley.
Single tickets for The War of the Roses range from $20 to $92, with discounts available for seniors, youth, students, military families, persons age 30 and under, and groups. Prices, dates, titles, and artists are subject to change. For information or to charge tickets by phone with VISA, MasterCard, or American Express, call the Cal Shakes Box Office at 510.548.9666. Additional information and online ticketing are available at www.calshakes.org.
California Shakespeare Theater's 2018 season is supported in part by the generosity of The William and Flora Hewlett Foundation, The James Irvine Foundation, the Dean & Margaret Lesher Foundation, The Bernard Osher Foundation, and The Shubert Foundation. The New Classics Initiative receives support from The Andrew W. Mellon Foundation, the Walter & Elise Haas Fund, and the MCJ Amelier Foundation. Business partners include BART, Chevron, City National Bank, Classic Catering, Meyer Sound, Peet's Coffee, San Francisco Chronicle, and Triumph Wine Group.
Founded in 1974, California Shakespeare Theater (Cal Shakes), under the leadership of Artistic Director Eric Ting and Managing Director Susie Falk, is a nationally-recognized leader in drawing on the power of authentic, inclusive storytelling to create more vibrant communities. Serving more than 40,000 people annually, Cal Shakes invites people from all walks of life to make deeply-felt connections with our shared humanity through its work onstage, in schools, and with people in non-traditional settings throughout the Bay Area who have little or no access to theater. For more information, visit www.calshakes.org.
Photo Credit: Kevin Berne

Aldo Billingslea (far left) as Warwick, Stacy Ross (third from left) as Gloucester, Joseph Patrick O'Malley (seated) as King Henry VI, Catherine Luedtke (fourth from right) as Winchester, Sarita Ocón (second from right) as the Duchess of Gloucester, and ensemble members

Joseph Patrick O'Malley (King Henry VI), Aysan Celik (Margaret), Aldo Billingslea (Warwick)

Joseph Patrick O'Malley (King Henry VI), (background, l-r) Jomar Tagatac (Plantagenet) Aldo Billingslea (Warwick)

Aysan Celik (Margaret) and Lance Gardner (Suffolk)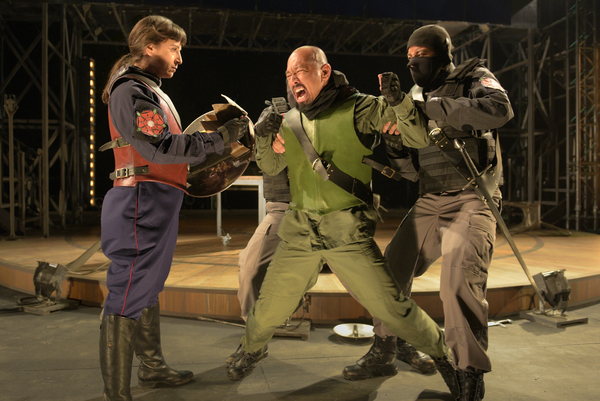 Aysan Celik (Margaret), Jomar Tagatac (Plantagenet), and Justin Howard (ensemble)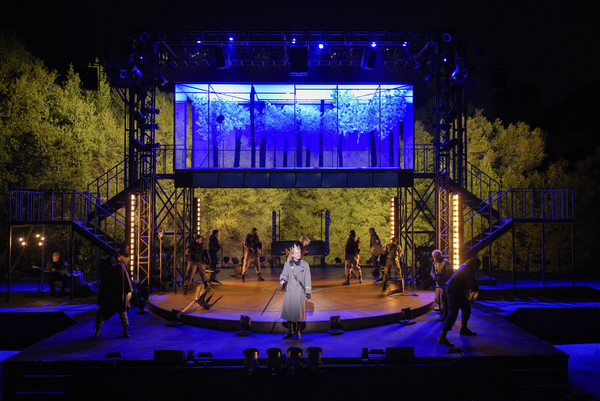 Joseph Patrick O'Malley (center) as King Henry VI, and the company of The War of the Roses

Catherine Luedtke (Queen Elizabeth), Stacy Ross (King Edward IV), and Danny Scheie (Richard)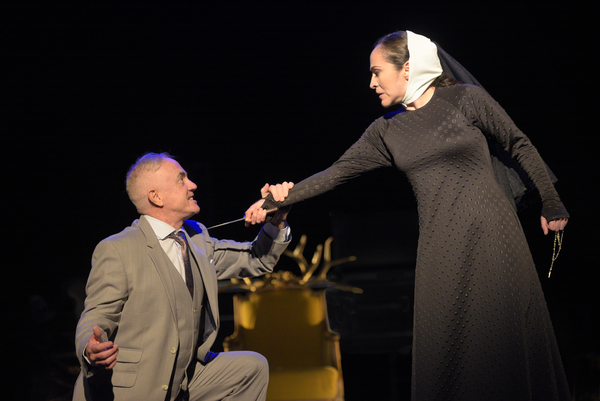 Danny Scheie (Richard) and Sarita Ocón (Lady Anne)

Aldo Billingslea (Buckingham) and Danny Scheie (King Richard II)

Danny Scheie (King Richard III)

Danny Scheie (King Richard III)