Photo Flash: Corella Ballet's Castilla y Leon
The 2010-2011 season of Glorya Kaufman Presents Dance at the Music Center begins by welcoming the debut of Spain's only classical ballet company Corella Ballet Castilla y León to the Ahmanson Theatre, November 5-7,2010. The company was founded by American Ballet Theatre principal dancer, Ángel Corella to promote classical ballet in Spain and to nurture Spanish dancers and offer them an opportunity to cultivate their talent in their home country. Corella Ballet Castilla y León offers a wide repertoire, incorporating classical, neoclassical and contemporary choreography.
 
For the Glorya Kaufman Presents Dance at the Music Center engagement, the company will present two programs. Program 1 on Friday November 5 at 7:30 will feature "Bruch Violín Concerto Nº 1" with choreography by Clark Tippit and music by Max Bruch, "Clear" with choreography by Stanton Welch and music by Johann Sebastian Bach, "Soleá" with choreography by María Pagés and music by Rubén Lebaniegos, and "DGV" with choreography by Christopher Wheeldon and music by Michael Nyman. Program 2 on Saturday November 6 at 7:30 and Sunday November 7 at 2:00pm will feature "Bruch Violín Concerto Nº 1," "For 4" with choreography by Christopher Wheeldon and music by Franz Schubert, "Soleá" and "DGV."
Tickets for Corella Ballet Castilla y Leon are available at the Dorothy Chandler Pavilion Box Office, 135 North Grand Avenue.  Tickets are also available by calling (213) 972-0711, and online at www.musiccenter.org/events/dance.html <http://www.musiccenter.org/events/dance.html> . For groups of 10 or more, call (213) 972-8555.
About the repertoire
DGV
In 1993 the French railway company TGV commissioned the composer Michael Nyman a piece to commemorate the opening of a new high- speed train line between the cities of Lille and Paris. The outcome was MGV: Musique à Grande Vitesse, a 26-minute piece of vibrant rhythms, conceiving the travel as a suspension of time while still moving forward towards the desired destination. In 2006 the choreographer Christopher Wheeldon adapted MGV for the ballet, the result was: DGV: Danse à Grande Vitesse, premiered and until now performed exclusively by the Royal Ballet of London.
For 4
With lighting by Luís Perdiguero, Christopher Wheeldon's For 4 (to Schubert's "Death and the Maiden") "takes shape as a quartet that introduces its dancers by letting each shine individually and in rapport with one another " - The Wall Street Journal.
Bruch Violin Concerto No. 1
With costumes by Dain Marcus, wardrobe by Cornejo, and lighting by Jennifer Tipton, Bruch Violin Concerto No. 1 combines sensitive drama, complex choreography and duets of spectacular athleticism. A twenty-four minute piece created for seven Principal Dancers and a Corps of sixteen, the Bruch Violin Concerto No. 1, had its world premiere at the Orange County Performing Arts Center in Costa Mesa, California on December 1, 1987.
 
Clear
An abstract work for seven men and one woman, Stanton Welch's Clear is a showcase for male dancers. Set to music by Bach, the work is an artistic response to 9/11. Welch began choreographing Clear for New York City's American Ballet Theatre two weeks after terrorists attacked the World Trade Center in downtown Manhattan. The resulting critically acclaimed work explores his reaction to that time of crisis. Noted New York fashion designer Michael Kors created the costumes for Clear.
 
Soleá
Choreographer María Pagés said, "When Angel first asked me to create a Pas de Deux for him and his sister Carmen I immediately understood that he wanted it to be a soleá that connected with classical dance, it's cadence, it's "cante." (flamenco style of singing) The melodies created by Rúben and the end the piece consisting of Bulerías made this a serious game. I planned the creative process very similar to the process that we followed; the creation beginning with the composition of a new piece of music written especially for this project. I find this path of collaboration between flamenco and classical ballet to be highly interesting with enormous potential for mutual enrichment for both forms of dance. The game is the fundamental ingredient of this new work, just as fundamentally necessary as can be the relationship of a brother and sister that mutually share a dedication and love for dance".
 
About Angel Corella
 
Angel Corella was born in Madrid in 1975. He began his ballet studies in Colmenar Viejo, and later studied in Madrid with Victor Ullate. Trained by Karemia Moreno, in May 1991, Corella was awarded First Prize in the National Ballet Competition of Spain and in December 1994, he won the Grand Prix and Gold Medal at the Concours International de Danse de Paris, dancing the pas de deux from Don Quixote and Le Corsaire.
 
Corella joined the American Ballet Theatre as a Soloist in April, 1995 and in August 1996, was promoted to Principal Dancer. Corella has also been a guest star with The Royal Ballet (Great Britain), Australian Ballet, la Scala Ballet, Asami Maki Ballet Tokio, Ballet of Chile, The Hungarian National Ballet, Ballet of Georgia, Finland Ballet, Puerto Rico Ballet, Bolshoi Ballet, New York City Ballet and Kirov Ballet of Sant Petersburg.
 
Angel Corella's repertoire includes all the principal roles of the leading classical, neoclassical and contemporary ballets. Classical: Basilio in Don Quixote; Alí and Conrad in Le Corsaire; Solor in La Bayadère; Prince Desire in Sleeping Beauty; Romeo in Romeo and Juliet; Colás in La Fille mal Gardée; Danilo and Camilo in The Merry Widow; Prince Siegfried in Swan Lake; Count Albrecht in Giselle, Aminta in Sylvia, 'Prince in Nutcracker'; Lensky in Eugene Onegin; Des Grieux in Manon; James in La Sylphide, Franz in Coppelia, among others. Neoclassical and Contemporary Ballets: Jerome Robbins' Francy Free and Other Dances; Twyla Tharp's Americans We, Push Comes to Shove, Sinatra Suite and Concerto No.1 for Piano and Orchestra; George Balanchine's Theme and Variations, Mozartiana Prodigal Son and Allegro Brillante; Frederick Ashton's Les Patineurs and The Dream, Eugene Loring's Billy the Kid; Stanton Welch's Clear and We Got it Good; Jiri Kylian's In the Middle is somewhat elevated, John Cranko's Eugene Onegin; Sinfonietta Petite Mort; Christopher Wheeldon's Henry VIII, Dance of the Hours, For 4, Mark Morris' Non Troppo and Drink to Me Only with Thine Eyes'; Clark Tippet's Bruch Violin Concerto, and William Forstye's In the middle somewhat elevated, among others
 
Ballets have been created on Corella by the choreographers Twyla Tharp, Christopher Wheeldon, Kevin McKenzie, John Neumeier, Mark Morris as well as Nacho Duato, Stanton Welch, Natalie Weir, James Kudelka, Lar Lubovitch and David Parsons.
 
In October, 1998, Ángel Corella danced four love songs sung by the famous mezzo-soprano Cecilia Bartoli during the Gala Opening Night of the ABT autumn season at New York's City Center. This experience was repeated in Spain on two occasions with the soprano Ainhoa Arteta; the first time in the Palau de la Música in Barcelona on 27 December 1999, and the second on 13 August 2000 in San Sebastian.
 
In May 2000, Corella received the Prixe Benois de la Danse Award for his work in Other Dances by Jerome Robbins, and on 4 November 2002, he was awarded "The National Dance Prize of Spain "as "an exceptional dancer and representative of a generation which enhances Spanish dance in the most outstanding international companies".
 
On October 2005, Angel Corella continued his association with the world of opera, performing the ballet Dance of the Hours in La Gioconda with Letizia Giuliani to choreography by Gheorghe Iancu at Theatre Liceo in Barcelona. The two performed in the same opera in September 2006, premering Christopher Wheeldon's choreography at the Metropolitan Opera House in New York. Both public audiences and critics gave enthusiastic receptions to each performance. During a Gala for the Victoria de los Angeles Foundation in January 2007, Angel Corella danced O mi Bambino Caro performing to a voice-over by Victoria de los Angeles.
 
Corella has danced for several leading international figures such as her Majesty Queen Sofía of Spain and the Infantas Elena and Cristina of Spain; Queen Elizabeth II and Princess Margaret of Great Britain, President George W. Bush and First Lady Laura Bush and President Bill Clinton and First Lady Hillary Rodham Clinton
 
Angel Corella, with his American Ballet Theatre colleague, Ethan Stiefel, is a co-creator of "Kings of the Dance", performing in 2006 and 2007 with Johan Kobborg, of England's Royal Ballet and Nikolay Tsiskaridze of the Bolshoi Ballet.
 
In 2001, Ángel Corella formed a Foundation to promote classical dance in Spain and to offer the opportunity for the finest professional training to all dancers, regardless of their economic or social condition. After six years of work one of the main projects, the Corella Ballet, came to birth and started its activity on April 2008 at the Royal Place of La Granja (Segovia-Spain).
 
In 2008 he was awarded with the Comunidad de Madrid Arts International Medal and with Ciudad de Salamanca's Culture Star.
 
In 2009 The Galileo Award Foundation Committee formed by Jack Lang, Irene Papas, Irina Strozzi, Marco Giorgetti and Alfonso de Virgiliis gave to Ángel Corella the Galileo 2000 Award for "his exceptional talent".
About Corella Ballet Castilla y León
Beginning rehearsals on April 1, 2008, Corella Ballet is currently the only classical ballet company in Spain. Since its foundation it has premiered two classical productions: La Bayadère and The Swan Lake and three combination programmes with three world premieres: String Sextet by Ángel Corella; Soleá Pdd by María Pagés and Epimetheus by Russell Ducker. It has 24 works in its repertoire.
Corella Ballet is one of the initiatives of the Angel Corella Foundation to promote classical dance in Spain. The Foundation was created by Corella and his family, including his parents and sister Carmen Corella, a former American Ballet Theatre soloist. It is part of a major project that includes the creation of a Residence - a dance school of the highest quality, which will also be the base for future Corella Ballet dancers. This project is in response to Angel Corella's aspiration to provide a professional career for classical dancers in Spain and prevent Spanish born dancers from having to leave the country to further their careers as Corella and many others have for the past 20 years.
Corella Ballet will offer a wide repertoire; incorporating classical, neoclassical and contemporary choreography. This will allow Corella Ballet to quickly position itself among the greatest companies of the world, such as Great Britain's Royal Ballet, American Ballet Theatre of New York, Paris Opera Ballet or La Scala Ballet of Milán.
Funding for the Corella Ballet season is made possible, in part, by Junta de Castilla y León; SOTUR (Tourism of Castilla y LEÓN), Instituto Nacional de Artes Escénicas y de la Música INAEM, and Ayuntamiento del Real Sitio de San Ildefonso (Segovia-Spain).
About The Music Center
The Music Center - Performing Arts Center of Los Angeles County is one of the largest and most highly regarded performing arts centers in the United States. Every year, almost 2 million people visit its four main venues - Dorothy Chandler Pavilion, Ahmanson Theatre, Mark Taper Forum, and Walt Disney Concert Hall - along with its vibrant collection of outdoor theatres, plazas, and gardens. The Music Center produces a variety of programming including Glorya Kaufman Presents Dance at the Music Center, Active Arts at the Music Center, and The Blue Ribbon Presents Global Pop, along with programming for children and families throughout the year.  The Center also provides extensive services and leadership in support of K-12 arts education, and offers tours of all four venues.   The Music Center is home to four internationally acclaimed resident companies: Los Angeles Philharmonic, Center Theatre Group, LA Opera and Los Angeles Master Chorale.


Natalia Tapia & Fernando Bufalá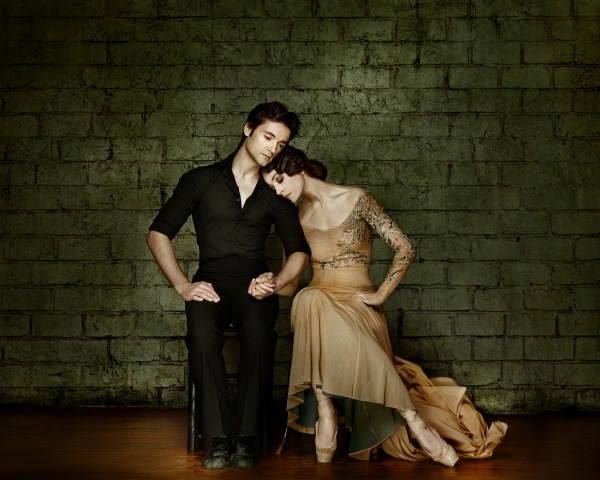 Carmen & Ã?ngel Corella