Photos: Brittany Snow Visits Hayworth Theatre's SPRING AWAKENING
Actress Brittany Snow recently visited Spring Awakening at Downtown's Los Angeles' Hayworth Theatre. The actress caught a performance this past weekend of the show – to support the LOVE IS LOUDER movement and her Pitch Perfect co-star Kelley Jakle. Check out a photo of her with the cast below!
Spring Awakening has been working with Brittany to raise the volume of awareness for the LOVE IS LOUDER movement. The producers note "the music, just like the LOVE IS LOUDER movement, speaks volumes about young people. And through that connection we are able to sustain our community: a community of creativity, a community of collaboration, and a community of activism. The themes of the show correspond greatly with the mission of the LOVE IS LOUDER campaign. It is a perfect match. The young characters of SPRING AWAKENING each bear their own inner turmoil, their own pain. In recent years, the media has done well to illuminate the surge of youth troubles in our society. There are increasing pressures for teens as they navigate their lives and, too often, we hear a tragic case of one who succumbs to their inner turmoil – Their bullying. Their wounds. Their voices lost to the world as a whisper. These are the kids that need to hear this story."
Courtney Knowles of LOVE IS LOUDER said: "We are proud that this production of Spring Awakening is promoting and benefitting the Love is Louder movement. So many of the musical's themes are relevant to the teenagers and young adults who power our movement."
LOVE IS LOUDER was started by Brittany Snow, The Jed Foundation and MTV to support anyone feeling mistreated, misunderstood or alone. Online and in communities around the world, the movement is raising the volume around a critical message – that love and support are more powerful than the external and internal voices that bring us down, cause us pain and make us feel hopeless. For more on LOVE IS LOUDER and to check out a PSA by the cast of Pitch Perfect (starring Brittany Snow and Spring Awakening's Kelley Jakle please visit: http://www.loveislouder.com/new-love-is-louder-psa-featuring-brittany-snow-anna-kendrick-anna-camp-and-more/2012)
The young characters of SPRING AWAKENING, each with their own issues and pain, do not have a support system to help them cope with their problems and insecurities. This is of course amplified by the unfortunate outcomes each face throughout the show. The piece confronts issues of teen suicide, pregnancy, sexuality and identity; issues that are still as relevant today as they were when Frank Wedekind wrote the play in 1891.
Based on the controversial 1892 play by Frank Wedekind, SPRING AWAKENING recalls the coming of age, and discovery of sexuality among youth in 19th Century Germany. The piece tackles issues of teen suicide, pregnancy, sexuality and identity. These topics are still incredibly relevant to youth today.
Kelley Jakle, who will make her feature film debut with the upcoming movie "Pitch Perfect" (co-starring Brittany Snow) and has been seen on NBC's "The Sing-Off," will lend her voice to the character of Wendla. Featured vocalists will also include Nathan Parrett ("The Voice"), Payson Lewis ("The Sing-Off"), independent recording artists Olivia Noelle and Anthony Starble, Caitlin Ary, Jonah Platt, Topher Rhys, Jamie Lee Barnard, Jilli Marine and Michael Christopher Luebke. Paul T. Brindley and Alissa-Nicole Koblentz will play the adult authority figures.
This rock-infused presentation, helmed by director Kate Sullivan Gibbens, with musical direction by Michael Christopher Luebke, is a theatre-concert hybrid that focuses sharply on music and its story, recalling the energy of an East Village music bar as opposed to a traditional "uptown" venue. Audiences will be left with art in its purist, most unadulterated form: the music, the dialogue, and the message.
The concert is produced for glory|struck by Topher Rhys, Jamie Lee Barnard, and Nathan Gardner. glory|struck was founded to create art that aligns poignant narratives with relevant social issues to inspire collective action.
SPRING AWAKENING will be offered in six performances from July 20-29, 2012.
More information is available at https://www.facebook.com/springawakeninginconcert
Photo Credit: Love is Louder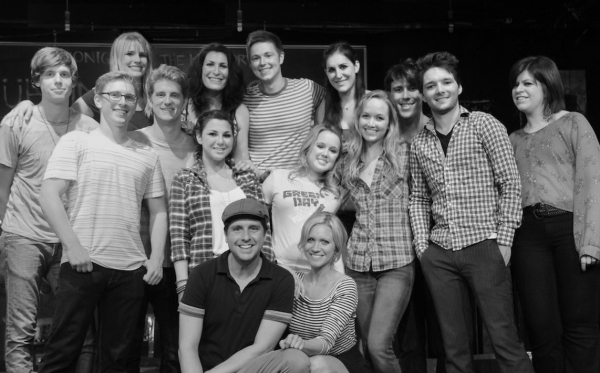 Brittany Snow and Cast