Phantasmagoric BLOODY POETRY Opens September 27 At Little Fish Theatre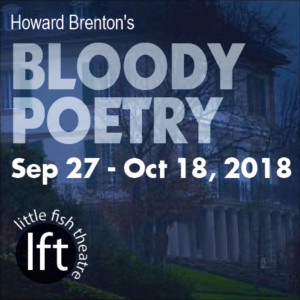 In celebration of the bicentennial of the publication of Mary Shelley's Frankenstein, Little Fish Theatre presents Bloody Poetry by Howard Brenton. Opening September 27 at Little Fish Theatre and directed by Ovation Award winner and Little Fish Theatre Artistic Associate Stephanie Coltrin, Bloody Poetry plunges into the bohemian lives of Lord Byron, his mistress, and the Shelleys, and enables the audience to enter their summer Villa - a place where the poets take refuge from the upheaval of their country and turn creative writing into a collective practice of subversive intent and revolutionary ambition.
It's 1816, and Percy Bysshe Shelley, Mary Godwin Shelley and Claire Clairmont have traveled to a Villa in Lake Geneva to meet with "mad, bad and dangerous to know" Lord Byron. The Shelleys are in a self-imposed exile from England due to their radical unconventional beliefs. Byron has fled his debts and his reputation in England, having an unconventional lifestyle of his own. Arriving with his own personal doctor and biographer Dr. William Polidori, they are instantly bonded. Shelley has run away with Mary and their children, having abandoned his first wife and two children. Claire is pregnant with Byron's child. They join together to attempt a utopian experiment where they can live with freedom from constraint. During the historical 'year without a summer', weather forces them indoors and Lord Byron suggests that they each write their own ghost stories. Out of those literary experiments comes one of the greatest novels the world has ever known - Mary Shelley's Frankenstein. As the summer comes to an end, love and lives are lost as each of the revolutionaries face additional hardship as they struggle with their attempts at a hedonistic metamorphosis.
"The meeting between the Shelleys and Byron became the stuff of literary legend. The experiments of this particular group had profound personal consequences, and they left a tragic and bloody trail in their wake," says director Coltrin. "However, they also left some of the greatest literature the world has ever seen, which has spawned new works of art in all genres through the ages. Shelley's work inspired everyone from Thoreau to Gandhi, who often quoted his work on non-violent protest. The trope of the tormented artist is one with which we are all familiar but this play details both the very real effects of the torment, as well as the soaring art that resulted."
Bloody Poetry features a cast comprised entirely of LFT company members who have also appeared on stage with LFT's sister company, Shakespeare by the Sea. Playing the romantic poet-novelist couple Mary Shelley and Percy Bysshe Shelley are Suzanne Dean * and Cylan Brown. Dean is the Co-Founder of LFT and an award-winning actress/director from the Bay Area last seen in Rapture, Blister, Burn. Brown is an actor and director who appeared most recently in Taking Sides and his productions of Boeing Boeing and The Merry Wives of Windsor won audiences at LFT and SBTS, respectfully. Patrick Vest is an audience favorite having performed in dozens of productions with the company since 2002, most recently in LFT's The Balcony Scene. Mary's half-sister and would-be writer, Claire Clairmont, is played by Melissa Booey, who portrayed Lady Macbeth opposite Vest as Macbeth with SBTS. The former wife of Shelley is played by Olivia Schlueter-Corey, who appeared in 2017's short play festival Pick of the Vine. Ryan Knight completes the cast as Dr. William Polidori, author of the short story "The Vampyre." Knight played one of the leads in the 2018 production of Mending Fences.
Bloody Poetry will run Thursdays September 27 through October 18 at 8:00pm, with two Wednesday shows on October 10 and 17 at 8:00pm and two Sunday 2:00pm matinees on September 30 and October 7. The September 30 show features a special Talkback session where the actors and creative team will be available for a post-show discussion with the audience.
Founded in 2002 as an artists' ensemble, Little Fish Theatre presents classic and contemporary plays in an intimate setting on Centre Street in downtown San Pedro.
*This production is presented under the auspices of the Actors' Equity Los Angeles Membership Company Rule.