PICK OF THE VINE opens January 10 at Little Fish Theatre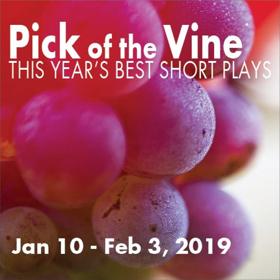 Harvested from over 800 short plays submitted from around the world, Little Fish Theatre uncorks its 17th season of Pick of the Vine on January 10. The audience and critic favorite is a perfectly blended bouquet of nine short plays where audiences will experience Magic Moments, featuring a mix of new and familiar LFT artists.
This year's vintage includes:
Frozen Foods by Ian August, directed by Cinthia Nava-Palmer
The Sum of Your Experience by Trace Crawford, directed by Richard Perloff
My Scale is Lying To Me by Scott Mullen, directed by Bill Wolski
The C-Word by Niki Hatzidis, directed by James Rice
The Last Bride of Ansbruk Village by Aleks Merilo, directed by Cinthia Nava-Palmer
Pick of Levine by Mark Harvey Levine, directed by Bill Wolski
Canvas by Andrew Heinrich, directed by Richard Perloff
Beatrix Potter Must Die! by Patrick Gabridge, directed by James Rice
Old Aquatics by Steven Korbar, directed by Bill Wolski
With a record number of submissions, the 28-member selection committee had the difficult task of choosing which short plays started with complex layers and ended with a balanced finish. These buttery bottles of Magical Moments unfold with such flavors as: an existential crisis in the frozen foods section; a scale that tells more than your weight; and a time-traveling farmer out for some rabbit-hating revenge.
Last year's Pick of the Vine was awarded three "Scenies" from StageScene LA: Outstanding Production of One Acts, Outstanding Direction of a Comedy-Drama (Intimate Theater), and Outstanding Ensemble in a Comedy-Drama (Intimate Theater).
Returning Pick of the Vine directors include three LFT Company Members: Richard Perloff (Sea Marks, On the Verge), James Rice (The Good Doctor, Plaza Suite), and Bill Wolski (Best of Pick of the Vine, The Balcony Scene). New to the directing team is Cinthia Nava-Palmer, who has directed in theaters as far-flung as South Korea and designed sound for both LFT and Shakespeare by the Sea.
LFT Company Members make up the entire cast of POV. Daniel Tennant (Laughter on the 23rd Floor, A Very Special Holiday Special) is making his POV debut and sharing the stage with Holly Baker-Kreiswirth (Sea Marks, On the Verge), Ryan Knight (Mending Fences, Pick of the Vine 2018), Rachel Levy (Best of Pick of the Vine, Chills & Thrills), Susie McCarthy (Provenance, Dear Master), Kimberly Patterson (Pick of the Vine 2018, Table Manners), Don Schlossman (The Foreigner, On the Verge), and Perry Shields (Pick of the Vine 2018, LFT Improv Night).
Stage Managing the show is Aileen Kamoshita, with Set Design by Chris Beyries, Lighting Design by Charlotte Tierney, Costume Design by Rebecca Roth, Sound Design by Cinthia Nava-Palmer & Holly Baker-Kreiswirth, and Prop Design by Baker-Kreiswirth.
Pick of the Vine will run at 8pm on Thursdays January 10, 17, and 31, and Friday and Saturday nights from January 11 through February 2. There will be four matinees: Sunday January 20 at 2pm, Sunday January 27 at 2pm, Saturday February 2 at 2pm, and Sunday February 3 at 2pm. An early evening show at 7pm has been added to the schedule on Sunday, January 27. The January 20 matinee features a special talkback session where audience members can interact with the cast and creative team.
Tickets can be purchased online at www.littlefishtheatre.org, by phone at 310-512-6030 or by text 424-226-6030. Popular subscription packages of Anytime Tickets are available now and can be used at any of Little Fish Theatre's regular season productions, at any time.
Founded in 2002 as an artists' ensemble, Little Fish Theatre presents classic and contemporary plays in an intimate setting on Centre Street in downtown San Pedro.
*This production is presented under the auspices of the Actors' Equity Los Angeles Membership Company Rule.
More Hot Stories For You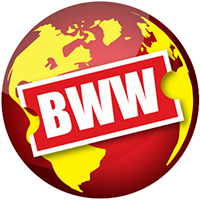 25th Anniversary Season Announced At Chance Theater

November 25, 2022

Chance Theater, Anaheim's official resident theater company, has announced its 2023 Season, which includes four musicals, three plays, and five staged readings of new shows.
---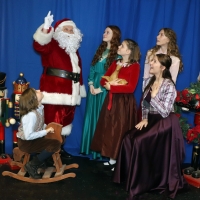 HOLIDAY IN THE HILLS Comes to Sutter Street Theatre

November 25, 2022

Holiday in the Hills brings its holiday cheer to Historic Folsom for the 17th year. Holiday in the Hills is by Mike Jimena & Connie Mockenhaupt, directed by Connie Mockenhaupt & Mike Jimena, with Musical Direction & Choreography by Connie Mockenhaupt, and features Accompanist John Wilder.
---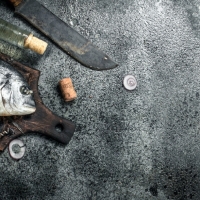 Open-Door Playhouse Debuts SIX ITALIANS, SEVEN FISHES Next Month

November 25, 2022

In the play Six Italians, Seven Fishes, an Italian-American family is gathered at the home of Joe and Marie for Christmas Eve dinner prior to Midnight Mass. Dinner (the seven fishes, a family tradition) is on hold because Vinnie and his Polish wife Peony have not yet arrived.
---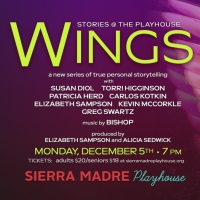 Sierra Madre Playhouse Presents 'Stories @ The Playhouse: Wings' Next Month

November 25, 2022

Sierra Madre Playhouse presents the second event in a projected series, Stories @ The Playhouse on Monday, December 5, 2022 at 7:00 p.m. The event consists of true personal storytelling.
---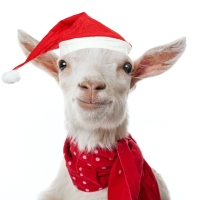 Open-Door Playhouse Debuts THE CHRISTMAS GOAT Next Month

November 25, 2022

Goat is disconsolate. There's a Nativity Scene being mounted for public display at Christmastime. Goat has been shut out of it because there was no goat present at the time of the historical Nativity. Goat's barnyard pal, Pig, has figured out a way for Goat to be the G.O.A.T. (Greatest Of All Time) participant in the Christmas festivities this year. Can you guess what Pig has planned for Goat?
---