Joseph Lorenzo Wise Sings 'My Prayer' For Thanksgiving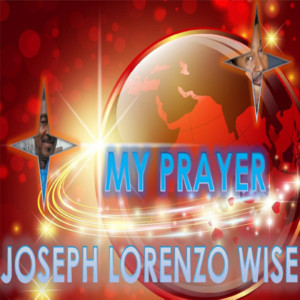 Singer/Songwriter Joseph Lorenzo Wise goes nostalgic this Thanksgiving with the release of his new single "My Prayer". Wise performs The Platters hit for the Holidays and says "It's just the right song for this year. I wanted to do a song that took people back to a time when holding hands at a Drive-In Movie theater or strolling down the Boardwalk with your sweetheart was the feeling of the day. When Love was in the air and Romance was on the waves. What we have to day is just a mess, we need to look back to more pleasant times".
40 years ago Wise appeared on Broadway as one of the Four Singing Dancing Porters in the 1978 musical "On the 20th Century". He says ... Somebody on Facebook just sent me a collage of photos from 20th Century, I can't believe how many loyal fans the show still has and there's a dedicated Facebook Page. Every year I look back and it reminds me just how special and wonderful those innocent times were. We were living in Utopia at the tail end of the American Musical. I still remember it all like it was yesterday Wise says, "I can still see it all in my mind. Harold Prince, Betty Comden and Adolph Green, Cy Coleman sitting in the seats of the St. James giving notes on the preview performance". Wise recorded a dance version of "Life Is Like A Train" in 2013 and released "TRAIN" the music video to coincide with the opening of the revival on Broadway in 2015.
Wise, 60, http://store.cdbaby.com/cd/josephlorenzowise9who has released one album "SongBook" and 12 singles, is the recipient of a grant from the Grammy Foundation in 2018 and 2017. "I feel so blessed to have the support of The Recording Academy and MusiCares . It's really made a difference in my life, to know that my work in recording is recognized by the Grammys. It's one of the reasons I keep recording and releasing music.
"My Prayer" is Joseph's fourth release in 2018. In January he released "Bachelor No. 1 Remix" which features his win on "The Dating Game", with Elaine Joyce Simon ("Sugar") as the Host and the subsequent "Date Review" combined with his original song "Hollywood Fantasy Love". In March he released a live version of "We Shall Overcome" the civil rights anthem that rings true again in these turbulent and radical times. In the Summer he served up an Elvis inspired "How Great Thou Art", another live performance. "I love these musical memories" Wise says, "I want people to hear them not just sit in a vault somewhere collecting dust. These performances are mini-miracles each one.... I'm so blessed to have been able and to sing and perform them".
"I'm working with a new producer on this one and he really has a great ear! His name is George Dum, at Liquid Fish Studios in North Hollywood. George mixes and masters for some top names like Katherine McPhee and Gospel's Beverly Crawford. Singer Kelly Corsino guided me to George when she wrote about him on her website after he mixed her album. I'm telling you this record sounds great because George makes it sound like it's on the air.
Wise is also celebrating 40 years as a member of the Screen Actors Guild and was recently featured in "The Grand Romantic" playing a Vocal Coach to two time Grammy Winner Nate Reuss, Front man for the band "Fun". "That was really cool, and this year 2018 I've been privileged to work on some big projects with names like Eddie Murphy, Diane Wiest and Tarantino. I recently worked on a feature film with a huge star in what was supposed to be Alaska, trudging through ice and snow up in Santa Clarita for the last month. I'm not supposed to say much about it but it's going to be a giant film, and he, (the guy just waiting around for IDJ5 to prep) was a cool as a cucumber, and definitely brought star power to set.
Joseph Lorenzo says he is shocked to find out that the date 11/11/2018 translates numerologically to 11/11/11. Ed Dixon posted the info on Facebook and it blew me away. I filmed my music video "Jesus Done Got Me" on 11/11/11 and the year 2018 adds up to 11 so "My Prayer" is released on 11/11/11 also.
MY PRAYER...Joseph Lorenzo Wise. Release Date 11/11/2018. Now Available on Spotify, CdBaby, iTunes, Amazon, YouTube and Anghami.
http://store.cdbaby.com/cd/josephlorenzowise9
https://itunes.apple.com/us/album/my-prayer-live-single/1441186002
https://open.spotify.com/album/25hvYG3K6JYO3BjI8VXFwdng
https://www.amazon.com/My-Prayer-Live/dp/B07K4Y6V64/ref=sr_1_1?s=dmusic&ie=UTF8&qid=1542592858&sr=1-1&keywords=Joseph+Lorenzo+Wise
Related Articles View More Los Angeles

Stories

Shows
More Hot Stories For You