Heavenly Hit Musical FOREVER PLAID Returns To South Bay's Norris Theatre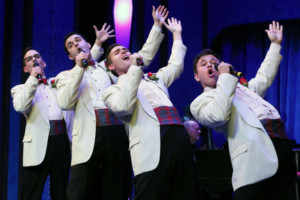 One of the most popular off-Broadway hits in history, the hilarious and charming musical comedy, Forever Plaid comes back to the Norris Theatre on the Palos Verdes Peninsula, for one more Magic Moment, November 16-18. The show follows The Plaids, a young, all-male singing group whose lives were cut tragically short in the 1950s, as they return from the afterlife to stage one final concert featuring the most popular songs of the era.
Co-directed by former Plaids Scott Dreier and Kurtis Simmons, with musical direction by Steve Withers, the production stars Jordan Goodsell as Frankie, Jackson Hinden as Sparky, Robert Petrarca as Smudge and Nick Tubbs as Jinx. It is co-produced by David Humphrey, Sing or Swim Productions.
Written by Stuart Ross, with vocal arrangements by James Raitt, Forever Plaid opened to great critical acclaim off-Broadway in 1989, where it ran for 20 years. The musical went on to become a worldwide success. In 2009, the show was taped and shown in movie theaters across the country, then released as a DVD.
Singing in perfect four-part harmony, the Plaids perform such fifties favorites as "Three Coins in the Fountain," "Catch a Falling Star," "Sixteen Tons," "Chain Gang," "Perfidia," "Cry," "Shangri-La," and "Love is a Many-Splendored Thing," among many others The group executes their outlandish choreography with over-zealous precision, and in between telling the story of their lives, they banter and squabble boyishly. Their comic antics include a Perry Como tribute, Calypso music and an uproarious re-enactment of "The Ed Sullivan Show" -- jam-packed with plate twirlers, jugglers, impersonations and even Topo Gigio.
Performances are 7:30 p.m. Friday and Saturday and 2 p.m. Sunday. Tickets are $30-$70. To purchase tickets, call the box office at (310) 544-0403 or go to palosverdesperformingarts.com. The Norris Theatre is located at 27570 Norris Center Drive, on Rolling Hills Estates.
More Hot Stories For You