Casting Announced for Rockers WEST of Broadway Concert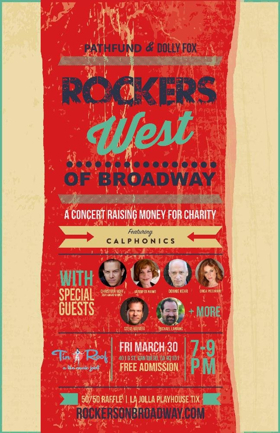 The Path Fund Inc. announces ROCKERS WEST OF BROADWAY on Friday, March 30, 2018 at Tin Roof, A Live Music Joint (401 G St, San Diego, CA 92101) from 9-11 p.m.
Sponsored by Dolly Fox, ROCKERS WEST OF BROADWAY, based on the original Broadway rock concert series, a fun unique charity event, featuring Broadway's best rockin' out with Southern California's best band, Calphonics.
Directed by ROCKERS ON BROADWAY® creator Donnie Kehr (Jersey Boys), the show will bring together several members of the original La Jolla Playhouse Jersey Boys company. This rockin' reunion fill feature TONY Award Winner Christian Hoff, Jennifer Naimo, Steve Gouviea along Calphonics band members Kevin Dow and Ken Dow, all from the original production, joined on stage by Erica Piccininni (Jersey Boys), Michael Lanning (Bonnie & Clyde) and other west coast favorites.
Proceeds from ROCKERS WEST OF BROADWAY will go to non-profit performing arts education programs and PATH's new works development series.
The PATH Fund, Inc.® is a non-profit organization dedicated to supporting arts
education. They support pre-professional training organizations with scholarship and
program funding. Additionally, they support NYC's thriving arts community by working
with aspiring writers to develop new works of music and theater. They are a community of artists, writers, musicians, designers, crew, producers, directors and fans coming together as one, promoting a good cause, sharing in a common goal and having a BLAST while doing it! They have a responsibility to give the next generation the tools for success. Promoting the performing arts inspires and empowers.