Latest News on Erica Piccininni
Stage Credits
  [Off-Broadway]
Off-Broadway Revival, 2006
Luisa [Replacement]
  [Broadway]
Original Broadway Production, 2005
Lorraine
  [Regional (US)]
World Premiere, 2005
Liz
Stage
Performances
  [Off-Broadway]
Off-Broadway Revival, 2006
Luisa [Replacement]
  [Broadway]
Original Broadway Production, 2005
Lorraine
  [Regional (US)]
World Premiere, 2005
Liz
Erica Piccininni News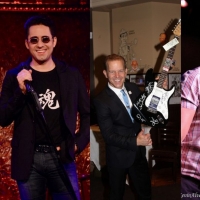 Where Are They Now? Catch Up on the Careers of the Original Cast of JERSEY BOYS
by Chloe Rabinowitz - Aug 22, 2021
In our new series, 'Where Are They Now?' we're taking a look back at some of our favorite original Broadway casts, and catching up with their careers! Next up, the original cast of Jersey Boys!

Casting Announced for Rockers WEST of Broadway Concert
by Stephi Wild - Feb 23, 2018
The Path Fund Inc. announces ROCKERS WEST OF BROADWAY on Friday, March 30, 2018 at Tin Roof, A Live Music Joint (401 G St, San Diego, CA 92101) from 9-11 p.m.
Erica Piccininni Discusses JERSEY BOYS In New Video Featurette
by Pat Cerasaro - Jun 18, 2014
Tony Award-winning Best Musical JERSEY BOYS is coming to the big screen under the direction of Clint Eastwood and a star of the film, Erica Piccininni, discusses the new Four Seasons movie musical in a new promotional featurette just released.
BroadwayWorld Looks Ahead to 2014: 14 Things We Can't Wait For!
by BWW Special Coverage - Jan 1, 2014
For the past week, BroadwayWorld has been counting down the final days of 2013 with video tributes to our 13 favorite musical moments of this year. Now that the ball has dropped and 2014 has officially arrived, we shift gears and look ahead to what is to come in 2014. Below, we count-up to the 14 theatrical events of 2014 that we are most excited for!
JERSEY BOYS Cast Member Miles Aubrey Joins Film Adaptation
by Tyler Peterson - Oct 7, 2013
Miles Aubrey will be playing the role of 'Charlie Calello' in the upcoming film adaptation of the musical JERSEY BOYS, directed by Clint Eastwood, BroadwayWorld has confirmed. Miles was in the original first national touring company of JERSEY BOYS and is currently a five year member of the Broadway company, playing the role of Norm Waxman.
Stage Actress Heather Pond Joins JERSEY BOYS Film
by Movies News Desk - Oct 3, 2013
Heather Pond (formally Heather Ferguson) will be reprising her role as 'Miss Frankie Nolan' in the upcoming film adaptation of the musical JERSEY BOYS, directed by Clint Eastwood. Heather was in the original Broadway company of JERSEY BOYS and spent five years with the show.
Erica Piccininni Frequently Asked Questions
How many Broadway shows has Erica Piccininni been in?
Erica Piccininni has appeared on Broadway in 1 shows.
How many West End shows has Erica Piccininni been in?
Erica Piccininni has not appeared in the West End