California Pops Presents February Broadway In Concert At Flint Center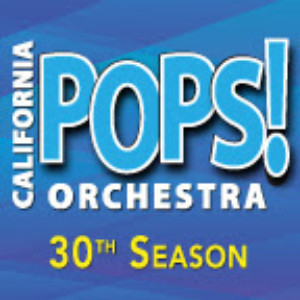 California Pops Orchestra, the country's only all-request pops orchestra, begins the new year with Broadway Hits in Concert at Cupertino's Flint Center, featuring guests pianist Frederick Hodges, vocalists Carly Honfi and Matthew Hall and the Pops Singers. Part of the Pops' 30th season, Broadway Hits in Concert performs one time only on Sunday, February 10, 2019, at 3 pm. For tickets ($20-$55), standard ticket service fees apply), the public can visit www.ticketmaster.com or go to the Flint Center Box Office (Tues-Fri 10-4pm).
Decades of Broadway hits are brought to life: everything from Camelot and My Fair Lady to Mamma Mia and Les Miserables! The Pops delivers an afternoon full of Tony Award-winning, spotlight-stealing songs and Broadway musical stylings of Rodgers & Hart, Lerner & Loewe, Cole Porter, George Gershwin, Leonard Bernstein and more!
Broadway Hits in Concert will include such beloved tunes as With a Song in My Heart , I Feel Pretty , Oklahoma , Phantom of the Opera , Bewitched and Climb Every Mountain as well as many other stage gems like Mamma Mia , Everything's Coming Up Roses and an entire medley of George & Ira Gershwin classics.
This show also features audience favorite and piano phenomenon, Frederick Hodges, called a gifted pianist in the Gershwinian mold, and also one of the great ragtime players of our time, by Counter-Punch's David Yearsley. A native of California who earned a doctorate in history from Oxford in 2001, Hodges has a world-spanning career performing throughout the United States as well as tours throughout Europe and the Far East and always to rave reviews.
Venaas describes a typical engagement with Hodges as, an opportunity to experience musical perfection - from impeccable authenticity in Frederick's arrangements to stunning technical mastery all aimed at delighting his audience. Venaas says he reserves time in each show for Hodges to do anything he wants. And it's always amazing and surprising. So I can't tell you what exactly Frederick will play during those solo spots. I'll find out when you find out. During these times I just go sit with the audience and enjoy!
Guest singer Carly Honfi, a Pops audience favorite since 2013, will also lend her talents to the performance. She's been seen locally with South Bay Musical Theatre in Jerry's Girls and as the lead character of Fanny Brice in Funny Girl, as well as singing regularly in their musical showcases, Broadway by the Decade. Honfi's on-stage wit and warmth enhance each song and are part of the reason she is the biggest audience request the Pops receives. Maestro Venaas says, Carly is multi-faceted with rich and gorgeous vocals, stagecraft honed from years of theater performing, a completely honest and guileless presence that immediately captures your heart.
Joining Carly Honfi and the Pops will be Tenor Matthew Hall who continues to enchant Pops' audiences. Hall was seen as Jinx in Forever Plaid with South Bay Musical Theatre as well as in The Drowsy Chaperone with Sunnyvale Community Players. He also appeared in the ongoing musical review Broadway by the Decade (1920's). Venaas describes Hall as, very, very talented, passionate about this music and is fearless, up for any idea I throw at him.
Musical theater has been touching hearts for hundreds of years whether it's the lighthearted melodies of Oklahoma! or the soul-stirring choruses of Les Miserables, the classic Guys and Dolls or the latest Broadway sensation Hamilton, musical theater has the ability to linger in people's consciousness long after the curtain goes down. Among performers, it's often said that songs occur in a musical when the emotion of the characters becomes too large to be expressed in mere speech, and the emotive power of many of our favorite Broadway songs is what makes them near and dear to our hearts.
Although recent musicals have benefitted from well-known pop icon composers such as Cyndi Lauper and Elton John, more traditional musicals from the 30s, 40s, and 50s as well as more recent revivals are on Broadway each and every season and draw sold out audiences. Some of the longest-running Broadway musicals include: Mary Poppins, Hairspray, My Fair Lady, Hello Dolly, Fiddler on the Roof, Grease, 42nd Street, Miss Saigon, Jersey Boys, Rent, Wicked, Beauty and the Beast, Mamma Mia, Oh Calcutta, A Chorus Line, Les Miserables, Cats, The Lion King, Chicago, and Phantom of the Opera.
For more information, visit www.calpops.org.