BWW Review: West Coast Premiere of BAR MITZVAH BOY Explores the Meaning of Faith at the Miles Memorial Playhouse
The West Coast Jewish Theatre was founded in 1993 when Naomi Karz Jacobs assembled a group of friends with Yiddishkeit (the quality of being Jewish; the Jewish way of life or its customs and practices) and love of theatre in their hearts, all of whom wanted to find a way to start a permanent Jewish theatre in Los Angeles. It's difficult to believe at that time, even though Los Angeles had the second largest Jewish community in the USA with a pool of the most talented people in the film, television and theatre industries, and was the home of major Hollywood studios, that the city had no Jewish theatre.
For those not affiliated with Jewish organizations or synagogues, WCJT gives audiences the opportunity to learn about Jewish history, philosophy and culture through provocative theatre to broaden perspectives through the magic of live theatre. The group is now in their new home at the Miles Memorial Playhouse in Santa Monica, led by Howard Teichman. Artistic Director of WCJT, and director of their latest production BAR MITZVAH BOY.
Certainly,
almost everyone knows that a Jewish boy who reaches his 13th birthday and attains the age of religious duty and responsibility celebrates that achievement with a bar mitzvah ceremony (with modern era girls celebrating a bat mitzvah), a chance for family and friends to get together to celebrate, eat, drink, and dance the newly-minted religious adult into the community. This rite of passage remains one of the most sacred ceremonies of the Jewish faith and often generates stories told over generations with pride as well as humor, most often about the shenanigans at the party which follows the religious ceremony.
Mark Leiren-Young's BAR MITZVAH BOY was the winner of the 2017 Jewish Playwrighting Contest, developed by the Jewish Plays Project. First produced in Vancouver, Canada, in 2018, Teichman is thrilled to present its West Coast Premiere through May 12, 2019. In it, a non-observant Jew is his sixties decides ne needs to get Bar Mitzvahed ASAP (before his grandson does) and finds his faith during classes with a Rabbi who's losing hers.
In this two-person character study, Joey Brant (R. Emmett Lee, who more than adequately took on the challenge of learning to speak Hebrew for the part)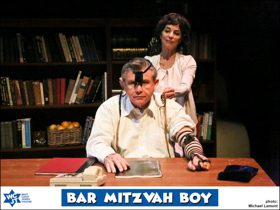 is a Jewish divorce lawyer in his 60s who never had a bar mitzvah ceremony. For reasons which become clear in the story, Joey's bar mitzvah ceremony must take place at the synagogue he attended five decades ago where his grandson Ben Goldman will carry on the family tradition with his own bar mitzvah in a matter of months. Joey, a thoroughly secularized man, must now re-connect with the faith of his ancestors, but promptly alienates the synagogue's regular instructor. But when Joey goes to meet with the temple's new rabbi for his bar mitzvah lessons, he is shocked to find a woman is now in charge.
That modern woman is Rabbi Michael Levitz-Sharon (petite powerhouse Pamela Heffler), who we first meet as she is working out to what we can assume to be is rock music on earbuds.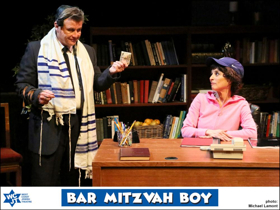 Their initial banter offers a real glimpse into how different the two really are, although I might suggest slowing down the pace to allow for the laughs which should take place, given the nature of their dialogue. As the 90-minute play evolves, we learn why the Rabbi finds her faith challenged at the same time that Joey is rediscovering his spiritual roots. Sadly, her 11-year-old devoutly Jewish daughter Rachel has contracted terminal cancer, and wants nothing more than to live long enough to be bat-mitzvahed. But the Rabbi is facing greater challenges in her ability to "put on a good face" for her congregation as the impending tragedy is taking its toll on Rabbi Michael's marriage. So of course, she turns to Joey for legal advice, causing the tables to be turned on their teacher/student friendship.
Ultimately the question is answered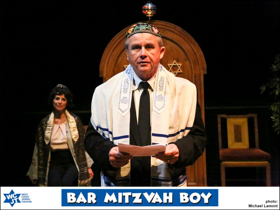 whether Joey finds his faith and has his bar mitzvah, as well as whether or not Rabbi Michael will survive the death of her daughter and marital separation and be able to retain her beliefs. The loose ends are tied up nicely by the end of the play when the two ask the audience to join them in a prayer printed in the program. I wish it was also translated into English so those of us who do not understand Hebrew could enjoy the meaning of the prayer which seems to be uniting them in the faith that will carry them through life.
The somewhat cavernous Miles Memorial Playhouse can make it difficult to hear actors once they speak in whispers or as softly as it would seem appropriate to do in such serious conversations. It is a slippery slope which Teichman has taken into account, but my advice is to sit as close to the stage area as possible to grasp the intensely important bits of information shared quietly between the student and his teacher
as they learn to find a common ground leading to friendship and mutual respect.
There are several, comical voiceovers by Christine Torreele as Sheryl, the secretary who seems to know it all with eyes in the back of her head and ears as large as Dumbo! Set design by Kurtis Bedford, lighting design by Ellen Monocroussos, and costume design by Sarah Rekow enhance the overall artistic representation of two people from such different worlds who manage to meet center stage in front of Eternal Light resting above the most holy of places in the Jewish faith. May its essence follow you in spirit after seeing the play.
Performances of BAR MITZVAH BOY continue through Sunday, May 12, 2019 on Thurs.- Sat. at 8:00pm, Sun. at 2:00pm at the Miles Memorial Playhouse, 1130 Lincoln Blvd., Santa Monica, CA 90403. Free parking is available at the structure at 808 Wilshire Blvd., but the entrance ramp to the parking is on Lincoln Blvd. Reserved seat tickets are $35 adults. $30 Santa Monica residents with I.D. (those purchasing adult tickets online can receive a $5 reimbursement at the door); $32.50 for groups of ten or more; $25 students with I.D. SPECIAL: Purchase a ticket at full price, bring us a picture of your own Bar or Bat Mitzvah, and receive a $5 reimbursement at the door. For reservations call (323) 821-2449 or visit www.wcjt.org
Photos of R. Emmett Lee and Pamela Heffler by Michael Lamont