BWW Review: Strong Acting Powers BLUE SURGE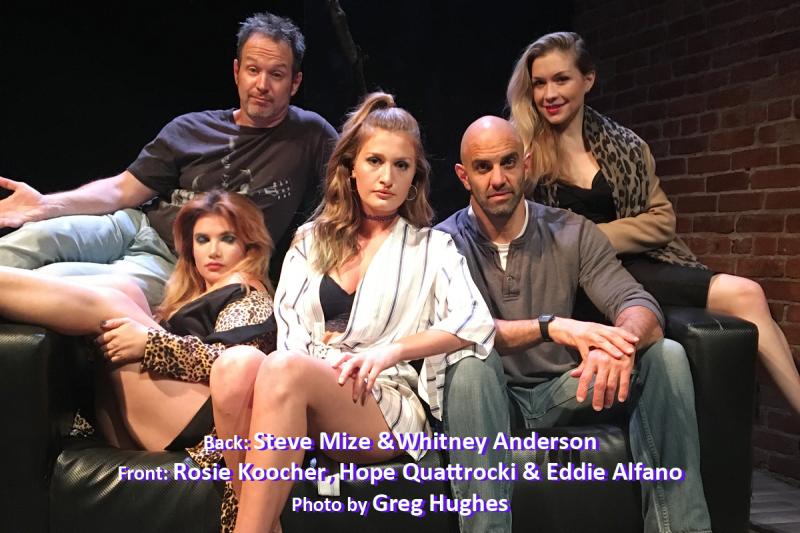 BLUE SURGE/by Rebecca Gilman/directed by Paul Rush/The Marilyn Monroe Theatre/thru December 8, 2018
Paul Rush sure-handedly directs his talented Sixty-six Theater Co. cast at a languid, very laid-back pacing, most appropriate for the Wisconsin town that playwright Rebecca Gilman set BLUE SURGE in. Eddie Alfano charismatically and most effectively heads the ensemble as Curt the constantly, down-on-himself cop trying to make lieutenant.
We first encounter Curt as he gets a massage from massage therapist Sandy in a mini-mall massage parlor. When Curt asks for much more than a massage, the bra and panties-clad Sandy pooh-poohs his illicit suggestions, seemingly insulted by his impropriety. Hope Quattrocki imbues her Sandy with a lovely mixture of innocence and self-confidence, both of which Curt's lacking.
Quattrocki and Alfano possess a most pleasing chemistry in all their interactions (non-sexual), despite Curt having a girlfriend - Beth who's frequently out of town. Whitney Anderson registers quite believably as the well-to-do, upper-class Beth.
Curt always seems to have to make excuses for his patrol partner and best friend, Doug; as Doug has a tendency to occasionally mess up. Steve Mize initially charms as the witless Doug, later turning on his convincing wiles to attract Heather, Sandy's fellow massage therapist. Rosie Koocher embodies her Heather with much sass and attitude.
In the course of the intermission-less two-hour show, relationships are tested (Curt and Beth, Curt and Doug) and attempted (Curt and Sandy, Doug and Heather).
Kudos to director Rush for his utilitarian scenic design of three static set areas, smoothly transforming into four sets with the able help of lighting designer Paul Timmel.
Log onto sixtysixtheater.com for possible show extensions.