Review: A Remote Kansas BUS STOP Takes Center Stage at Theatre 40
First produced on Broadway in 1955, BUS STOP by William Inge is a dramatic comedy about a group of people heading west on a bus from Kansas City who get thrown together by a blizzard, causing them to spend a long night snowbound at a diner/bus stop in rural Kansas. Interestingly, the inspiration for the play came from people Inge met in Tonganoxie, Kansas as he was travelling around the country.
But the play is probably best known for the 1956 American romantic comedy film of the same name, directed by Joshua Logan for 20th Century Fox, starring Marilyn Monroe, Don Murray, Arthur O'Connell, Betty Field, Eileen Heckart, Robert Bray and Hope Lange. In fact, it was Monroe's first film after studying at The Actors Studio in New York in her attempt to be taken seriously as an actress. However, the lasting memory from the movie may be her sexy rendition of "That Old Black Magic" by Harold Arlen and Johnny Mercer.
But back to the play, now onstage at Theatre 40 in Beverly Hills. The first thing you will notice is the wonderfully, homey bus stop café created by Jeff G. Rack which includes a 50s juke box and cigarette machine as well as patched-up leather chairs and metal tables which have probably been there for 20 years or more. The diner is owned and run by
Grace (Michele Schultz), who knows the bus schedule like the back of her hand and which drivers may be stopping by for coffee, a doughnut, and perhaps a more personal form of entertainment she provides in her upstairs apartment. Schultz fully inhabits the role, sharing this lonely woman's acceptance of her lot in life with enthusiasm and brutal honesty.
You get the feeling Grace has seen it all in the years she has been there and is doing her best to train her latest waitress, high school senior Elma (played with perfect, wide-eyed innocence by Mani Yarosh). Winds are blowing outside as they fill containers with sugar and salt preparing for the next bus to arrive, and then it begins to snow heavily and the phone goes dead. So Grace fully expects to hear the roads are closing. Sheriff Will Masters (tall and confident Shawn Savage) soon arrives confirming it, and Grace knows full well whoever is on the arriving bus will wind up spending hours, or perhaps even overnight, with no place other than her diner to stay, rest and eat.
Soon the bus arrives and its passengers begin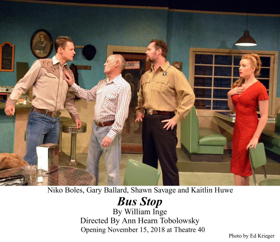 to take refuge indoors from the cold. Rushing in first is Cherie (Kaitlin Huwe who makes the role her own), clutching a mink jacket around her freezing body. And with suitcase in hand she begs Grace and Elma for a place to hide. But of course there is none, other than the outhouse out in the snow.
Flustered and afraid, Cherie confides in the three locals that Bo (Niko Boles), a young and socially naïve rodeo cowboy on the bus with his foreman and mentor Virgil (Gary Ballard), has abducted her against her will and is planning to marry her after they arrive at his isolated ranch in Montana. Cherie begs Sheriff Will to protect her from his unwanted attentions since she has no desire whatsoever to go anywhere with him. Convinced of her sincerity, Will agrees to protect Cherie from being forced back on the bus against her will.
Next in is the Professor, Dr. Lyman (Jack Sundmacher)
who seems more interested in getting drunk and seducing Elma than anything else. And since Elma is "too educated and smart" according to Grace, it makes perfect sense that the good Doctor and the young girl strike up academic conversations on topics no one else in the diner can understand. But when Carl (David Datz), the bus driver walks in, Grace can't hide her excitement at the possibility of inviting him up to her place for some "rest." Their cute banter as they set the plan in motion fools no one, expect Elma who continues to feast on the Professor's every word.
Finally Bo and Virgil blast their way into the diner, and Sheriff Will realizes the young hot head needs to be taught a lesson in humility and the basics of how to treat a woman with the respect she deserves, a lesson echoed by Virgil.
But when Elma decides to pass the time each of the passengers should entertain the rest, given she and the professor can recite the balcony scene from Romeo and Juliet, Virgil can play the guitar, and Cherie is a nightclub chanteuse from the Blue Dragon Club near the stockyards in Kansas City (you get the picture), things get out-of-hand when Cherie reappears decked out in a sexy cut-up-to-there sequined gown and launches into a very seductive rendition of "All or Nothing at All" after which Bo lifts her over his shoulder to run out and find the local Justice of the Peace to marry them right "then and thar."
Of course, Cherie protests and the Sheriff steps in, knowing full well Bo needs to lose a fight before he can win the heart of the love of his life,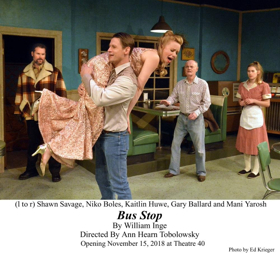 and the good Sheriff is more than willing to teach the young Buck how to be a man. And it is Bo's hard-learned lesson about romance and respect that keeps BUS STOP in the forefront as one of the great classic American romance stories. And thanks to the talented cast and director Ann Hearn Tobolowsky's attention to detail and effective use of freeze framing cast members while others speak, these well known characters will reach out and grab you by the heart, stirring your emotions as lessons are learned, partnerships are formed, and everyone gets exactly what they want by the time the road re-opens, especially a naïve cowboy and a 19-year old hick singer from the Ozarks determined to make a better life for herself.
BUS STOP by William Inge, directed by Ann Hearn Tobolowsky and produced for Theatre 40 by David Hunt Stafford,
continues through December 16, 2018 on Thurs.- Sat. at 8pm, Sun. at 2pm, and Mondays at 8pm on December 3 and 10. Dark on November 22 and 23 (Thanksgiving.). Performances take place at Theatre 40 in the Reuben Cordova Theatre on the campus of Beverly Hills High School, 241 S. Moreno Drive, Beverly Hills, CA 90212. Ample free parking is available in the parking lot adjacent to the theatre, accessed from the intersection of Durant Ave. and Moreno Drive. Tickets are $35, available by calling (310) 364-0535 or online at www.theatre40.org
Photo credit: Ed Krieger