BWW Interview: Jefferson Mays On Always Looking For the Next Terror, Wonder & Joy of His Profession
Tony Award-winner Jefferson Mays (and his many characters) will grace the Gil Cates Theatre stage of The Geffen Playhouse for his one-man adaptation of Charles Dickens' A CHRISTMAS CAROL, already in previews, with opening night set for November 7, 2018. I had the chance to pick Jefferson's witty mind for some very fun answers to my semi-serious inquiries.
Thank you for taking the time for this interview, Jefferson!
What initially sparked your inspiration to adapt Charles Dickens' A CHRISTMAS CAROL?
The idea has been in my mind for years. Initially sparked by hearing my story teller father and performer mother read it aloud after our basset hound inadvertently dragged the black and white portable TV off the table. They never replaced the television, and we started reading aloud every night after dinner. I was captivated by his telling of the tale and her gleeful embodiment of all those wonderful characters. Thinking back on it, it's probably around when my lifelong love of the theatre was born.
Do you remember how old you were when you first saw/read A CHRISTMAS CAROL?
I must have been about six or seven.
Who was the one particular character you related to or identified with?
I remember being terrified by Marley's Ghost. For better or worse, I've always been drawn to whatever scares me.
You adapted this with your wife Susan Lyons. Is this your first time collaborating with her?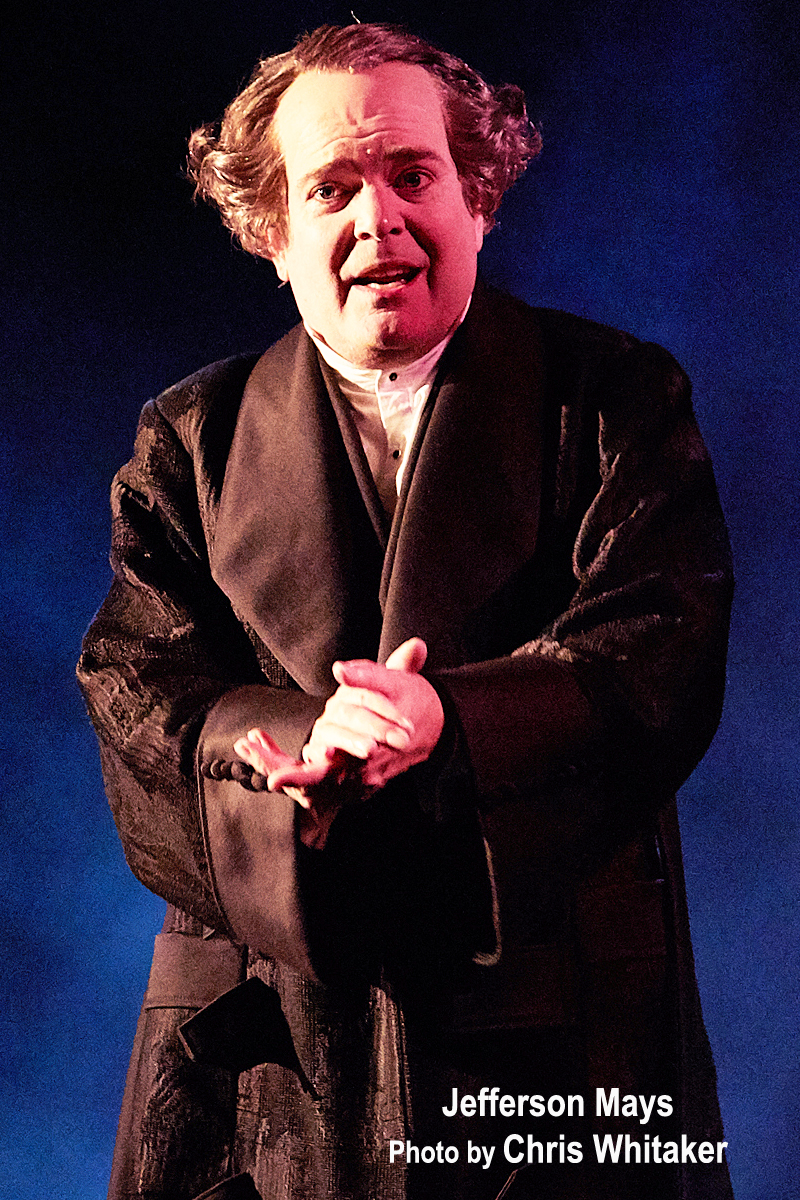 No, early in our relationship, Moises Kaufman asked her to be his associate director when I AM MY OWN WIFE transferred from Playwrights' Horizons to Broadway. She took over as director for the national and international tour.
At what point of your adaptation process did you decide to mode it into a one-man show?
It was always the idea to have a one-man version up our sleeve. Initially, I think we envisaged it as an enhanced reading, but Matt Shakman's generous offer to give us the main theatre and the wonderfully talented Michael Arden to direct, while terrifying, was too exciting to turn down.
You two must have adapted this play with you specifically in mind to tackle all the roles, right?
Yes. Though we did, in a stray moment, eye Maud, our dog, as a winsome Tiny Tim.
Once you've world premiered your one-man A CHRISTMAS CAROL, who would you love to see cast in subsequent productions?
As I said, I think Maud has previously unexplored dramatic potential. Apart from her...
It's been over a decade since your first Tony Award nomination and win for your stunning and mesmerizing portrayal of Charlotte von Mahlsdorf (and others) in I AM MY OWN WIFE. I did have the most pleasurable opportunity to catch your performance when you brought I AM MY OWN WIFE to the Geffen. Looking back at what must have been a simply glorious time for you, what stands out as an unforgettable moment for you?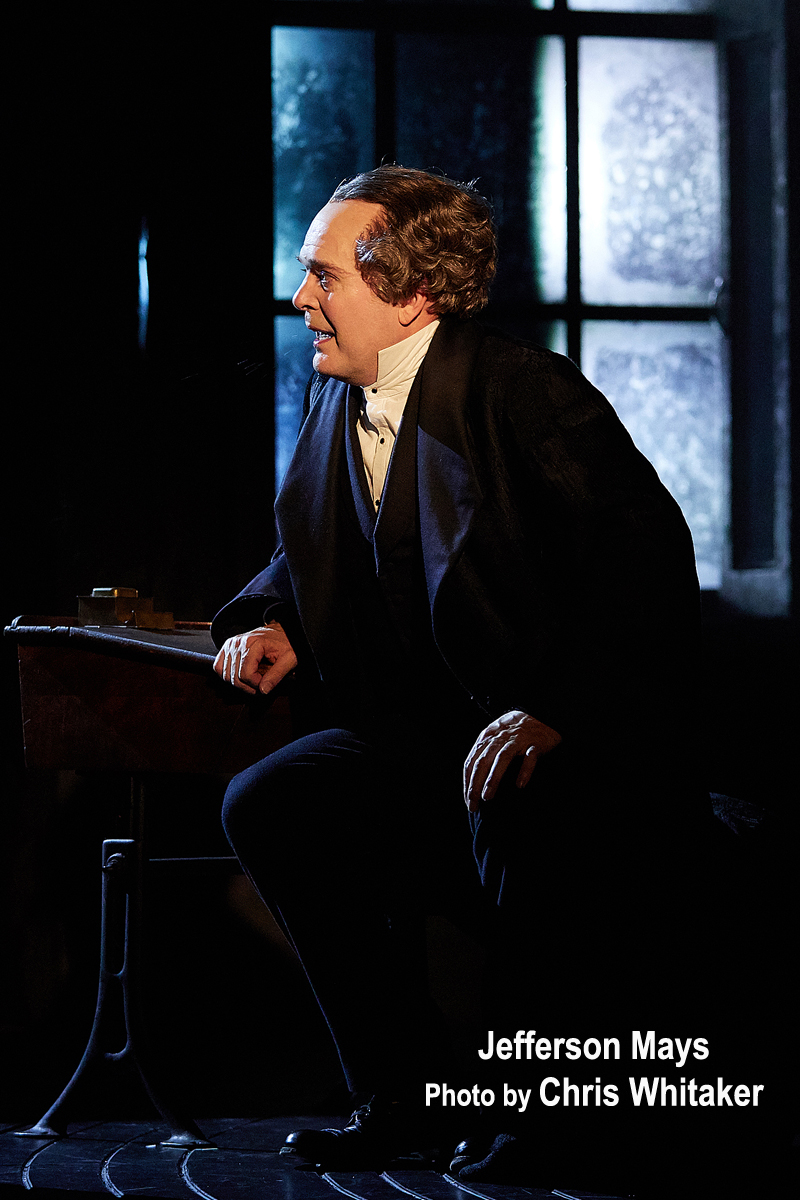 I have no memory of accepting the Tony Award (though, looking at the photos, having Helen Mirren hand you the statue, and then shepherd you backstage to the press room and ply you with champagne must be any actor's dream.) My profoundest memory is performing the play in Charlotte's museum in Mahlsdorf for an audience of people who all had a personal connection to her. I remember lifting out the miniatures of her furniture, only to see the real article in the room and as I walked over to the window to describe her father coming home through the snow, the white flakes were wafting on the very scene I was describing.
Financial compensation aside, which entertainment medium would you be most happy to be involved in - theatre, television, film, all of them?
Any job where you have the luxury of time to build the story. This tends to favor theatre, though I've experienced that thrill in some film experiences as well.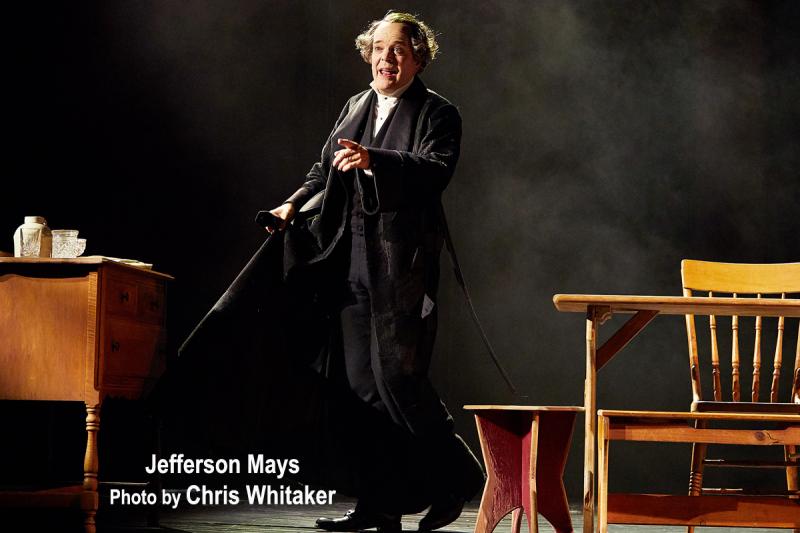 You earned a Bachelor of Arts degree from Yale and a MFA from University of California, San Diego. How old were you when you decided you wanted to be in the performing arts?
Looking back, I spent my childhood pretending to be other people and dressing accordingly (my own butler, a knight in armor, Sherlock Holmes, Horatio Nelson, Quasimodo). But it was at Yale that I spent my time, at the expense of my studies, making plays and performing in dining halls, squash courts, on loading docks, friend's rooms, whatever space we could find. It was exhilarating.
What is one (or more) piece of advice that a teacher/mentor gave you that you adhere to today?
Read something wonderful aloud every day to someone else; then ask them to read something to you.
What projects are in the near future for Jefferson Mays?
I have no idea. That is the terror, wonder and joy of this profession - you just never know and I can't wait to find out!
Thank you again, Jefferson! I look forward to seeing you re-take and command the Geffen stage with all your Dickens' characters.
For ticket availability and show schedule through December 2, 2018; log onto www.geffenplayhouse.org
Related Articles View More Los Angeles

Stories

Shows
From This Author Gil Kaan