BEARING WITNESS Examines Father-Son Story of War Trauma, Holocaust, Healing at Oydssey Theatre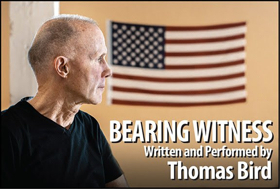 West Coast premiere of Bearing Witness - Vietnam veteran and founder/artistic director of the Drama Desk Award-winning Vietnam Veteran's Ensemble Theatre Company (VETCo) Thomas Bird's autobiographical solo show is the moving father-son story of Bird's relationship with his World War II veteran dad and their mutual healing from the traumas of battle and the Holocaust. In the play, Bird travels to Mauthausen concentration camp to honor the memory of his father, an Army doctor who cared for survivors upon the camp's liberation. As Bird conjures the spirits of his father and the camp's victims, he recalls his own wartime experiences in Vietnam along with a long-held secret his dad revealed just before his death. In "bearing witness" himself, Tom is finally able to find some peace.
Thomas Bird is a Vietnam War veteran who served with B Company, 2nd Battalion, 5th Cavalry Regime and 1st Cavalry Division in 1965-66. He was awarded the Combat Infantryman's Badge, the Vietnamese Cross of Gallantry with palm, and all Vietnam Service Medals. On his return to the United States, he created VETCo, the Vietnam Veteran's Ensemble Theatre Company, and, as the company's artistic director, presented 26 plays off and off-off Broadway, including the highly acclaimed Tracers at
The Public Theater
, for which the company won a Drama Desk Award for "giving voice to the trauma of Vietnam." Tom co-produced the Peabody, Ace and Emmy Award-winning documentary Dear America, Letters Home from Vietnam. At HBO, Tom developed a number of film scripts, as well as created further programs to give Vietnam Veterans a voice in society and to help less fortunate veterans deal with life after war. In 1981, Tom was one of the first four veterans invited to return to war-torn Vietnam. His travels back to Vietnam were memorialized in the documentary "Going Back." When Bird traveled back yet again, this time accompanied by Public Theater artistic director
Joseph Papp
- Bird's mentor and "artistic father" - it was covered on 60 Minutes with
Mike Wallace
. Currently, Bird is mentoring veterans from all wars, most recently from Iraq and Afghanistan, using the arts (theater, fine art, music, comedy) as a means to get them to express themselves and facilitate their healing processes. He has several scripts in various stages of development and he is working on a memoir. • Written and Performed by Thomas Bird
• Developed with and Produced by longtime VETco board member
Barbara Ligeti
• Directed by
Brian Delate
• Creative Consultant
David Schweizer
• Presented by the
Odyssey Theatre Ensemble
,
Ron Sossi
Artistic Director June 1 - June 17:
• Thursdays at 8 p.m.: June 7, June 14
• Fridays at 8 p.m.: June 1 (opening night), June 8, June 15
• Saturdays at 8 p.m.: June 2, June 9, June 16
• Sundays at 2 p.m.: June 3, June 10, June 17 Odyssey Theatre
2055 S. Sepulveda Blvd.
Los Angeles CA 90025 • (310) 477-2055 ext. 2 or
www.OdysseyTheatre.com
• Visit us on Facebook:
www.facebook.com/OdysseyTheatre
• Follow us on Twitter: @OdysseyTheatre_ ADDITIONAL INFORMATION:
www.bearingwitnesstheplay.com
TICKET PRICES:
$25-$35