ArtCenter College Of Design Announces Public Phase Of Fundraising Campaign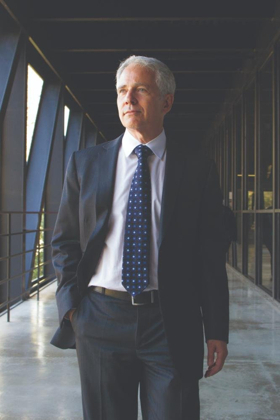 ArtCenter College of Design today announced the public phase of an ambitious $100 million fundraising campaign. With support from a dedicated ArtCenter family of individual donors as well as corporations and foundations, the College has raised $84 million of that goal. The money will help to grow scholarship funds, build new learning spaces and grow the College's endowment.
Accelerate: The Campaign to Create Change is intended to make a great school even stronger, and to maintain ArtCenter's status as a leading college of art and design in the 21st century. Since the campaign's quiet launch in 2011, the College has raised 84% of its $100 million goal from an extraordinary community of trustees, alumni, faculty, staff, students, parents and friends, foundations and corporate partners.
"I am very proud of the milestones we've reached and the many lives we've impacted through our collective commitment to philanthropy," said Lorne M. Buchman, president of ArtCenter College of Design. "I have enormous gratitude for the generous individuals who have helped us realize our vision, and I am especially gratified with the success of our goal to increase scholarships for diversity and for creating broader access to an ArtCenter education."
Alvin Oei is one ArtCenter student who benefits from more than $14.4 million distributed in scholarships each year. "My family was on food stamps at one point as my father did not have a job," Environmental Design major Oei wrote in a letter to alumnus Phil Hettema who established the Phil Hettema Endowed Scholarship. "What a scholarship represents is not just money, but hope. Throughout the last three years, it is scholarships that have kept my hope strong. It is your belief and confidence in me that reminds me to keep striving."
Almost immediately after Buchman took office on October 1, 2009, he began listening to individuals across the College, followed by open dialog and collaborative conversations. "We are in an era of thoughtfulness - taking a human approach to doing what is inclusive and bold," said Provost Karen Hofmann (BS 97). "We have a sense of community and collaboration, a lot of voices are being heard. Lorne is a community-driven decision maker who operates with empathy. He deeply thinks through what is best for our students."
Looking to the future, Buchman spearheaded Create Change 2.0, the College's strategic plan for the next five years. Create Change 2.0 is the result of the ArtCenter community evolving and updating initiatives of Create Change 1.0, the plan that guided the institution from 2011 to 2016.
In response to this strategic planning process, the College began the Accelerate Campaign with the focus entirely on enhancing the educational experience for students.
"Students need a space for their ideas to form as much as they need a space to physically make the work," said Illustration department Chair Ann Field when asked about the human impact of new learning spaces. "I think this space allows the students to feel that they have the power to do what they imagine they can do."
Campaign highlights and milestones include:
Since 2011, multiple major gifts from alumnus and ArtCenter Trustee Bruce Heavin (BFA 93) and former faculty member Lynda Weinman were dedicated to build innovative facilities to support online learning and provide space for alumni programming.
In response to alumni support, The Ralph M. Parsons Foundation made a closing gift in 2012 for the purchase of two adjacent properties at 870 and 888 S. Raymond in Pasadena to expand learning spaces at the South Campus.
In 2013, Peter and Merle Mullin made a $15 million gift to South Campus in support of Transportation Design.
2014 marked the grand opening of the 870 building as the home of undergraduate Fine Art and Illustration.
In 2014, the College purchased the 1111 S. Arroyo Parkway building, a major commitment to grow the South Campus and free up space at the Hillside Campus. The Ahmanson Foundation donated $3 million the following year to help jumpstart the 1111 building's adaptation from a commercial office facility into a high-caliber educational site.
A $2 million gift from Lowell Milken Family Foundation led to the 2014 opening of the internationally recognized Hoffmitz Milken Center for Typography at the South Campus. The foundation donated an additional $2 million to the College in 2017.
In 2016, architect Michael Maltzan partnered with ArtCenter on a vision of a fully actualized two-campus College. The master plan includes the first ever student housing.
The FullCircle membership philanthropic community was launched in 2017. Today, a total of 535 individuals support the College through this giving group and they have donated more than $300,000.
The Pasadena City Council approved the ArtCenter Master Plan in 2018.
"Designing the future of one of the world's premier art and design schools-designing ourselves-is among the most challenging assignments we've ever faced," said Buchman. "The outcome of our plan will define the experience of the College and shape the value of what we create for decades to come."
As the campaign enters the public phase, the College published an Impact Report detailing the planning, leadership and how funds raised will be used to design the future of ArtCenter. The report documents progress made to date and lays out the work still ahead. A copy of the report is available by request.
To get involved in the campaign or join the FullCircle membership community, please contact the Development team at giving@artcenter.edu.
About ArtCenter
Founded in 1930 and located in Pasadena, California, ArtCenter College of Design is an international leader in art and design education. ArtCenter offers 11 undergraduate and seven graduate degrees in a wide variety of industrial design disciplines, as well as visual and applied arts. In addition to its top-ranked academic programs, the College also serves members of the Greater Los Angeles region through a highly regarded series of year-round educational programs for all ages and levels of experience. Renowned for both its ties to industry and social impact initiatives, ArtCenter is the first design school to receive the United Nations' Non-Governmental Organization (NGO) status. Throughout the College's long and storied history, ArtCenter alumni have had a profound impact on popular culture, the way we live and important issues in our society.