Archway Company Creates 'Garter Inn' For MERRY WIVES... Production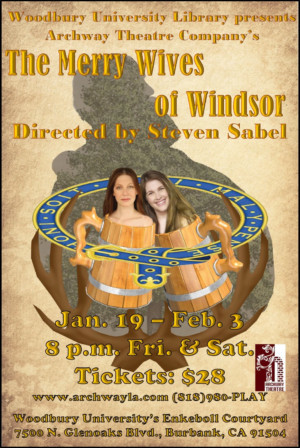 Welcome to the Garter Inn - the most popular public house in all of 16th century Windsor! Full of colorful characters, and always entertaining, the Garter Inn is the favorite haunt of Windsor folk of every rank and class, including the infamous knight, Sir John Falstaff. Come and meet the citizens of Windsor at the Garter Inn when the Woodbury University Library presents the Archway Theatre Company production of "The Merry Wives of Windsor" in the Enkeboll Courtyard Jan. 19 through Feb. 3, 2018. Performances are 8 p.m. Fridays and Saturdays. Tickets are $28 general, and $14 for students or seniors.
The production promises to be immersive in style, inviting patrons to an environment that has been adapted to suit the production, says Steven Sabel, producing artistic director of the company, and director of the show.
"We are so thrilled to collaborate with the Woodbury University Library to convert the Enkeboll Courtyard into a site-specific performance space for this lively and entertaining production," said Sabel. "We really are inviting our audience into a created environment inspired by a 16th century tavern, where they can see the players of the company come before them to tell this merry tale."
The cast is led by Archway veteran, John Eddings in the role of Falstaff. Eddings is also the company's award-winning principal set designer. His previous roles for the company include Leo Barrett in "Postmortem," Andrew Undershaft in "Major Barbara," Lord Capulet in "Romeo and Juliet," and others. He is joined on stage by a cast of mostly Archway resident company members, including the two merry wives, Sara Davenport and Hillary Weintraub.
"It is very exciting to lead our wonderfully talented company members and ever-supportive patrons on this new part of our journey that has freed us from the confines of a black box. It has been such a delight to see our artists unleashing their talents in new and inspired ways as we prepare to open our 2018 season in this sort of guerilla theater way," Sabel said.
Additional productions in the season will also be site-specific, he said.
"Imagine 'Faustus' in a library surrounded by books, or 'Midsummer' under a giant oak tree. These are the type of theatre experiences we want to have and share, and these are the theatre experiences we are going to create this year," said Sabel.
"Merry Wives of Windsor" tells the story of how the slovenly and crafty whale of a knight, Sir John Falstaff, decides to woo two different married women (Mistress Page and Mistress Ford) in order to gain access to their husband's money. When the two women share their identical love letters from Sir John, they plot to get revenge on the greasy knight by luring him into ridiculous situations. In the meantime, another plot by her parents to marry off Anne Page, also goes awry, and causes for more hilarious fun.
"This play is the grandmother of the modern sitcom. We have seen these same hilarious themes through the ages in episodes of 'I Love Lucy,' 'The Honey Mooners,' 'Mary Tyler Moore,' 'Cheers,' 'Home Improvement,' 'Family Guy,' - the list goes on through the decades," said Sabel. "This stuff is universally funny."
Woodbury University is at 7500 N. Glenoaks Blvd., Burbank. Parking on campus is free. Doors to the "Garter Inn" will open at 7:30 p.m. on performance nights. Patrons will be treated to music, jugglers, clowns, limericks, and more before and during the show. For additional information visit: www.archwayla.com or call (818)980-PLAY (7529).