ANTHEM, A New Rock-n-Roll Musical Tribute Honoring Our Armed Forces, Will Tour in 2019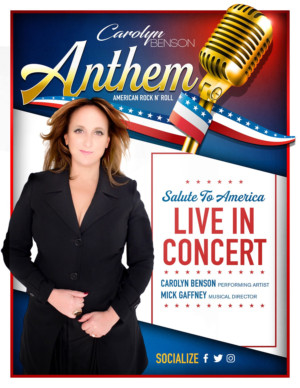 In an effort to give back to those who have served, and remind the American people that music is a common thread to bring us together. Long Island native, Carolyn Benson, has produced a new Musical Show entitled "ANTHEM," a Rock n Roll salute to America. Under the musical direction of Mick Gaffney, whose resume includes playing for the great David Bowie, the duo has teamed up to create a contemporary patriotic musical revue to be perform in connection with the USO on bases, in Veterans Homes, at Hospitals etc., as well as theaters, casinos, parks and festivals.

A portion of the ticket sales will be donated to local veterans organizations in the towns and cities they will be performing.
"Because of their dedication and service, we continue to be the 'land of the free, and the home of the brave'," says Benson who along with the show, released a song entitled "Forever in my Heart," written for and dedicated to U.S. armed forces. A portion of the record proceeds is being donated to the Gary Sinise foundation, which helps veterans on Long Island, and elsewhere throughout the country. "This charitable organization serve our nation by honoring and assisting our defenders, veterans, first responders, their families, and those in need".

Visit www.carolynbenson.us to listen to Carolyn's music and see show dates.

"My dad was a Marine, who served in the Korean War," says Benson. "He has such an amazing love and pride of country still today. I feel it is important to acknowledge our military and remind people of those sacrifices."