CIRQUE ELOIZE iD Comes to Patchogue Theatre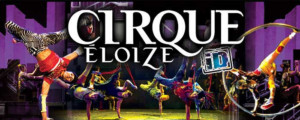 Mind-blowing feats, exhilarating tricks, and dazzling acrobatics come to Patchogue Theater as The Gateway presents, for the first time on Long Island, the famed contemporary circus troupe Cirque Éloize iD from August 9-13, 2017.
A high-energy blend of circus arts and urban dance, this smash-hit show is a production for the young at heart.
Cirque Éloize iD
is an exciting family-friendly production that transports audiences to a vibrant urban streetscape. The stage fizzes with infectious energy and phenomenal physical feats, as the talented cast members perform against a kaleidoscope of video projections. The show's energy and poetry will exceed the expectations of audiences and is guaranteed to leave you in awe! Éloize Pronounced [EL-WAZ] is a word that comes from Quebec's Magdalen Islands and means "flashes of heat lightning seen on the horizon". An inspiration for the troupe's founding members, this lightning symbolizes the heat and energy which feeds the troupe's spirit. Positioned at the heart of the renewal of circus arts, this Canadian-based circus troupe has been creating moving performances filled with magic and emotion since 1993. Continually striving for artistic perfection, it is one of the leaders in contemporary circus arts. Based on the multidisciplinary talents of its artists, Cirque Éloize expresses its innovative nature through theatricality and humanity, and combines circus arts with music, dance and theatre in a path-breaking and original manner. With eleven original productions to its credit, Cirque Éloize has presented more than 4,000 performances and visited some 500 cities in more than 50 different countries. Cirque Éloize has taken part in numerous prestigious international festivals. Its shows have seduced Broadway and the West End.
More Hot Stories For You