BWW Review: 'I Know the Truth'.... AIDA is a SMASH at The Noel S. Ruiz Theater At CM Performing Arts Center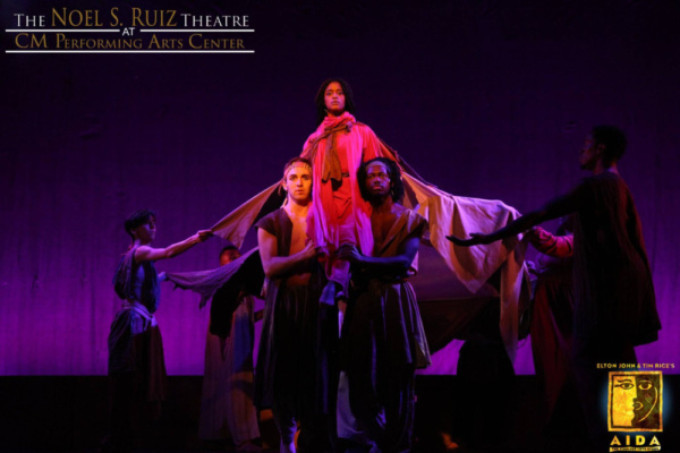 After seeing Elton John and Tim Rice's Aida at The Noel S. Ruiz Theater at CM Performing Arts Center in Oakdale, NY, I can officially say that this theater and production is the closest Long Island will ever get to Broadway! Aida was truly unbelievable and will go down as one of the best theater experiences I've ever had with Long Island theater.
Based on Giuseppe Verdi's classic opera, Aida chronicles the conflict between Egypt and Nubia which in turn creates the love triangle between Aida, an enslaved Nubian princess, Radames, the Egyptian captain that enslaved the Nubians, and Amneris, the Pharaoh's daughter.
Michael T. Mehmet did a masterful job has both director and set designer for this production. The set was stunningly beautiful; I felt like I had been transported to Egypt. Ashley Nicastro's choreography was Broadway caliber. The luxuriant orchestra under the direction of Matthew W. Surico was powerful and unbelievable. The cast was led by Steffy Jolin as Aida who brought the entire audience to their feet after her performance of "The Gods Love Nubia." Bobby Peterson was excellent as Radames. Look out Elizabeth Taylor! There is a new queen of Egypt and that queen is Marielle Greguski as Amneris. Greguski' s voice truly captures and evokes the beauty of every word. Her voice is absolutely stunning and I am hoping that she will be returning to CMPAC's next production of Ragtime in the role of Mother. It is very rare to see a performer nail every song and scene they appear in; Greguski does just that. Playing the role of Radames' servant Mereb is Steven C. Jackson who is making his community theater stage debut. All I can say is where has this guy been? He is superb and has such a beautiful soulful voice. Carl Tese rounds out the main cast as the villainous Zoser, which he plays to perfection.
What truly was mesmerizing and thrilling was the lighting. Lighting designer Alison Weinberger carried out a truly brilliant technique by attributing colors to each actor symbolizing attributes of their characters. Every time an actor sang a solo, the backdrop would be lit with a symbolic color. If their was a duet, the backdrop would be lit with a blend of the two characters' colors. The following characters were represented by the following colors: Aida = purple, Radames = blue, Amneris = pink, and Zoser = red. These colors were the perfect representation for each of these characters. According to Color-Wheel-Pro.com, "purple symbolizes power and royalty. Blue symbolizes nobility and trust. Pink symbolizes love and romance. Red symbolizes anger and danger." This truly was brilliant and Ms. Weinberger deserves every award that will surely be coming her way.
The Noel S. Ruiz at CMPAC has struck gold with this production. Rush out to Oakdale and see this show. You will not regret it.
Aida is presented by the Noel S. Ruiz Theatre at CM Performing Arts Center in Oakdale, NY through February 10. To purchase tickets visit www.cmpac.com .
Related Articles View More Long Island

Stories

Shows