BWW BLOG: Ann Hampton Callaway Presents THE ELLA CENTURY at Myron's Cabaret Jazz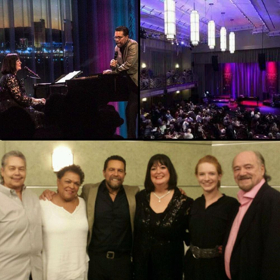 Jess here. What happens when you bring Broadway World's 2016 New York Cabaret Best Jazz Vocalist Award winner, Ann Hampton Callaway, to celebrate Ella Fitzgerald's Centennial birthday at one of the best venues in the city of Las Vegas? Audience members in attendance at Callaway's show at the newly renamed Myron's Cabaret Jazz at the Smith Center this weekend would all say the same thing - magic, pure and simple magic. Las Vegas and jazz are synonymous and bringing Callaway back to Myron's as part of their 2017 summer cab jazz series to celebrate Ella was a match made in heaven!
Picture yourself in a spacious living room adorned with nothing but a grand piano. And friends...lots of friends. This was the setting for Callaway's show. The warmth, humor and stories she shared about Fitzgerald's life and passion for music made for a very intimate evening. Callaway accompanied herself on the piano, all the time keeping the rhythm upbeat and uplifting with a multitude of Great American Songbook works made famous by The First Lady of Song.
Callaway opened the show by paying homage to Ella's early career and her longstanding relationship with the great George and Ira Gershwin. She shared the classics "Oh Lady Be Good" explaining Ella's difficult childhood journey and break into the business through a performance at the Apollo, followed by a beautiful rendition of "Summertime" which she dedicated to Ella's mom. Callaway continued by relaying a few of Fitzgerald's pivotal career moments and shared that her penning of "A Tisket, A Tasket" became her early breakout hit, with its popularity with the Chick Webb orchestra taking Ella's career to the next level. Fitzgerald's iconic relationship with Louis Armstrong was then recognized with a medley of songs including "A Foggy Day," "Cheek to Cheek," "Moonlight in Vermont," "Tenderly," and "(Our) Love is here to Stay" which featured a SCAT tutorial that required the audience to sing along. It was fantastic!
Callaway then activated her mastery of improvisation skills by bringing up Las Vegas' own Clint Holmes, and together, they created a piece on the fly based on suggestions from several enthusiastic audience members. It was genius how they pulled it off, and crafted it perfectly to fit into an 8-bar blues form. Two of my personal favorites from the show included Callaway's performance of "If You Can't Sing it (You'll Have to Swing it)" also known as Mr. Paganini, as well as "How High the Moon." Her scat on these two tunes was stellar and the audience was more than willing to contribute their part for several reprises of "we greeted you with round applause."
Callaway closed the show with her DIVA BLESSING followed by a most apropos "Ev'ry Time We Say Goodbye" by Cole Porter. She then returned to the stage for an encore and shared a song she had written, "At The Same Time." This beautifully heartfelt piece has been recorded by Barbra Streisand, and was recently showcased as a source of inspiration for participants in a Global Anthem International Video contest created by Callaway.
THE ELLA CENTURY tour will continue across America, and abroad through the end of the year. I am so glad to have had the opportunity to see Callaway's incredible performance paying homage to The First Lady of Song. It's an honor to have joined the Callaway Courtesans!
"Near may be better than far, but it still isn't there" -Stephen Sondheim
Related Articles View More Las Vegas

Stories

Shows