ALHAMBRA AFTER DARK to Open with Elvis & Buddy Holly Tribute Shows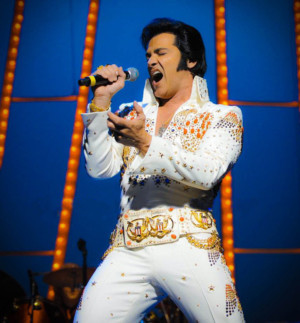 Elvis Presley and Buddy Holly were iconic and game-changing in their era, and still have influence with today's music-makers. The Alhambra Theatre & Dining will kick off its 2018 Alhambra After Dark music series schedule by celebrating Elvis and Buddy Holly. Kevin Mills will return to the Alhambra from February 7 - 11, 2018 with his award-winning tribute to Elvis in a new show, "Elvis is Back!" The Rave-Ons, led by one of Alhambra's most popular performers, Todd Meredith, will bring their rendition of Buddy Holly & The Crickets to the Alhambra from March 28 - April 1, 2018 in a show entitled, "That'll Be the Day." Both shows are concert-style events, and pricing for each show is $65 and includes dinner, performance and parking.
Through its "After Dark" series, the Alhambra offers live entertainment beyond its traditional Broadway-style theatrical performances. While the Alhambra has found a niche in hosting some of the best tribute artists in the country, it has also brought in current acts such as Shawn Mullins and Ambrosia, as well as The Amazing Kreskin, comedy nights and dancing. Both Mills and Meredith have performed at the Alhambra in the past, both selling out their engagements.
Kevin Mills' authentic portrayal and fascinating interpretation of Elvis Presley has made him one of the country's most sought after and popular performers in the industry. Considered a specialist in the business, Kevin's crowd pleasing style, and mannerisms, mixed with his unique blend of talent, vocals, charisma, and elaborate costuming makes him a favorite with international fans around the world. He has appeared in dozens of high profile productions including, Entertainment Tonight, Inside Edition, 48 Hours, ABC Primetime, Fox Television and CNN. Most notable is his starring role and lead performance in Elvis, The Beginning on A&E. Kevin was crowned Grand Champion at the 2007 Ultimate Elvis Cruise by performers who shared the stage with Elvis. He was awarded third place in 2009, second place in 2010 at the Ultimate Elvis Tribute Artist Contest in Memphis Tennessee.

Made up of cast members from the national tour of the hit-musical, Buddy - The Buddy Holly Story, Todd Meredith & The Rave-Ons are a high energy rock and roll band originally formed to revitalize the music of Buddy Holly and The Crickets. The Rave-Ons are led by Alhambra-favorite, Todd Meredith, who has performed in 20 separate productions of the musical as Buddy Holly and in tribute concerts for the past decade. The Rave-Ons have played together all over the country, delighting audiences in New York City, Reno, Memphis, Nashville, Jacksonville, New Jersey, Pennsylvania, Arizona, Colorado, Missouri, and even Buddy Holly's hometown of Lubbock, Texas. The Rave-Ons exhibit a youthful quality reminiscent of the The Crickets and give their shows an energy and exuberance that cannot be matched.
About the Alhambra Theatre & Dining
Originally opened in 1967, the Alhambra Theatre & Dining is the longest-running professional dinner theater in the United States. In November 2009, the Alhambra was purchased by Theatre Partners, LLC, headed by Jacksonville entrepreneur, Craig Smith as way to give back to Jacksonville and preserve what he believes is one of its cultural jewels. The theater now hosts more than 130,000 people each year, employs more than 70 full-time staff, and donates tens of thousands of dollars and tickets annually to area charities. The Alhambra has hosted legends such as Tony Curtis, Claude Aiken, Sid Cesar and Cesar Romero, and, more recently, Loretta Swit, Barry Williams, Jamie Farr, Michael Learned, Barbara Eden, Mike Farrell and Morgan Fairchild. The Alhambra was the place of Betty Grable's final acting role. The Alhambra is also home to former Miss America, Orange Park, Florida native Leanza Cornett.
More Hot Stories For You