The Complex Presents Tennessee William's Classic Play THE ROSE TATTOO
Performances run May 9 - 20, 2023.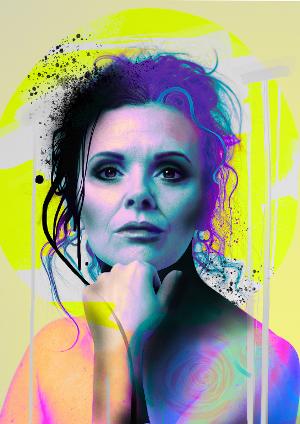 The Complex reawakens Tennessee William's classic play The Rose Tattoo, in a transformative new translation by Vanessa Fielding and Catherine Joyce, resetting William's play into a modern Irish Traveller context:
The Complex announce this solo production with a new version of The Rose Tattoo, reawakening Tennessee William's play and its theme of female emotional and sexual emancipation, but within a brand new context, never seen before on any stage worldwide. (Previews May 9 & 10) Premieres from May 11 and runs til May 20 at The Complex, Dublin 7.
Delving into matters of marginalisation as it highlights the power of love and sexuality to redeem life. This new production through its language and the play's transposition into the Traveller community, will create something authentic, contemporary and uniquely Irish.
Staged within a modern Irish setting, award-winning actor Denise McCormack (Love Hate / Eastenders / Fair City / Red Rock) leads a talented cast of actors and musicians from Traveller and non-Traveller backgrounds - showing an incredible diversity that this production presents and a welcome opportunity for actors from traveller backgrounds to be seen on a professional stage, and in a classic play. World famous Uillean piper Paddy Keenan will join the cast to play live as part of each performance on the immersive set designed by the celebrated designer Sabine D'Argent. D'Argent takes advantage of the scope available in The Depot space at The Complex to recreate an abstract experience of a halting site.
Williams has given us so many blistering dramas to revel in since the 1950's, like 'A Streetcar Named Desire' and 'Cat on a Hot Tin Roof'. In The Rose Tattoo his scorching, classic tale of a woman's journey from widowhood to self-determination and sexual freedom is a massive twentieth century benchmark story. This production, reset in a modern Irish Traveller context, addresses themes of culture, faith, rights to education and bodily autonomy, reminding us that we are all socially conditioned and this play relates to us all.
The Rose Tattoo was last staged in Dublin in 1957 where it was shut down for its racy content and where a condom was produced on stage - causing the Catholic church to close the whole Festival and imprison the Festival Director. The Irish production team for this version of the play have found no record that it has been professionally produced since that time in Ireland, though it has received some high-profile productions in the West End and on Broadway. And it was an unprecedented move that the Tennessee Williams Estate has given permission for the play, originally set in the Italian community of 1950s New Orleans, to be transposed into a modern Irish Traveller context, to The Complex production team.
Five Traveller projects are committed to being part of the audience development for this production from Tallaght, Finglas, Blanchardstown, Pavee Point and ITC.
Presented by The Complex, who with the Abbey Theatre produced the multi award-winning and critically acclaimed 'Dublin Will Show You How' by Tracy Martin in 2019. And against all the odds, has brought Dublin's north inner city's newest arts centre to Dublin 7. The Complex is now producing work and The Rose Tattoo is the first in a line of three new-large scale, immersive productions in The Depot.
CAST: Denise McCormack / Paddy Keenan (Uileann Pipes) / (*full cast details to be announced soon)
CREATIVE TEAM:
Translated by Vanessa Fielding and Catherine Joyce
Directed by Vanessa Fielding
Set & Costume Design: Sabine D'Argent
Lighting Design: Conleth White