The New Harmony Project is Now Accepting Applications For 2019 Conference & Newly Established Parent Residencies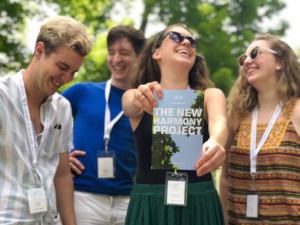 The New Harmony Project announced today that it is now accepting applications for the 33rd annual conference to be held May 20 - June 1, 2019. Since 1986, the secluded town of New Harmony, Indiana has hosted artists from around the world for two-weeks of dedicated script development. Over the course of the conference, The New Harmony Project offers a retreat from the outside world and space for writers to fully immerse themselves in their work. The peaceful serenity of New Harmony, the site of two former utopian societies, is a world away from the hustle and bustle of everyday life.
The conference offers two types of residency. Writers in Full Development are joined by a full cast and creative team, and spend their time working on one specific project, hand-picked following a rigorous selection process. Writers in Residence are offered support to work on multiple projects, and afforded the freedom and flexibility to immerse themselves in their own personal process.
Applications are being accepted through October 1, 2018 at newharmonyproject.org/apply-conference. Finalists will be notified by the beginning of 2019.
Additionally, The New Harmony Project has committed to expanding its support of parent artists thanks to generous support from the Sustainable Arts Foundation and the Robert Lee Blaffer Foundation. Beginning in the fall and winter of 2018/19, selected parent writers will be given a one-week residency in the town of New Harmony. Participants will receive additional financial support in an effort to recognize the unique circumstances that parent artists face. Applications will be accepted through September 14, 2018 at newharmonyproject.org/apply-parents, and selected writers will be notified and scheduled beginning in late September.
The New Harmony Project boasts an impressive roster of past participants including Pulitzer Prize and Tony Award-winning writer Robert Schenkkan (All the Way, The Kentucky Cycle), Theresa Rebeck (NBC's Smash, Seminar), Lee Blessing (Tony and Pulitzer Prize nominee, A Walk in the Woods), Steven Dietz (Lonely Planet), John Pielmeier (Agnes of God, The Exorcist), James Still (four-time Pulitzer Prize nominee, The Velocity of Gary), Meredith Stiehm (Emmy Winner, Homeland, Cold Case), Danny Strong (two-time Emmy winner, Empire, Lee Daniels' The Butler), Ngozi Anyanwu (The Homecoming Queen, Good Grief), Dan O'Brien (The Body of an American), George Brant (Grounded, Marie and Rosetta), Idris Goodwin (How We Got On, The Way the Mountain Moved), Regina Taylor (Drowning Crow, Crowns), Anna Ziegler (Photograph 51, Actually), Jim Leonard (Major Crimes, Dexter), Mark St. Germain (Freud's Last Session, The Cosby Show), Angelo Pizzo (Rudy, Hoosiers), Matt Williams (five-time Emmy nominee, Home Improvement, Roseanne), David McFadzean (three-time Emmy nominee, Home Improvement, Roseanne), and numerous others.
Applications are being accepted online at newharmonyproject.org, and interested applicants are encouraged to visit the website for full details and information. The New Harmony Project is committed to equity, diversity, and inclusion, and does not discriminate on the basis of race, color, religion, sex, age, national origin, veteran status, sexual orientation, gender identity, disability, or any other basis of discrimination prohibited by law.
In April of 1986, a group of theater, film, and television professionals gathered in Indianapolis to explore the trend in the entertainment arts toward exploitative and sensational material. They concluded there was a need to engage and support writers whose work sought a goal beyond mere entertainment, work that sought to empower and uplift. It was out of this meeting that The New Harmony Project was created. For 32 years, The Project has inspired a community of artists dedicated to this mission, motivated by a desire to support stories of hope, optimism, and the resiliency of the human spirit. The New Harmony Project is a 501(c)(3) non-profit organization. For information on how to support this unique and worthwhile organization, please visit newharmonyproject.org, or follow us on social media.
Related Articles
View More Industry

Stories
More Hot Stories For You