Industry Pro Newsletter: New Leadership Models, The Nutcracker, and New York, New York
This month marks the return of the big musicals to Broadway, and a major test of tourists' readiness to return to New York City.
This week, the Industry Pro Newsletter is brought to you by Axiom Medical.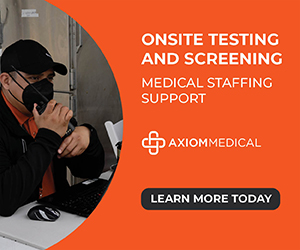 In response to the COVID-19 pandemic, Axiom Medical has introduced a specialized Workplace COVID-19 Testing and Screening service to help businesses quickly screen, test, and manage those employees exhibiting symptoms or have been potentially exposed to any respiratory illness.
September 7, 2021 -
Congratulations to the companies of Hadestown and Waitress becoming the latest shows to open up on Broadway. If you haven't seen either André de Shields leading the Hadestown final dress audience in New York, New York or the Waitress casts post-bow tribute to Nick Cordero, make sure to check those out and get your tissues ready. Below, we've also got stories about a new gun law in Texas (and its impact on arts organizations), the impacts of long covid on performers, and new leadership models that are emerging for theatre companies.
The Social Report
Following their returns to Broadway, both Waitress and Hadestown - the first musicals to open post-pandemic, climbed up the leaderboard.
Getting Come From Away Ready for Its Closeup
Come From Away director Christopher Ashley stopped by Backstage Live with Richard Ridge last week to discuss how the creative team of Come From Away got the Broadway show ready for the pro-shot version, set to premiere on Apple TV+ on Friday, September 10th, ahead of the shows Broadway return later this month.
Dance Companies Aim to Bring Back The Nutcracker Safely
Typically featuring a large number of children under 12 in the ensemble, many dance companies - including the New York City Ballet - are reimagining the way in which they have cast and staged the piece in order to get it safely back on stage this holiday season.
In Texas, a New Gun Law Adds to Performing Arts Groups Anxiety
At the beginning of this month, a new gun law allowing for unlicensed open carry by those 21-years and older in the State of Texas went into effect, adding to a growing list of concerns for Performing Arts Organizations working to keep their staff, performers, and audiences safe. While many are able to opt out of allowing the guns into their venues, it raises a similar concern as mask mandates and vaccine requirements - how can these rules be safely enforced by frontline staff?
Navigating Long Covid as a Performer
As companies across the globe return to work, some performers aren't able to come back in the same way, as they're dealing with symptoms of long Covid. The Guardian caught up with a few of them to see what it has been like battling the dual threat of the disease and the toll it has taken on the arts industry.
DC Changes Its Arts Funding Model - Some Organizations Aren't Happy
The Washington, DC City Council approved changes to the way the D.C. Commission on the Arts and Humanities distributes the $16.5 million worth of annual grants among organizations - with a new focus on spreading the money throughout DC's neighborhoods. As a result, some of the largest organizations in DC are looking at large cuts to their grants, while many smaller companies see an opportunity for increased funding.
New Leadership Models Emerge - OSF Announces Two New Associated ADs
The Oregon Shakespeare Festival, and other companies around the globe, are announcing new structures to the hierarchy of artistic leadership, adding more voices at the top. At the Oregon Shakespeare Festival, it was recently announced that Scarlett Kim and Mei Ann Teo will join previous Associate Artistic Director Evren Odcikin as a triumvirate working with Artistic Director Nataki Garret to help the festival ensure leadership is focused on artists, and not on traditional hierarchy.
"Opening Night, Opening Right" Campaign in New Jersey
All 40 members of the New Jersey Theatre Alliance announced a pledge to enhanced cleaning and safety measures ahead of return to in-person performances this fall in New Jersey, along with 5 additional presenting venues who are not members, but are partnering with the alliance on this campaign. Of those theatres, 30 have additionally announced either a vaccination policy or a policy of a proof of a negative test in addition to a mask mandate for audience members.
Road to Reopening: Florida Grand Opera
Planning a full return in January of 2022, Florida Grand Opera navigated the pandemic in the opposite way of many companies: instead of embracing streaming events, they anticipated their companies audience not embracing those events and instead focused on producing live events in as safe an environment as possible.
Add Your Show to our Regional Events Calendar
As audiences get set to return to in-person performances, and as your company works to market your own return to the stage, make sure you've got your upcoming shows in our regional events calendars. Listings are free of charge, with boosting options available. Get your show listed now!
BroadwayWorld Stage Mag - A Fully Interactive Show Program
The digital solution to your show program needs - want to see what's possible? Check out the Stage Mag's for off-Broadway's Blindness and for Next on Stage Season 3! Then start building your own at stagemag.broadwayworld.com.
Want more information about marketing options with BroadwayWorld? Request a media kit here and a member of our sales and marketing team will reach out promptly.