Road To Reopening: Florida Grand Opera CEO Susan T. Danis On Post-Pandemic Plans
The Opera's main stage season begins in January 2022.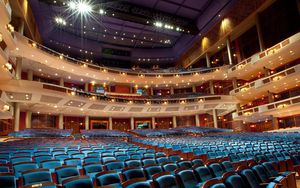 BroadwayWorld is checking in with theaters around the country as they prepare to reopen this summer. Next in our series we check in with Florida Grand Opera's General Director and CEO Susan T. Danis.
Susan T. Danis is the General Director and CEO for the Florida Grand Opera. Danis comes to FGO with more than 25 years of arts administration, having most recently served as Executive Director of Sarasota Opera for the past 12 years. During her tenure in Sarasota, the company's operating budget more than doubled, growing from $3.2 million to over $8 million. Beating fundraising goals at every turn, Danis increased individual giving by more than 200% in a seven-year period and raised more than $47 million for a capital campaign, part of which funded the $20 million renovation of the company's historic theater.
A proven leader in the opera community, Danis completed a six year term as a member of the Board of Trustees of OPERA America, three of which she served as treasurer. Danis holds a Master of Business Administration, with a concentration in International Marketing, from the University of Hartford's Paris Program, and a Bachelor of Science from Indiana University.
Danis will be embarking on her ninth season with Florida Grand Opera with a continued focus on bringing a new artistic vision with provocative repertoire that resonates with the diverse communities in South Florida. This vision has helped to bring a new level of national and international recognition to Florida Grand Opera starting with the critically acclaimed production of Marvin David Levy's Mourning Becomes Electra and Giuseppe Verdi's Nabucco along with more intimate productions such as Andy Vores's No Exit during the 2013-2014 Season.
How has the pandemic most affected your company?
FGO is a different company post pandemic. Like many other organizations, we had to contract in size to make it through more than a year of reduced contributions and light ticket sales. Ultimately, we are a far more creative and resilient company than we were in March of 2020.

Have you done any streaming theatre/events?
Given all of the virtual content that was made available to the general public, at no cost, FGO decided to get very creative (and cautious) and produce live events during the pandemic. We invested in new venues and communities and produced more than 24 different live events from January to March of 2021. Nearly every performance or event was sold out and we took every precaution to keep the audience and the company safe and healthy.

What have the audience reactions to any digital performances been like?
One of the main motivations to producing a live season in the Winter of 2021 was the audiences anticipated reaction to digital performances. Very few of our patrons took advantage or the opportunity of viewing them. Since the pandemic, it is not much you cannot experience on line; you can see virtually visit the finest museums in the world and see their collections up close. You can see plays, operas, and hear symphonies from the most famous organizations from around the world without leaving your home. That is a huge competitive set and many of our audience members took the opportunity to experience places and things they could not in Miami and Broward Counties.

What have you got coming up you are most excited to share with audiences?
The whole of the 2021-22 season. We truly have something for everyone. We have performances and events to satisfy everyone from the Motown to the Baroque Opera Lover, available both in Miami Dade and in Broward counties. It is a season not to be missed.
Will there be any adjustments in capacity or seating/vaccination or testing requirements?
Determined by the venues where we perform.
Will there be any changes to the on-stage aspects of the shows in response to the pandemic?
That is all in process and evolving in conjunction with the requirements of our unions and venues.
Were there any COVID considerations in programming the upcoming season - selecting titles, etc.?
Yes. This is why we are beginning our mainstage season in January of 2022 versus the Fall of 2021. We are also performing two of our operas in smaller venues.
When and what are you re-opening with?
We open the mainstage season on January 22, 2022 with Andre Previn's, A Streetcar Named Desire. Yes, it is based on the play and move of the same name that was Marlon Brando's first big role and helps launch his career. For those who are unfamiliar with the opera, it follows the downward spiral of former southern Belle Blanche Dubois, who after having experienced a series of personal losses, leaves behind her wealth and privilege and moves into a run-down apartment with her sister and brother-in-law. Filled with soaring melodies and an orchestral score that puts you right in the middle of New Orleans during a hot and steamy summer with all of the drama that accompanies it.
What are you most looking forward to?
Seeing our audience members. While we have been able to keep up with many of our patrons, we certainly have missed thousands of our patrons. We all look forward to seeing everyone in the lobbies of the various theaters and in their seats enjoying our performances.
How have you remained engaged with your audience about the return to the stage?
E-blasts, newsletters, personal calls and throughout the pandemic, letters via snail mail to provide an update on FGO and the future.