2019 American Alliance for Theatre & Education Awards Announces Winners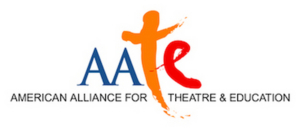 American Alliance for Theatre & Education has announced the winners of their 2019 awards. This announcement comes before AATE's 32nd annual conference which will be held in dynamic and vibrant New York City from August 1-5, 2019. Take a look at the winners below!
AATE Outstanding Undergraduate Student Award:
Rachel Seidenberg
Ann Flagg Multicultural Award:
Ghostlight Readers Theatre at Round Lake High School in Round Lake, Illinois
Ann Elgood Youth Theatre Director of the Year:
Rhonda Wilson
Campton Bell Lifetime Achievement Award:
Rosemary Newcott and Chris Vine
Charlotte B. Chorpenning Playwright Award:
Kevin Kling
Orlin Corey Award for Artistic Excellence:
Dr. Luke Jorgensen Ph.D.
Sara Spencer Artistic Achievement Award:
Sandra Fenichel Asher
Zeta Phi Eta-Winifred Ward Outstanding New Children's Theatre Company Award:
Bluelaces Theater Company
Research Award:
Monica Prendergast
Distinguished Dissertation Award:
I'm Gonna Use it to tell You: Exploring Narratives of Adolescent Identity Through Theatre by Gina Grandi
Distinguished Thesis Award:
Storied Moments: Foregrounding Community Cultural Wealth through Digital Storytelling Abstract by Moriah Flagler
Distinguished Thesis Award Honorable Mention:
Multi-Sensory Theatre for Children on the Autism Spectrum: Creating an Artistic Version of Autistic Space by Molly Mattaini
Distinguished Book Award:
Palabras del Cielo: An Exploration of Latina/o Theatre For Young by José Casas and Christina Marín
Distinguished Play Award
Category A:
The Smartest Girl in the World by Miriam Gonzales
Category B:
Ever in the Glades by Laura Schellhardt
Category C:
Corduroy by Barry Kornhauser
Category D:
Beowulf by Toby Hulse
Don and Elizabeth Doyle Fellow:
Sarah Tan - Arizona State University
Don and Elizabeth Doyle Special Recognition:
William Kiley - University of Texas at Austin
Winifred Ward Scholar:
Faith A. Hillis
The mission of AATE is to, "serve and inspire a growing collective of theatre artists, educators, and scholars committed to transforming young people and communities through the theatre arts." Founded in 1944 by Winifred Ward, AATE serves over a million children in 48 U.S. states and 19 countries worldwide. This organization strives to raise the awareness of the importance of theatre education and provides its members with services and resources to support the profession of theatre for young people. Now based in DC they continually serve as a co-sponsor for National Arts Advocacy Day on Capitol Hill. Koppera says, "AATE is a pillar in the artistic and educational field of Theatre for Young Audiences in the US. They inspire artists and teachers at a national level and help to creatively fuel the work that we all do at a local level." To learn more about AATE visit www.aate.com
Related Articles View More Industry

Stories
More Hot Stories For You