Paul Smith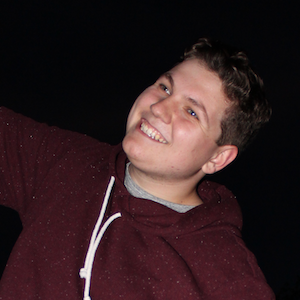 Paul currently resides in New York City where he is studying Communications and working for BroadwayWorld. He began writing for BroadwayWorld in Fall of 2018.
MOST POPULAR ARTICLES
LAST 30 DAYS
LAST 365 DAYS
VIDEO: First Look at Deaf West's THE SOLID LIFE OF SUGAR WATER

September 24, 2019

Candid, uninhibited and visceral. A Deaf couple's relationship is revealed through their lovemaking in a startlingly intimate portrait of a marriage - made even more intense by Deaf West Theatre's signature performance style combining American Sign Language with spoken English. Deaf West Theatre presents the American premiere of The Solid Life of Sugar Water by Tony Award-winning playwright Jack Thorne(Harry Potter and the Cursed Child). Randee Trabitz directs for a Sept. 12 opening at Inner-City Arts in downtown L.A., where performances will continue through Oct 13. Previews take place Sept. 5 through Sept. 8.
---
Video: First Look at THE 39 STEPS at TheatreWorks Silicon Valley

September 19, 2019

The 39 Steps is proving to be a hit at TheatreWorks Silicon Valley having been extended! Check out clips from the production below!
---
Sabine Devieilhe Announces Pregnancy; Withdraws From Fall Schedule

September 19, 2019

Sabine Devieilhe has cancelled all performances scheduled this fall. 
---
Inside The Culture of Musical Theatre Teens and Casting Broadway Musicals on Instagram

August 29, 2019

Growing in the years ever since the addition of video services to Instagram are Broadway musical 'fandoms' and teens casting one another in musicals after posting video auditions.
---
BWW Interview: The Family Marc Atkinson of Irish Repertory's LITTLE GEM Directed and is Part Of

September 6, 2019

Little Gem is running at Irish Repertory Theatre until September 8 and BroadwayWorld had the chance to chat about the play with the show's director, Marc Atkinson Borrull.
---
VIDEO: First Clips of BRING IT ON: THE MUSICAL Coming to Sydney's State Theatre

August 27, 2019

It's All Happening! Get a first look at the Bring It On: The Musical tour coming to State Theatre for two weeks only!
---
Stephen Schwartz Reveals CHILDREN OF EDEN in Chicago Might Be Filmed

August 15, 2019

These pieces of news are simple joys! In a newsletter from Stephen Schwartz, he discusses plans to film a future production of Children of Eden in Chicago and how Pippin will have its first production in Paris.
---
BWW Flashback: Meet the Cast of the ALMOST FAMOUS Musical!

August 6, 2019

BroadwayWorld recently announced the cast of Almost Famous, the musical adaptation of the 2000 film. The show is set to run at The Old Globe from September to October and will star Colin Donnell, Solea Pfeiffer and many others.
---
Video: Watch Grammy Nominee Jessie J Belt Out a LES MIZ Classic

August 2, 2019

With a voice that brings us a world full of happiness,  Grammy nominee Jessie J. posted a cover of the iconic  'On My Own' from Les Misérables. 'For those who don't know. My training is musical theatre. I have always wanted to be on the stage.' the singer says, 'It's also a great way for me to see where I can improve vocally. My timing, pitch, delivery, diction etc. I do this a lot. But thought I would share today. Practice makes better.'
---
BWW Flashback: Harry Connick, Jr. Takes on Broadway with Kelli O'Hara, Brian d'Arcy James, and Jessie Mueller!

July 28, 2019

From New Orleans to New York, Harry Connick, Jr. is returning to the Broadway stage. As reported earlier this week, Connick, Jr. will bring A Celebration of Cole Porter to the Broadway stage this winter.With the announcement of his return, take a look at Connick's hits with theatre in the past. 
---
BWW Flashback: A Career to Marvel at, Tom Hiddleston Comes to Broadway

July 27, 2019

Tom Hiddleston is taking the Broadway stage! The globally-known actor, most recognized for his portrayal of Loki in multiple Marvel films, is making his Broadway debut this season.
---
Video: Great Idea! Colleen Ballinger and Todrick Hall Get Ready for WAITRESS

July 19, 2019

Want to know what's inside? A first look of Colleen Ballinger and Todrick Hall, set to join the cast of Waitress on August 22, has been released! Ballinger and Hall will be playing Dawn and Ogie, respectively. 
---
Meet the Current Cast of HAMILTON on Broadway!

July 20, 2019

Hamilton is ready to blow us all away as they enter their fourth year of their monumental Broadway run! Take a look at the current cast that is burning up the Richard Rodgers stage.
---
Heidi Schreck Discusses Her Next Project, Favorite Audience Member and More!

July 15, 2019

Heidi Schreck is currently starring in her own play, What the Constitution Means to Me, on Broadway, after a tranfer from New York Theatre Workshop. The play received two Tony nominations, both for Schreck as a playwright and as an actress. The Obie winning actress sat down with amNewYork to discuss her whirlwind year and what is next for her.
---
Broadway Investors Hit with $100 Million in Losses with Wave of Summer Closings

July 12, 2019

Earlier this week, Frankie and Johnny in the Clair de Lune announced an early closing, joining a hefty list of shows that will be closing in the upcoming weeks. Many investors will not see return in their expense with musicals King Kong, The Cher Show, Pretty Woman, The Prom and Be More Chill all being set to close without recouping.
---
Olivier Awards to Limit Amount of Prize Statuettes Given Due to Spike in Extra Requests

July 12, 2019

The Olivier Awards, the top theatre prize of London's West End, have proposed to ration the amount of statuettes given out each year, according to The Stage. This new decision comes after the spike in awards being requested by producers of the award winning shows, with the most recent winner, Come From Away, having nearly 50 producers.
---
BWW Flashback: The Many Dances of MOULIN ROUGE's Sonya Tayeh

July 21, 2019

Sonya Tayeh has been one of the relevant names in dance for over a decade, choreographing for Madonna, Florence and the Machine, Miley Cyrus and more. Her most notable credit would be the work she has contributed to over eight seasons of So You Think You Can Dance, which has earned her two Emmy nominations.
---
Have a Very Broadway 4th of July with These Patriotic Showtunes!

July 4, 2019

Happy Fourth of July! On this very special day on which we celebrate our nation's independence, we can't help thinking about some of our favorite songs celebrating America... as featured in Broadway musicals, of course! Kick off the holiday weekend with some of our very favorite patriotic showtunes!
---
Celebrate Pride and Jam to These LGBTQ+ Themed Broadway Tunes!

June 29, 2019

BroadwayWorld wishes everyone a Happy Pride! In honor of Pride month and specifically the Pride March in New York, we've compiled a list of tunes to get you in the spirit of Pride and to 'raise you up'!
---
VIDEO: Celebrate June, June, Joan... with Leslie Uggams!

June 1, 2019

Well, it's that time again. As Leslie Uggams sings 'all the lidda bidder dridges and they hucka the bejeepers...because it's June!' Uggams performance of 'June Is Bustin' Out All Over' is remembered each June due to her mixing up the words, creating her own lyrics, but staying professional and fierce throughout.
---