BWW Review: Witness the Show Choir Talents of Indonesia at JKT MOVE IN's JAKARTA SHOW OFF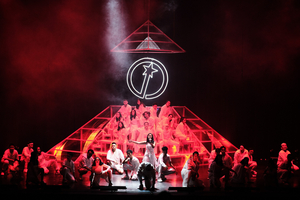 In May of 2009, a little new Fox series called Glee aired for the first time. It exposed theatrically-inclined Indonesian youths to the highly energetic and often drama-prone art of show choir. A decade later, JKT MOVEMENT OF INSPIRATION (JKTMoveIn) held their inaugural competition JAKARTA SHOW OFF, in which bands, dance groups, and show choirs showcase the hidden talents of Jakarta and beyond.
The show took place on Saturday, July 13th, 2019, in the lavish CIPUTRA ARTPRENEUR theater, located in the heart of Jakarta. Performances started at 12.00 with the bands, followed by dance groups at 14.00, and show choir at 18.00. Before the result announcement at the end of the night, JKTMoveIn would also hold a special performance.
The groups performing in JAKARTA SHOW OFF's show are chosen from last May's online audition which was joined by 190 auditionees from all over Indonesia. For the Show Choir Youth category, 6 out of the 9 finalists performed on the night, with Hextatonix, Voice of 8, and Suargaloka pulling out. The winners will get a monetary prize totaling 80 million Indonesian rupiahs (IDR) as well as a guest star role in JKTMoveIn's next production.
The set was dominated by JAKARTA SHOW OFF's icon - a white pyramid with JKTMoveIn's logo inside. The ample space allowed all contending show choirs to strut their choreography, while the provided lighting and fog machine added another layer to the overall theatricality. For some of the finalists, this was their biggest stage yet.
JAKARTA SHOW OFF's judging panel consists of well-known names in the Indonesian music industry: Gita Gutawa, award-winning singer and producer; Indra Aziz, celebrity vocal coach and composer; and Lea Simanjuntak, singer and, notably, musical theatre actress (starring in MUSIKAL LASKAR PELANGI and INTO THE WOODS). All three wore white outfits in their personal style; white was the event's dress code for the JAKARTA SHOW OFF team as well.
Starting off the competition was Psymphony UI - a choir group consisting of students from Universitas Indonesia's psychology major. Psymphony performed a medley of female empowerment anthems. Clad in maroon sweaters, black jackets, and jeans, the energetic performance set the tone for the evening.
Come From Away, members of Bandung Musical community, went on stage in matching yellow aprons and various cooking implements. As Broadway-savvy audience might prognosticate, they chose the songs "What's Inside" and "Opening Up" from the musical WAITTRESS. The harmonizing between the five members was mostly delightful, but marred by uneven sound mixing. In the audition round, the group had performed "Somewhere in the Middle of Nowhere" from their namesake musical, setting them apart as the most Broadway-influenced show choir of the whole roster.
Next came Vocademia, a vocal group also hailing from Universitas Indonesia. They had previously won the gold medal at the 7th International Copernic Choir Festival and Competition, although with a different line-up. Their experience showed up in their musicality - the vocal arrangement was expertly designed. Unfortunately, similar microphone problems were also present, making the sound patchy in spots.
Magna VOG's stylish outfits, made from various authentic ethnic fabrics, drew lofty praises from the judges. The same patriotic sentiment was also apparent in their song choices, mixing in traditional regional songs with the nationalistic ones. Magna VOG peppered their performance with different styles of singing, including rap and the Indonesian sinden. The accompanying choreography was also powerful and dynamic, though not quite perfectly executed.
Also coming from the town of Bandung, the vocal group Chantez brought a look inspired by THE GREATEST SHOWMAN. Though they tie for the smallest group with only five members, Chantez had perhaps the most complex choreography. Impressive as it was, the moves proved to be quite taxing to the detriment of the vocal quality. But all in all, the expressive showmanship still came through and made the numbers memorable.
New Generation had the most uniformly polished lineup of the night, with everyone performing their parts expertly. The choreography was heavily interpretive; New Generation was deliciously experimental in delivering their performance, with a particularly memorable part where they mimicked animal voices alongside the sound of wind through the grass. Like Magna VOG, Indonesian and regional songs also became New Generation's bread and butter.
After all six groups finished their pieces, members of JKT Move In from their previous different productions (GEMURUH, MUSIKAL SEKOLAHAN, PETUALANGAN SHERINA, and DONGENG POHON IMPIAN) went on stage for a special performance of two of their original songs: "Unstoppable" and "Shine the Light". With their infectiously lively choreography and inspirational lyrics, the songs were definitely crowd pleasing showstoppers. The moment where the tip of the pyramid opened up as the JKTMoveIn seemed to float in air was an impressive bit of stage design.
Finally the time comes for the winner announcement. First place winners get 10 million IDR, second place gets 5 million, and third place gets to bring home 2,5 million.
Here's the complete list of winners:
BAND
1st place: CLASSY CLASSIC
2nd place: ROOM THIRTEEN
3rd place: JUNED
DANCE - Kids:
1st place: Ultimate Star Crew
2nd place: Cupcake
3rd place: They Just Kids
DANCE - Youth:
1st place: Creviad Republic
2nd place: Sold Out
3rd place: Stamanara
SHOW CHOIR - Kids:
1st place: Spextra
2nd place: Shining Star
3rd place: Wonder Kids
SHOW CHOIR - Youth:
1st place: Vocademia
2nd place: New Generation
3rd place: Magna VOG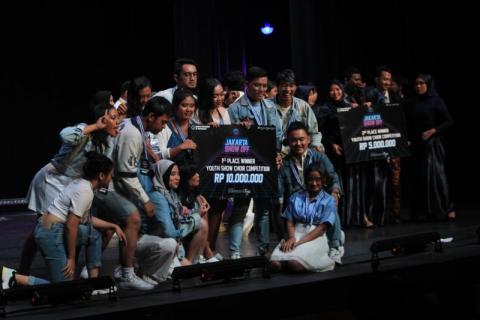 The eventful day comes to a close; the talents on display are shining beacons of Indonesia's future performing art professionals, although perhaps at different phases of their career. JKTMoveIn has comfortably found its place in Indonesian musical theatre scene, as both passionate performers and facilitators for new talents to grow and be discovered.
As Lea Simanjuntak puts it on her Instagram:
Life is like a show choir. If you can cooperate well, the music (the fruits of your life) will come out effortlessly beautiful...
To follow JKT Move In and see what their next production will be, follow their Instagram @jktmovein.
Photos: JKT Move In and personal documentation.
Related Articles View More Indonesia

Stories

Shows