Interview: Pocari Sweat Bintang SMA Finalist Morietnez on Singing and Musical Theater
We talked to Morietnez, one of the ten finalists of last year's Pocari Sweat Bintang SMA competition. The teen singer also has a couple musical productions under her belt, including JKTMoveIn's MUSIKAL PETUALANGAN SHERINA. Morietnez shared thoughts on the difference between a singer and a musical actor and more.
1. Hi Morietnez! Can you introduce a bit about yourself?
Hi, my name's Morietnez, but people usually call me Morie. I was born in 2004. I like listening to Disney songs a lot. My hobby is singing Disney tunes.
Other than listening to Disney songs, I joined several competitions like Indonesian Idol Junior (Top 10) and The Voice Kids (Coach Tulus' Top 8). Currently I'm in high school and I recently got into writing songs.
2. When did you start singing?
I really got into it as a hobby during my first year of junior high, but I've been singing since I was 2.5 years old.
3. Any singers you idolize in particular?
I've really liked Beyonce and Tori Kelly for the longest time because I admire their runs and riffs so much. So I practice my runs and riffs at home while listening to their songs.
4. How do you balance your time between studying, practicing your hobby, and taking a break?
I don't let my performing art, acting, and dance activities mess up with my studies. So I study anywhere and any time to keep up with both my hobbies and my studies. And I take breaks between my activities.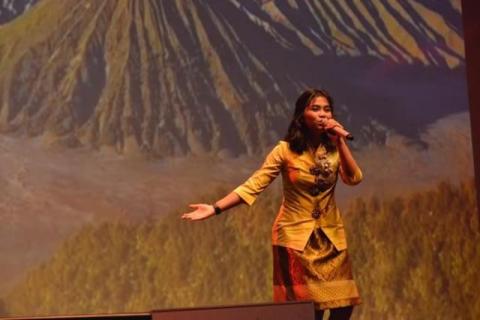 5. That's great to hear. Among your many interests, what's your One Dream?
I'd like to be a professional singer who can deliver messages through my songs.
6. What are your musical theater experiences so far?
My first musical theater experience was in 2017 in Musikal Petualangan Sherina by JKTMoveIn. Starting from that experience I joined musical workshops. About a year ago I joined Jaksical and I had a duet with another performer who was in college. The song we sang was Suddenly Seymour. It was a challenging song!
Even though I was still in my last year of junior high school, I was really happy to be given the chance to sing the duet, learn a lot, and share such a valuable experience with older performers.
7. What's the difference between being a singer and a musical actor to you?
Performing as a singer means conveying a message through song, while a musical actor has to act, sing, and dance at the same time. Being in a musical means conveying a song's message through clear expression and meaningful movement of the body.
8. Do you have any dream role or production?
Yes. One of my dream roles is Sharpay in High School Musical, he he he...
Last year, Morie joined Pocari Sweat Bintang SMA competition, a talent competition for high school students. The winner would win the chance to be the star of the sports drink's commercial. The finale was held in October, with Nada Syakira Aisya from Banjarmasin coming out on top.
9. What was the Pocari Sweat Bintang SMA process like for you?
Overall, it was quite brisk. First, I made a post to showcase my talent to answer Pocari's challenge. Thank God I made it to the next step and got a new challenge from Pocari: to express the impact my support system has on me.
Then we went through a training process to perform at the live event. I didn't expect to make the Top 10 among the 12,000 high school students from across the country.
10. What did you want to achieve through this competition?
I wanted to grow and become a much better person than who I was before. I discovered that singing is more than the voice, expression, and comprehension, but there must be an element of entertainment there as well. Oh, I also learned that the judges approved of my original song! I'm even more determined to be a songwriter now. ?
11. Finally, do you have anything you'd like to say to your supporters?
I'd like to say thank you so much for everyone who's supported me. I will always give my best for my music.
Photo credit: Morietnez's personal documentation.