Photo Flash: Phoenix Theatre's THIS
The Phoenix Theatre of Indianapolis announces the Midwest Premiere of This, by Melissa James Gibson, opening Thursday, March 31, 2011 on the Phoenix Mainstage and playing through Sunday, April 24, 2011.
When This premiered Off-Broadway in December of 2009, The New York Times led the reviews, hailing This as "The best new play to open Off-Broadway this fall. Melissa James Gibson graduates into the theatrical big leagues with this beautifully-conceived, confidently executed and wholly accessible work." The title is quirky, but when it comes down to it, the "this" represents all the things in our lives that we don't want to confront. We don't want to talk about this loss or this opportunity at love that never came to be or this part of our life that is without meaning.
Best described as a melancholy comedy, This is the story of a group of close friends entering middle age. They are confused about their lives in general and specifically about the stuff of real life: relationships, sex, friendships, marriage and bereavement. When a party game uncovers some uncomfortable feelings, these four friends are forced to face unpredictable truths about their marriages, loss and the future. What does this life have in store for us and how do we get through all this with love and dignity?
Dale McFadden, an acting and directing professor and Associate Chair of the Theatre Department at Indiana University Bloomington, is directing This. "I always appreciate the opportunity to work at the Phoenix, where contemporary plays of social and emotional impact are produced for a curious and articulate audience" says McFadden, who previously directed Fat Pig (2007) and Mauritius (2009) at the Phoenix.
McFadden says that he was particularly drawn to This because "it tells the story of five people struggling to find their ways in love and life. Each character has a unique this - a personal riddle that they live each day while making choices, wise and unwise, in the search for meaning and fulfillment. It is humorous, unsettling, compassionate and insightful."
Making his first appearance back at the Phoenix since last year's Reasons to be Pretty, Ryan Artzberger is Tom, Jen Johansen is Jane; Donna J. Edmond, making her Phoenix Theatre debut, is Marrell, Scot Greenwell, last seen at the Phoenix in Norway, is Alan and Eric J. Olson is Jean-Pierre, the Frenchman who offers perspective on the friends and their lives.
Phoenix Theatre Producing Director Bryan Fonseca is producing This. In addition to McFadden, the creative team for This includes Assistant Director Jonathan James Courtemanche, Set Designer Linda Janosko, Lighting Designer Laura Glover, Sound Designer Andrew Hopson and Costumer Ashley Kiefer.
Melissa James Gibson has received fellowships from the Jerome Foundation and the MacDowell Colony, and her work has received development support from the National Endowment for the Arts; the Rockefeller MAP fund; the New York State Council on the Arts; Theatre Communications Group; the Greenwall Foundation and AT&T Onstage. She is the recipient of a Whiting Writers Award, a graduate of the Yale School of Drama and a proud member of New Dramatists. Her recent plays include [sic] (Obie for playwriting, Kesselring Prize, The Best Plays of 2001-02); Suitcase, or Those That Resemble Flies from a Distance (NEA/TCG Theatre Residency Program for Playwrights) and Brooklyn Bridge (produced at The Children's Theatre Company). She has been commissioned by the Mark Taper Forum, Playwrights Horizons, Steppenwolf Theatre Company, The Children's Theatre Company, the La Jolla Playhouse and the Adirondack Theatre Festival..
All seating is general admission on a first-come, first-served basis and all Thursday tickets are $15, thanks to a grant by Duke Energy; Friday, Saturday and Sunday performances are $25. Performance times are: Thursdays at 7pm; Friday and Saturdays at 8pm and Sundays at 2pm. Doors open ½ hour prior to curtain for seating. The Phoenix Pub, located inside the theatre, offers beer, wine, soft drinks, coffee, and bottled water, as well as treats, and all refreshments may be taken into the theatre and consumed during the performance.
For more information about any Phoenix Productions or to purchase tickets, call The Phoenix Theatre box office at 317.635.7529. Tickets may also be purchased online. The theatre's website is www.phoenixtheatre.org.
"The Phoenix Theatre has cornered the market on hip new works." -- Chris Jones, Chicago Tribune
The Phoenix Theatre is Indiana's only professional Contemporary Theatre, and has presented productions to challenge and entertain the Indianapolis community for 28 years. An Equity house, the Theatre presents the Midwest and Indiana premieres of many popular Broadway and Off-Broadway plays, and has presented more than 82 world premieres in its quarter century. The Phoenix operates the 130-seat proscenium Mainstage as well as the 75-seat cabaret-style black box Frank & Katrina Basile Theatre. The Phoenix Pub, located in the Basile Theatre, serves beer, wine, coffee, soft drinks, water, and treats, and patrons may take all refreshments into either theatre. Both venues are housed along with administrative offices in a renovated 1907 church in downtown Indianapolis' historic Chatham Arch neighborhood, part of the Mass Ave Arts & Theatre District. The Phoenix Theatre is a member of the National New Play Network and the League of Indianapolis Theatres, and is supported by the Indiana Arts Commission, the Arts Council of Indianapolis, and the National Endowment for the Arts, as well as local corporate and foundation funders and more than 500 individual donors.
Photo Credit: Zach Rosing


Ryan Artzberger, Jennifer Johansen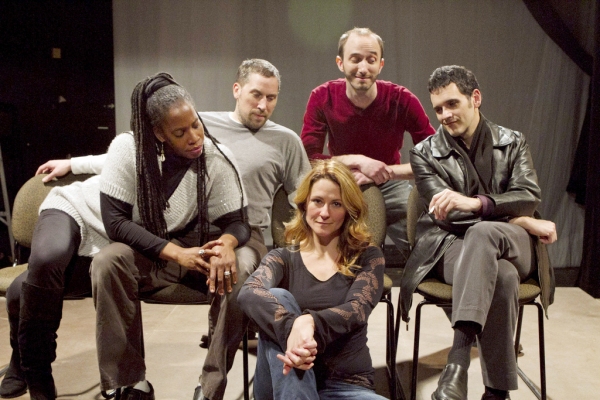 Donna J. Edmonds, Ryan Artzberger, Jennifer Johansen, Scot Greenwell, Eric J. Olson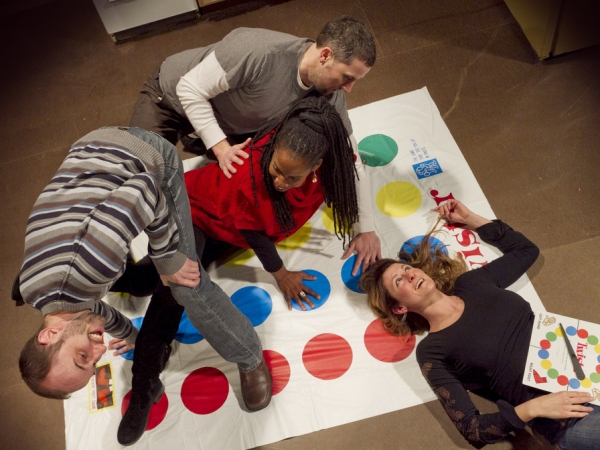 Scot Greenwell, Ryan Artzberger, Donna J. Edmonds, Jennifer Johansen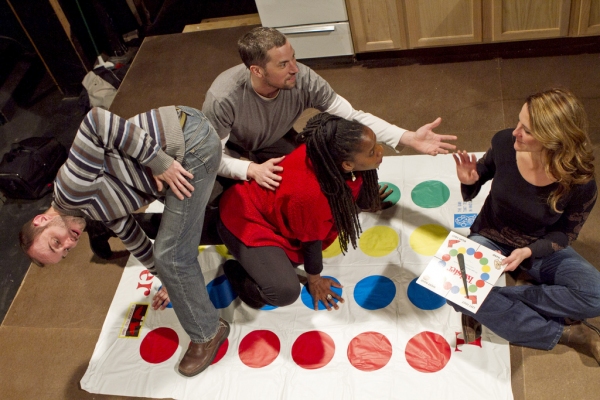 Scot Greenwell, Ryan Artzberger, Donna J. Edmonds, Jennifer Johansen

Related Articles View More Indianapolis

Stories

Shows
More Hot Stories For You