Main Street Theater Opens 42nd Season with Tale of a Restless Society on the Brink of Revolution: ENEMIES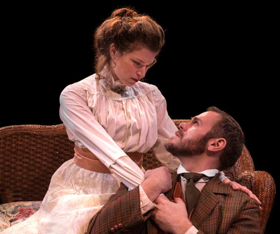 Main Street Theater opens its 42nd Season with Enemies by Maxim Gorky, adapted by David Hare. Enemies tells the story of Russian society in 1905 when the country sat ready for revolution. Directed by MST Artistic Director Rebecca Greene Udden, this collaboration with the University of Houston School of Theatre and Dance features a cast of 24, 8 of whom are UH students.
Enemies has 4 preview performances: Sunday, September 10 at 3pm, and Wednesday - Friday, September 13 - 15 at 7:30pm. The production opens Saturday night, September 16 at 7:30pm and runs through October 15 at MST - Rice Village, 2540 Times Blvd. Performances are Thursdays - Saturdays at 7:30pm and Sundays at 3pm. Tickets are $36 - $45, depending on date and section. All tickets are on sale via phone at 713.524.6706 or online at MainStreetTheater.com.
After-parties following all Saturday night performances: Audience members can enjoy a free drink with the cast after the show. Included in ticket price.
Sunday, September 24: Post-show discussion. Join us for a post-show discussion with Dr. David Rainbow from the University of Houston Honors College. Dr. Rainbow share insight into this period of Russian History as well as a contemporary perspective on the 100th anniversary of the Russian Revolution. FREE. Even if you are not attending the performance that day, you're welcome to come. Just plan to arrive at the theater at 5:30pm.
Sunday, October 1: Post-show discussion. Join us for a post-show discussion with Dr. Robert Shimko, Director, University of Houston School of Theatre & Dance, and MST Artistic Director Rebecca Greene Udden for a discussion on how this production came to be! FREE. Even if you are not attending the performance that day, you're welcome to come. Just plan to arrive at the theater at 5:30pm.
Gorky's extraordinary play, which was written in exile and banned in his home country, presents a panoramic view of a restless society on the brink of revolution. It's 1905, and Russia is at a critical moment in its history. The bourgeoisie is no longer confident in its own values. The working class is slowly realizing the terrifying sacrifices they will have to make. Gorky approaches this unique, imaginative play, with great humanity and a broad dramatic scope, offering a glimpse into what the world might have been like between aristocratic rule and the revolution in Russia.
Maxim Gorky, whose real name was Aleksei Maximovich Peshkov, was born on March 16, 1868, in the Volga River city of Nizhny Novgorod, which in 1932 was renamed Gorky in his honor. Already established as a major novelist and short story writer, at the turn of the century Gorky began writing plays and formed close connections with the Moscow Art Theater, which, in 1902, produced his most famous play, The Lower Depths. For a significant part of his life, Gorky was exiled from Russia and later, the Soviet Union. In 1932, he returned to Russia on Joseph Stalin's personal invitation and died there in June 1936.
Main Street Theater Founder and Artistic Director Rebecca Greene Udden directs the production after directing last season's critically acclaimedWolf Hall and Bring Up the Bodies. The professional cast includes Wolf Hall veterans Rutherford Cravens, Joel Sandel, Kara Greenberg, Bryan Kaplun, Blake Weir, Matt Harris Andersen, and John Dunn along with Jennifer Dean (Silent Sky), Meg Rodgers, Jacob Offen, Marshall Mays, Mark Roberts (Prague Shakespeare Company's Much Ado About Nothing), Dain Geist (Love and Information), Ed Muth, Carl Masterson, and Jeffrey S. Lane (Heartbreak House). The UH student cast includes Alyssa Marek, Casey Magin, Justin Gibbons, Cristian Gill, Troy Beckman, Anthony Shortt, Adam Peña, and Leonardo Medina.
The production design team and crew includes Liz Freese (Set Design), Eric L. Marsh (Lighting Design), Margaret Crowley (Costume Design), Janel J. Badrina (Sound Design), and Rodney Walsworth (Properties Design). UH students Eric Moore and Antonio Lasanta are the dramaturgs. Amanda Adwers is the production stage manager.
Main Street Theater provides theater experiences for all ages. Founded in 1975, our MainStage produces professional, intimate, literary plays for adults and operates under an Actors' Equity Association union contract; our Theater for Youth produces professional, engaging productions based on children's literature for families and school groups, both in-house and on tour around Texas; and we offer Education and Outreach programs on-site and at satellite locations around the Greater Houston area for youth aged 4 - high school. We work out of 2 facilities: our Rice Village home on Times. Blvd., and as part of the MATCH (Midtown Arts & Theater Center Houston) on Main Street.
Main Street Theater is a member of Theatre Communications Group (TCG), the national service organization for not-for-profit theaters, of Theatre for Young Audiences/USA (formerly ASSITEJ), the world theatre network of theatre for children and young people, and a founding member of Houston Arts Partners. Main Street Theater is funded in part by grants from the City of Houston through the Houston Arts Alliance, and the Texas Commission on the Arts. United Airlines is the official airline of Main Street Theater.

Related Articles View More Houston

Stories

Shows
More Hot Stories For You