MUSIQA Presents PLAYING HAVOC At The MATCH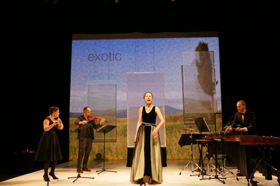 MUSIQA, two-time winner of the Chamber Music America/ASCAP Award for Adventurous Programming, presents Playing Havoc, featuring the Houston premiere of Kate Soper's Voices from the Killing Jar for soprano, ensemble and electronics. Soper, who both composed the work and performs as the solo soprano, will join the Houston-based musicians of MUSIQA in this groundbreaking, masterful work.
Soper is a Guggenheim Fellow, Bunting Fellow and 2017 Pulitzer Prize finalist. Alex Ross of The New Yorker has called her "one of the great originals of her generation" and praised her recent work Ipsa Dixit as a "masterpiece." The Houston premiere of Voices will present a homecoming for Soper, who received her bachelor's degree in music composition from Rice University.
At a time of the #MeToo and #NeverAgain movements, Soper's work is particularly timely. Part monodrama, part song-cycle, part opera, Voices from the Killing Jar crosses a volatile musical landscape populated by a series of female protagonists, among them housewives, teenagers, and mothers and daughters; innocents and tragic heroines; and femmes fatales. From Madame Bovary's passionate whirlwind of delusion, to Lady Macduff's terrified lullaby, to Clytemnestra's hypnotic and deadly rage, each one is brought to vivid and unforgettable life as Soper's mercurial voice traces a path through their stories.
In a review which called Soper's recording of the work "dark, wild, and captivating," WQXR noted the theatricality of the work itself: "The instrumental parts have the musicians switching out instruments and moving about the stage. The soprano plays the clarinet and a number of percussion instruments, while a percussionist and electronics add thrilling textures."
And the new-music blog I Care If You Listen writes, "There is, needless to say, a strong feminist drive behind Soper's sirens and her visitations of fictional characters. But more than that - at least by appearances - the work seems driven by curiosity, by a yearning to understand. Certainly her protagonists end up in situations they don't deserve, but her compositions aren't strident. Her characters are generally wondering how they got to where they're at rather than lashing out against the patriarchy. Of course, Soper is in some sense lashing out. But the tales she (re)tells tend less toward protest than remorse, making for better - and no less effective - stories. It's an absolutely compelling recording."
MUSIQA is dedicated to the performance of contemporary classical music. Founded in 2002 and led by four composers, MUSIQA aims to enrich and inspire the community through programs that integrate contemporary music with other modern art forms. Musiqa celebrates modern creative arts through interdisciplinary concerts that highlight modern music and its connections to literature, film, dance, art, and more. With its innovative collaborations and educational programming, MUSIQA strives to make modern repertoire accessible and vital to audiences of all ages and musical backgrounds.
Major support for MUSIQA is provided by Houston Endowment, Inc., the City of Houston through Houston Arts Alliance, The National Endowment for the Arts, The Aaron Copland Fund for Music, Texas Commission on the Arts, R. Stan and Reinnette Marek, the Cullen Trust for the Performing Arts, the Brown Foundation, the Albert and Ethel Herzstein Charitable Foundation, the Cyvia and Melvin Wolff Foundation, Mid-America Arts Alliance, the Alice Ditson Fund, the Amphion Foundation, and the Kinder Morgan Foundation.
Related Articles View More Houston

Stories

Shows
More Hot Stories For You