Houston Early Music Announces 2022-23 Season Focusing on Transitions and Transformations
Concert topics will range from the forced migration of the Jewish people in medieval Europe to songs that made the journey with colonialists from the Old World to America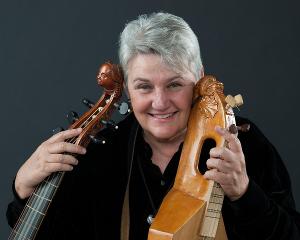 Houston Early Music's 2022-23 season, opening this month, focuses on transitions and transformations in history, culture and music - and on how they influence one another.
Concert topics will range from the forced migration of the Jewish people in medieval Europe to songs that made the journey with colonialists from the Old World to America.
"It's fascinating to consider the ripple effect of historic events and their far-reaching impacts on music, tastes and creative expression," Houston Early Music Artistic and Executive Director Deborah Dunham said. "When you consider the forces that shaped the selections we'll be presenting this season, the music becomes even more poignant, and we gain a deeper understanding of those who originally wrote, performed and heard it."
Houston Early Music's 2022-23 season will open Saturday, Oct. 22, with The Shadow of Night: Magic and Mysticism for All Hallow's Eve at Matchbox 4, Midtown Arts and Theater Center Houston, 3400 Main St. in Houston, 77002. The evening will open with a talk at 6:45 p.m. followed by the concert at 7:30 p.m.
Santa Fe, New Mexico-based Severall Friends, joined by actor Jonathan Richards, will weave excerpts from Renaissance-era diaries, diatribes, drama and poetry into the concert. The content reflects an intense interest in the occult in medieval England and shows how it shaped music, poetry, and day-to-day life.
Later this fall, Houston audiences will have their last opportunity to hear a local concert by Orlando Consort. The United Kingdom-based vocal quartet is launching its final season. Orlando Consort's Houston concert, Listening to Pictures: Art and Music in the Early Renaissance, will take place Thursday, Nov. 10 at Matchbox 2, Midtown Arts and Theater Center Houston, 3400 Main St. in Houston, 77002. A pre-concert talk will begin at 6:45 p.m., and the concert will start at 7:30 p.m.
This concert adds context to Renaissance-era music - compositions by Guillaume Dufay, Loyset Compère and Josquin Desprez - by showing audiences period art by such painters and sculptors as Fra Angelico, Lucca della Robbia and Carlo Crivelli. The genres come together to connect audiences with the sensibilities of another time and place.
Houston Early Music's season continues Saturday, Feb. 25, 2023, with Exiled, a musical journey exploring the Expulsion of the Jews from Medieval Spain and their travels to the Middle East.
This concert by Istanpitta will take place at the Evelyn Rubenstein Jewish Community Center of Houston, 5601 S. Braeswood, Houston, 77096. The evening will begin with a talk at 6:45 p.m. followed by the concert at 7:30 p.m.
Exiled focuses on the transitions that occurred - from refinements to the violin to exchanges of musical ideas - as the Jewish diaspora migrated from medieval Spain to the Middle East.
The final concert of the season is Crossing to the New World: Early and Traditional Music in the British Isles, France, and North America by early music group, Baltimore Consort on Sunday, April 16, 2023.
This event at the University of Houston's A.D. Bruce Religion Center, 3841 Cullen Blvd., 77004, will include a 3:15 p.m. talk before the 4 p.m. concert.
Baltimore Consort's presentation introduces audiences to the rich trove of "Old World" culture, songs and dances, dating back to Shakespeare's time, that European settlers brought with them to North America.
TICKET INFORMATION:
Purchase tickets at https://cloud.broadwayworld.com/rec/ticketclick.cfm?fromlink=2201517®id=77&articlelink=https%3A%2F%2Fhoustonearlymusic.ludus.com?utm_source=BWW2022&utm_medium=referral&utm_campaign=article&utm_content=bottombuybutton1.
Single tickets for the 2022-2023 season concerts are $50 for the public, $20 for students and $40 for seniors aged 60 and older.
***Season passes are also available. Please visit https://www.houstonearlymusic.org or call 713-325-5377, Ext. 1077 for details.
Houston Early Music, known for bringing critically acclaimed early music artists and ensembles to Houston, recently released a book celebrating the organization's first 50 years, from 1968 to 2018. "Houston Early Music: Illuminations" is available at https://www.houstonearlymusic.org/book.
ABOUT HOUSTON EARLY MUSIC

Presenting a Millennium of Masterworks
Houston Early Music is the city's only nonprofit presenting organization that offers an annual concert series of historically informed performances by major, international early music ensembles and emerging artists. Music performed ranges from the Medieval through Classical periods. In addition, its successful outreach programs invite listeners of all ages to discover the origins of classical and modern music. Houston Early Music is funded in part by grants from the Houston Arts Alliance, the Texas Commission on the Arts and The National Endowment for the Arts. HoustonEarlyMusic.org.