Uwe Kröger als Edna im Broadway-Erfolg HAIRSPRAY auf Tour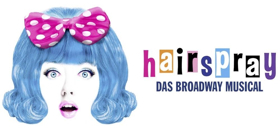 Der Broadway-Erfolg "Hairspray" geht im Jahr 2018 in einer deutschsprachigen Inszenierung auf Tournee durch Deutschland, Österreich und die Schweiz. Mit Musicalstar Uwe Kröger als Edna Turnblad und Schauspielerin Isabel Varell als Velma von Tussle konnte der Musical-Hit mit zwei hochkarätigen Darstellern besetzt werden. In der Rolle der Tracy Turnblad brilliert Beatrice Reece, bekannt aus dem Musical Sister Act.
"Hairspray" ist ein echter Blockbuster: Millionen begeisterte Zuschauer weltweit haben mit der übergewichtigen Heldin Tracy mitgefiebert, ob sie ihren Traum vom TV-Star verwirklichen kann. Acht Tony Awards, 23 weitere internationale Top-Auszeichnungen, mehr als 2500 Vorstellungen am Broadway und eine Hollywood-Verfilmung mit John Travolta haben "Hairspray" zu einem der erfolgreichsten Musicals aller Zeiten gemacht.
Rasend komische Mutmacherstory
"Hairspray" ist eine rasante, witzige und überschäumende Feier des Selbstvertrauens, eine mitreißend charmante Mutmacherstory. Die Handlung spielt in Baltimore, Anfang der 60er Jahre: Mit einer gehörigen Portion Mut, Haarspray im voluminösen Haar und unbändiger Tanzfreude wird die mollige Tracy zum Star in einer Fernsehshow, in der sonst nur dünne Mädchen Erfolg haben. Vater Wilbur und Mutter Edna - deren eigenes Selbstbewusstsein so klein wie ihre Leibesfülle groß ist - könnten nicht stolzer sein. Ihre neu gewonnene Berühmtheit nutzt Tracy sogar für eine Kampagne gegen Rassentrennung in ihrer Fernsehshow. Doch bald ziehen Feinde und Neider die Strippen. Vor allem Produzentin Velma und deren Tochter Amber spinnen ihre Intrigen, zumal Ambers Freund Link Larkin seine Augen nicht von Tracy lassen kann. Wird es Tracy gelingen, trotz ihrer Gegner den Titel der "Miss Teenage Hairspray 1962" zu gewinnen?
Musicalhits vom Grammy-Komponisten von Sister Act
Die Musik zu "Hairspray" stammt von dem amerikanischen Komponisten und Grammy-Gewinner Marc Shaiman. Er schrieb unter anderem die Filmmusik zu "Sister Act", "Harry und Sally" und "Schlaflos in Seattle" und arbeitete mit Weltstars wie Bette Midler, Eric Clapton und Barbra Streisand. In "Hairspray" reihen sich mitreißende Songs wie Perlen aneinander, angefangen bei "Good Morning, Baltimore" über "The Nicest Kids in Town", "Big, Blonde and Beautiful", "You Can´t Stop The Beat" bis zu "Mama, I'm a Big Girl Now". Grundlage der Musical-Fassung ist der gleichnamige Film von John Waters aus dem Jahr 1988. Im Spätsommer 2007 kam das Remake in die deutschen Kinos - mit John Travolta als Tracys Mutter Edna. In Deutschland spielte "Hairspray" von 2009 - 2010 im Kölner Musical Dome mit Uwe Ochsenknecht und Maite Kelly in den Hauptrollen. Mit 284 Shows, über 3000 verbrauchten Dosen Haarlack und 300.000 Besuchern wurde das Musical zu dem Publikumsrenner schlechthin. Auch die mehr als 60 Vorstellungen im Zeltpalast Merzig und im Deutschen Theater München 2012, erstmals mit Uwe Kröger in der Rolle der Edna Turnblad, waren restlos ausverkauft.
Riesen Haare, riesen Spaß, riesen Musical! - die Neuinszenierung
Die Neuinszenierung in deutscher Sprache setzt auf Witz, Tempo, quietschbunte Farben, abenteuerliche Frisuren und Tonnen von Haarspray. Regisseurin Katja Wolff ist eine ausgewiesene Musical-Expertin ("Heiße Zeiten", "Höchste Zeit!"), die für kurzweilige Top-Unterhaltung sorgt. Die musikalische Einstudierung und Leitung der rund 24 Darsteller und der Big Band obliegt Heiko Lippmann. Die Choreografien schuf Christopher Tölle, das Bühnenbild Jan Freese.
Alle Termine und Tickets zur großen Deutschland Tour unter: http://www.eventim.de