BWW Review: CARMEN LA CUBANA at Admiralspalast Berlin - A Cuban 'Star is Born'
Some performers walk on stage. Other performers make an "entrance," and then there is Luna Manzanares Nardo, the star and "raison d'être" for the touring production of CARMEN LA CUBANA. Last night at the Admiralspalast, this gorgeous embodiment of Latin sensuality with a voice to match didn't "make an entrance," but rather devoured the entire production, the city of Berlin and most probably the majority of northern Germany with a sexy blink of her eye and one quick flick of her pericón.
Ms. Nardo, already a star in her native Cuba is perfectly cast as Carmen, the unbent, untamable free spirit whose sexuality drives men to the point of murderous distraction. From her first moments onstage, Ms. Nardo dominated this extraordinary production. A fine actress, in addition to her excellent singing, she found every nuance in the emotional life of Carmen, eliciting not only lust but protectiveness and even sympathy for her character. Hers is a star-making performance that would be awarded a Tony on Broadway or an Olivier Award on the West End.
The leading team for CARMEN LA CUBANA was first-rate. The direction and staging by the Tony-Award winning Christopher Renshaw were both specific, transformative and extremely effective. From the musical's first seconds, the audience in cold, damp Berlin was transported to a hot, humid afternoon in Cuba. There was not a single moment in the entire production that was ever less than fully realized.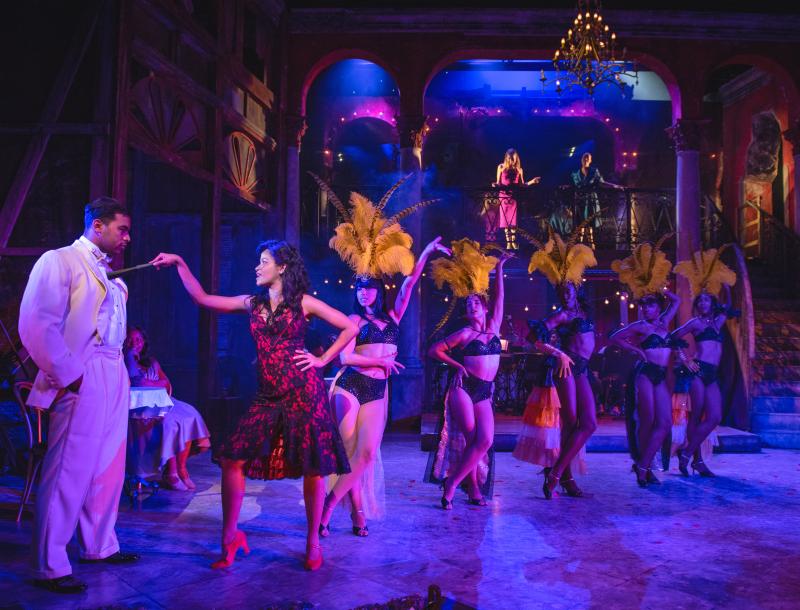 Mr. Renshaw and the actors were immeasurably aided by the orchestrations of Tony- and Grammy-Award winning Alex Lacamoire, (together with Cuban Arranger Edgar Vero) who were responsible for taking Bizet's immortal operatic melodies and turning a French Opera into an erotic, rhythmically-authentic Cuban Musical. The onstage orchestra brilliantly accompanied the performers under the direction of conductor Hector Martignon. Every gradation in Bizet's music was perfectly physicalized by Roclan González Chávez's choreography and his dancers. The joy in the ensemble's performances jumped over the footlights. Fabrice Kebour's lighting and Tom Piper's set and costume design made the most of both the stage and every performer.
Special note must be made of Gareth Owen's sound design. The performers' microphones were perfectly equalized and the sound in the theater was so well mixed that the actors could whisper and could still be heard over the orchestra. Every sound designer in Germany should go to CARMEN LA CUBANA to see how a musical should be properly amplified.
Saeed Mohamed Valdès as José, had a lovely, soft-grained tenor voice. Though his "Flower Song" at the end of Act One was somewhat underpowered, he grew in strength and effectiveness as the evening progressed. Albita Rodríguez as La Senora served a double function as both Narrator and Greek Chorus. Her earthy, sensual voice and commanding manner was another highlight in this production. Joaquin Garcia Majias as El Nino certainly looked the part of a boxer, but struggled rhythmically with his "Torero Song."
This production will be touring German-speaking Europe until the end of October before traveling to China for two weeks of performances in Shanghai. The show is performed in Spanish with German supertitles to the left and right of the stage.
CARMEN LA CUBANA - Fire, Passion, Temperament, Sensuality and a brilliant, Star-Making performance by Luna Manzanares Nardo create the most fully-realized telling of the CARMEN story that I have ever seen. Don't miss it!!
| | | |
| --- | --- | --- |
| | Donations | Arts Orgs |
Related Articles View More Germany

Stories

Shows