Mark Janicello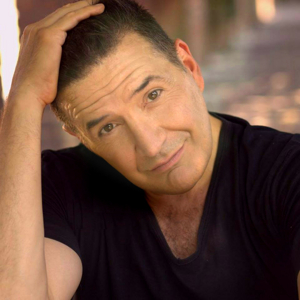 As the second of three brothers, he learned how to take his licks... but also learned how to dish them out. Born in Brooklyn, New York in 1962, Mark Janicello made his first solo appearance as a boy soprano at four years old. He made his professional debut at 16, and in the intervening years, has performed in 50 countries. He has worked in nearly every discipline in the Worlds of Art and Entertainment.  
In an amazingly versatile and very eventful career, he first conquered both the New York Subways and the New York audiences as a street singer, winning the "KFC Musical Feast" and the title "America's Best Street Performer." His $15.000, prize-winning appearance in New York's Grand Central Station featured multiple musical  and vocal styles and was based on the idea: "What if Elvis never died but just turned into Pavarotti?"
From the Subways of New York, he then made the leap to established theaters and concert halls performing in Carnegie Hall, The Apollo Theater, The Grand Ole Opry, Avery Fisher Hall, and the Zürich Opera House, among many, many others.  He has performed or recorded with Emmy-, Grammy-, Oscar- and Tony- winners; starred or co-starred in over 100 stage productions, including Operas, Operettas, Musicals, Plays, and Concerts; and has filmed nearly 100 national and international television-, film- and commercial projects.  Additionally, he has recorded 39 CDs in every conceivable musical style. 
In 2011, Mark's Autobiography Naked in the Spotlight,  was published throughout Europe in a German translation (Nackt im Rampenlicht).  It was released in English on Amazon in 2017.  His life has been eventful enough to be turned into its own television series or musical.  In fact, it already has been.  In January 2022, The Finellis Movie a semi-autobiographical comedy with animation and live musical performances was released worldwide on numerous international streaming services.
After 33 moves to 11 different countries, Mark commutes between London and Berlin, and is thrilled to be working as a contributor to Broadway World.
WEBSITE: www.markjanicello.org
---
BWW Review: LA TRAVIATA at Comic Opera Of Berlin - Attractive Cast Flounders in an Idiotic Production of Verdi's Tragic Love Story

December 29, 2019

Natalya Pavlova as Violetta, together with her Alfredo and Giorgio Germont (Ivan Magri, and Giuseppe Altomare, respectively) battle mightily against the inanity of Nicola Raab's direction, unfortunately, to no avail. One must say, that Ms. Raab has achieved what I thought was nearly impossible -- she has drained the passion, drama, and romance out of Verdi's heretofore 'indestructible' masterpiece, and turned it into a lifeless, bloodless exercise in tedium. 
---
BWW Review: LA BOHÈME at Staatsoper Unter Den Linden -- 2 promising young voices buried in a listless, uninspired production

December 27, 2019

The hype surrounding French lyric tenor, Benjamin Bernheim is becoming hard to ignore. Based on last night's performance in the Staatsoper Unter den Linden's listless, tired production of LA BOHÈME, there is reason to believe that Mr. Bernheim will live up to his hype
---
BWW Review: OPERA 4.0 - IL BARBIERE DI SIVIGLIA at Admiralspalast Berlin - Opera 4.0, 'NO!!!'

September 8, 2019

This evening, Opera 4.0, a Berlin-based production company presented their supposedly 'updated' version this Rossini masterpiece.  The press materials for this performance read as follows: 'Intelligible opera at last! Come and see Rossini's 'The Barber of Seville' and enjoy a whole new opera experience: a richer soundworld and more lively than a musical!'  Regarding this completely misguided, idiotic mess of a show thrust upon an unsuspecting audience, I can only say 'Nothing could be further from the truth.'
---
BWW Review: BIANCA DEL RIO: 'IT'S JESTER JOKE' at Admiralspalast Berlin

August 28, 2019

Last night in Berlin, Roy Halock as Bianca del Rio tore the roof off of the Admiralspalast. This is a comic force, the likes of which have not been seen since the great Joan Rivers. Roy/Bianca with his/her x-rated material, potty mouth and encyclopedia of insults has completely outgrown the drag scene and crossed over to a level of commercial acceptance that any comic would envy---with or without a dress. A brilliant night of entertainment. Hold onto your hats and make your way to the nearest performance of this comic genius. Your funny bone will thank you.
---
BWW Review: FAME: THE MUSICAL at Admiralspalast Berlin

June 4, 2019

If you can tune out the songs and simply want to see some good dancing, go and see FAME: THE MUSICAL.  If, however, you hope to see characters that you care about singing music that touches your soul, rent or stream the movie.
---
BWW Review: WEST SIDE STORY at Comic Opera Of Berlin -- Flashes of genius break through an uneven cast and hit-and-miss choreography.

May 19, 2019

Barrie Kosky has done it again. WEST SIDE STORY at Berlin's Comic Opera has moments of breathtaking beauty despite uneven casting and hit-and-miss choreography. Jasmina Sakr as Maria is a standout.
---
BWW Review: DIE TOTE STADT at Komische Oper Berlin - A Miscast, Misjudged, Major Disappointment

November 1, 2018

One is seldom confronted with a performance like last nights DIE TODE STADT at Berlin's Komische Oper, and I don't mean that in a good way --a miscast, misjudged, major disappointment
---
BWW Review: LENYA STORY at Renaissance Theater - A bloodless, passionless exercise in tedium.

October 19, 2018

LENYA STORY at Berlin's Renaissance Theater is a savagely misguided, heavy-handed slog through a poorly-written Wikipedia entry.  Neither a play, a musical (jukebox or otherwise), a concert, a musical revue or any other kind of theatrical entertainment, LENYA STORY takes two of the most fascinating exports from the Weimar Republic, Kurt Weill and Lotte Lenya, and makes a bloodless, passionless exercise in tedium out of their lives and careers.   
---
BWW Review: VIVID GRAND SHOW at Friedrichstadt-Palast Berlin - This breathtaking spectacle will prove to be a GIGANTIC hit! Bravo!!!

October 12, 2018

l am seldom at a loss for words, VIVID GRAND SHOW left me speechless -- again and again and again. Last night's world premiere at Berlin's famed Friedrichstadt Palace, was an absolute stunner. Every moment in the show presented a consistent level of aesthetic beauty so spectacular in its concept and execution that 'my goosebumps got goosebumps.'
---
BWW Review: CARMEN LA CUBANA at Admiralspalast Berlin - A Cuban 'Star is Born'

October 5, 2018

Some performers walk on stage. Other performers make an 'entrance,' and then there is Luna Manzanares Nardo, the star and 'raison d'etre' for the touring production of CARMEN LA CUBANA.   Last night at the Admiralspalast, this gorgeous embodiment of Latin sensuality with a voice to match didn't 'make an entrance,' but rather devoured the entire production, the city of Berlin and most-probably the majority of northern Germany with a sexy blink of her eye and one quick flick of her pericon.
---
BWW Interview: Krista Monson of VIVID at Friedrichstadt-Palast Berlin - Dynamite comes in small packages

September 16, 2018

After the record-breaking run of THE ONE, if Krista Monson was worried about fulfilling the Friedrichstadt-Palast's or audience's expectations with her new show VIVID, she hid her nerves extremely well. She is a petite woman, blessed with a very winning smile, an enormous amount of energy, and a calm, nurturing aura that fills every centimeter of this cavernous theater. As the saying goes 'Dynamite comes in small packages.'
---
BWW Review: THE PLAY THAT GOES WRONG at Renaissance Theater Berlin - Great Cast. Great Farce. Great Fun!

September 8, 2018

From the masters Shakespeare and Feydeau,  to John Cleese and Monty Python's Flying Circus, to the more recent works of Ken Ludwig and Michael Frayn, farce is a comic gift that keeps on giving.  The Theater Gods have given their highest blessing to the Renaissance Theater's hilariously funny production of THE PLAY THAT GOES WRONG (Mord auf Schloss Haversham).  If you want a laugh-out-loud evening in the theater, run, don't walk to get a ticket!  Everything's right about THE PLAY THAT GOES WRONG.
---
BWW Review: GREEN DAY'S AMERICAN IDIOT at Admiralspalast Berlin - Punk Rock in desperate search of good producers.

September 2, 2018

Off-Musical Frankfurt's stripped-down, bare-bones, cheaply-produced touring production of GREEN DAY'S AMERICAN IDIOT that was foisted upon the half-empty Admiralspalast in Berlin last night had almost NOTHING to do with the musical presented on Broadway.   Last night's performance was like watching a 3rd-rate, Green Day cover band in a provincial nightclub. The audience and the musical both deserve much better.
---
BWW Review: DANCE OF THE VAMPIRES at Musical Dome, Cologne - The Vampires take a big, juicy bite out of Cologne

July 27, 2018

20 years after watching Roman Polanski's world-premiere production, it was with great trepidation that I entered the Musical Dome in Cologne, to watch DANCE OF THE VAMPIRES again. To my surprise, it was a quick-footed, highly-entertaining show that was a vast improvement over the original Viennese production.
---
BWW Review: CABARET at Tipi am Kanzleramt - It's all about location, location, location!

July 21, 2018

Watching CABARET in Berlin, near the original locations of Christopher Isherwood's Book 'I Am A Camera,' gives this Kander and Ebb classic even more dramatic weight than it could possibly have in a New York or London production.  At last night's Premiere of the revival of Director/Choreographer Vincent Paterson's production showed why Mr. Paterson has been called 'The Man Behind the Throne.'  Widely imitated, but never equaled, his work in Berlin is the best reason to watch this production. 
---
BWW Review: JONAS KAUFMANN - DOLCE VITA at Berlin's Waldbuehne

July 14, 2018

Jonas Kaufmann is probably the most sought-after tenor on the planet today.  His DOLCE VITA concert last night at Berlin's glorious outdoor Waldbuehne Amphitheater proved exactly why. Let's state the obvious. Mr. Kaufmann is a tall, very handsome man, who's in very good shape both vocally and physically.  He has been blessed with a unique, baritone-like tenor voice with very secure, clarion high notes that he uses with great intelligence and enormous musicality.  This is one of the most unique voices singing classical music today. 
---
BWW Review: MACBETH at STAATSOPER UNTER DEN LINDEN - Superstars Netrebko and Domingo miscast in a glittering new production of Verdi's MACBETH

June 22, 2018

Currently, the world of opera is sorely lacking superstar talent. Last night, at the Staatsoper unter den Linden, three of the world's brightest classical-music talents came together in a very expensive, glittering new production of Verdi's MACBETH. Anna Netrebko, Placido Domingo and conductor Daniel Barenboim, the Staatsoper's Music Director, were the 'above the title' names in the production. Of the three, only Mr. Barenboim, now 75, truly fulfilled his role in the production.
---
BWW Review: GREASE at Admiralspalast - Grease is Still the Word!

May 27, 2018

'Wop baba lu bap a wap bam boom!!' 47 years after its Broadway debut and 40 years after John Travolta and Olivia Newton-John sang and danced their way into the world's collective consciousness, GREASE is still the word! This touring production of GREASE, which has been on the road in German-speaking Europe since October 2017 is an amalgam of both the original stage production and the 1978 film. The Admiralspalast in Berlin is the last stop of this mammoth production before taking a summer hiatus. Last night the T-Birds, Pink Ladies, and lovebirds Danny and Sandy gave a whizz-bang performance that thrilled the tough Berlin audience.
---
BWW Review: THE WANDERING at Theater Im Delphi - A World Premiere with potential.

May 26, 2018

A group of young performers (Donna Lee, Darell Hanes, Alexander Simoes, Carrie Getman, Udo Wiegand, and Sara McKee) work with 100% commitment, futilely trying to turn Ken Shakin's THE WANDERING, a musicalized re-imagining of James Joyce's 'Ulysses,' (factually a short Oratorio), into a fully-staged operatic performance. They only partly succeed.
---