BOYBAND - Die Show mit den Hits der größten Boygroups aller Zeiten!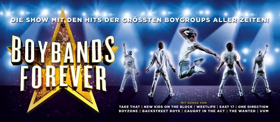 Die Show mit den Hits der größten Boygroups aller Zeiten!
BOYBANDS FOREVER
Buch und Regie: Thomas Hermanns
Ob "New Kids on the Block", "Take That", "Backstreet Boys" oder "One Direction" - nichts polarisiert und fasziniert so sehr wie Boybands. Seit Generationen verkaufen sie weltweit Millionen Tonträger und brechen mindestens ebenso viele Herzen. Riesenerfolge, Massenhysterien, ungebrochene Begeisterung und unsterbliche Popsongs. Kommen Sie mit uns auf eine aufregende Welt- und Zeitreise, wenn BOYBANDS FOREVER für einen Abend das Boyband-Feuer neu entfacht und die besten Songs in einer großartigen Live-Show vereint.
BOYBANDS FOREVER ist eine Musical-Show, die uns das Phänomen und sein Erfolgsgeheimnis ergründen lässt - Step by Step und Hit für Hit. Zusammen mit unserer erstklassigen Cast, begeben wir uns auf eine spannende Rundreise durch die Jahrzehnte, über die Kontinente und erfahren alles über die Essenz der ultimativen Boyband. Was ist es, was diesen Zauber ausmacht, die Emotionen auslöst? Welche Rolle spielen die Charaktere, die Outfits, die Videos? Die Neugierigen werden verstehen, die Töchter die Jugend ihrer Mütter nachempfinden und die Fans dürfen endlich mal wieder Fan sein: Zwei Stunden voller perfekter Choreografie, beeindruckender Dancemoves und cooler Styles, aber auch viel Spaß, Selbstironie und vor allem einzigartiger Melodien mit den so besonderen Gesangsharmonien.
Für die künstlerische Umsetzung konnte Marvin A. Smith für die Choreografien gewonnen werden. Er gilt als internationaler Fachmann in dieser Sparte, arbeitetemit Weltstars wie Michael Jackson, En Vogue, Donna Summer oder Anastacia und hat sich mittlerweile auch in Deutschland, nicht zuletzt durch seine Arbeit mit Helene Fischer, einen Namen gemacht. Die musikalische Leitung für Boybands Forever hat Christoph Papendieck übernommen. Er gehört als musikalischer Direktor ebenfalls zum Kreativteam von Helene Fischer, ist aber auch Produzent, Songwriter und international gefragter Live-Musiker u.a. als Keyboarder für Tom Jones. Für den Roten Faden durch die Show sorgt ein Moderator. Die Comedian Ole Lehmann und Dittmar Bachmann werden dies alternierend tun und ihren Beitrag leisten, um mit dem Publikum die wilde, aber auch merkwürdige Welt der Boybands zu feiern - mit einer Bestandsaufnahme und einem Rückblick auf die besten Momente und schönsten Songs und das mit einem verschmitzten Lächeln.
Zusammen mit einer erstklassigen Band und Cast werden bei BOYBANDS FOREVER all die großen Hits der wichtigsten Boybands präsentiert: Mit den Hits der Backstreet Boys, Take That, East 17, New Kids on the Block, Boyzone, N´Sync und One Direction.
Die fünf Protagonisten der Show werden nicht nur die weiblichen Fans verzücken. Und natürlich bringen die fünf Charaktere: der Schwiegersohn John, der süße Sascha, der sportliche Rik, der dramatische Lucian und der namenlose Fünfte neben ihren außergewöhnlichen Stimmen auch so einiges fürs Auge mit. Wir sind sehr gespannt, wer Ihr Liebling wird!
BOYBANDS FOREVER ist die Musical-Show für einen perfekten Mädelsabend - oder um einfach zusammen mit seinen Liebsten in die wilde Jugendzeit zurückzublicken. Ob mit der alten Clique, der besten Freundin von damals, mit der eigenen Tochter oder dem Ehemann. Auf jeden Fall mit einem Prosecco und dem Fan-Shirt Ihrer liebsten Boyband - für einen unvergesslichen Abend wieder 17 sein!
öffentliche Generalprobe
28.09.2017 19:30 Uhr Duisburg Theater am Marientor
30.09.2017 19:30 Uhr Duisburg Theater am Marientor
Premiere
03.10.2017 bis 15.10.2017 München Deutsches Theater