VIDEO: Get A First Look At Gulfshore Playhouse's THE REVOLUTIONISTS
For its third production of the 2018-19 season, Gulfshore Playhouse, Naples premiere professional regional theatre, explores timely topics of equality and freedomthrough a historic and comedic lens with The Revolutionists. Written by Americas most-popular playwright, Lauren Gunderson, and set during the French Revolutions Reign of Terror, The Revolutionists tells the story of an unlikely alliance between four historical, iconic women. Directed by Gulfshore Playhouse Founder and Producing Artistic Director Kristen Coury, the French fantasy takes the stage Jan. 12 to Feb. 3.
The Revolutionists opens audiences to the often untold, female side of historic and chaotic events during the French Revolution. Gunderson has imagined a provocative plot, bringing together four historic female figures Queen Marie Antoinette, assassin Charlotte Corday, playwright Olympe de Gouges, and spy Marianne Angelle. As they try to find comfort and support in each other, a fifth counterpart on stage the guillotine is a subtle, constant reminder of the history they cant change. Powerful, yet funny, this fantasy-comedy is a call to action, tackling topics the world still struggles with today.
Its actually based on a totally true story, which I found inspiring, shocking and really curious. The main tone of the play is going to feel like this combination of what you might hear in 1793 and a really modern, edgy, rebellious, Tina Fey-Amy Poehler, rolling kind of humor, Gunderson said. I felt that was the way to make it engaging, fast, funny and surprising.
Taking on these fiercely passionate roles are cast members Marina Shay, who is making her Gulfshore Playhouse debut and appeared in Gundersons Miss Bennet: Christmas at Pemberleyat Cincinnati Playhouse in the Park; Dria Brown, who starred in the national tour of Hamlet/Saint Joan and the Off-Broadway production of Aint No Mo; Shannon Marie Sullivan, whose TV credits include Law and Order: SVU, Blacklist: Redemption, The Good Wife, and The Rewrite with Hugh Grant; and Angela Janas, who previously appeared at Gulfshore Playhouse in The Merchant of Venice and Starcrossed and the Off-Broadway production of Stuffed.
Playwright Lauren Gunderson was named the most produced playwright in America by American Theatremagazine for the 2017-2018 season, with plays staged almost twice as often as anyone else on the list. She has 27 productions eight of which she has co-written including I and You, The Amazing Adventures of Dr. Wonderful and Her Dog!, Bauer, and Silent Sky.
In addition to Gunderson and Coury, the creative team for The Revolutionists includes Scenic Designer Kristen Martino, Costume Designer Robin L. McGee, Sound Designer Beth Lake and
Lighting Designer Jimmy Lawlor.
Evening shows begin at 8 p.m.; matinees begin at 3 p.m. Show subscriptions are available and include priority seating, exclusive events, and discounted pricing. Tickets begin at $42; all tickets are $35 two hours before a performance. For purchase information, visitwww.GulfshorePlayhouse.orgor contact 866-811-4111.
Free pre-show discussions take place Jan. 13, 16, 27, and 30, where Gulfshore Playhouse artistic staff lead conversations about themes and topics related to the production. Audience members can also stick around for post-show conversations on Jan. 17 and 20.
Gulfshore Playhouse is passionately committed to enriching the cultural landscape of our region by producing professional theatre to the highest artistic standards and providing unique educational opportunities to diverse groups of people in a spirit of service, adventure, and excitement. The Playhouses work is inspired by a belief in the magic of theatre to expand the imagination, challenge the senses, provoke discussion, and revitalize in its audiences an understanding of our common humanity. This belief drives the care with which Gulfshore Playhouse treats its artists, audiences, students, staff, and members of the greater community.
This focus is also at the core of its newest endeavor the creation of a cultural landmark facility in downtown Naples. Plans are currently underway for the new Gulfshore Playhouse Theatre and Education Center at Goodlette-Frank Road and First Avenue South, which will include two theatres and an education wing to support programming for children, adults, and families.
For more information about Gulfshore Playhouse, visitwww.GulfshorePlayhouse.org or call 239-261-PLAY (7529)
More Hot Stories For You
Gypsy Playhouse to Present RUDOLPH JR. in December

November 26, 2022

Gypsy Playhouse will present Rudolph Jr. from December 2-4 at Robin Dawn Academy of Performing Arts.
---
Gulf Coast Symphony to Present SNOWBIRD FOLLIES A HOLIDAY MUSICAL in December

November 26, 2022

The Gulf Coast Symphony will present 'Snowbird Follies A Holiday Musical' at the Music & Arts Community Center in Fort Myers from December 3 - 18, 2022.
---
Alyssa LeMay to Open Cultural Park Theatre's Holiday Concert Month

November 25, 2022

Alyssa LeMay wll return to the Cultural Park Theatre Company stage with her LIVE Holiday Concert on Friday, December 2 at 7 PM! Join Alyssa for her holiday concert featuring music from classic carols to modern favorites.
---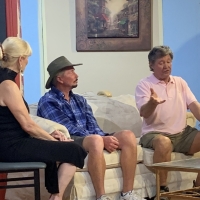 Arts Center Theatre to Present THE ODD COUPLE With a Female Twist

November 23, 2022

Arts Center Theatre is following up the successful production of Jeff Daniels Apartment 3A with Neil Simon's The Odd Couple. However, this production will add a female twist to the classic version featuring Oscar and Felix. In 1985, Neil Simon revised The Odd Couple for a female cast and the play opened on Broadway that same year.
---
Opera Naples Raises Over $18,000 For Rebuilding Fund At ¡Olé! A Celebration Of Spanish Song

November 22, 2022

Opera Naples music patrons recently gathered for ¡Olé! A Celebration of Spanish Song, a fundraiser in support of the Opera Naples Rebuilding Fund. More than $18,000 was raised to support Opera Naples rebuild efforts following significant damage to the Wang Opera Center performance space from Hurricane Ian.
---