BWW Feature: MARY POPPINS at North Fort Myers High School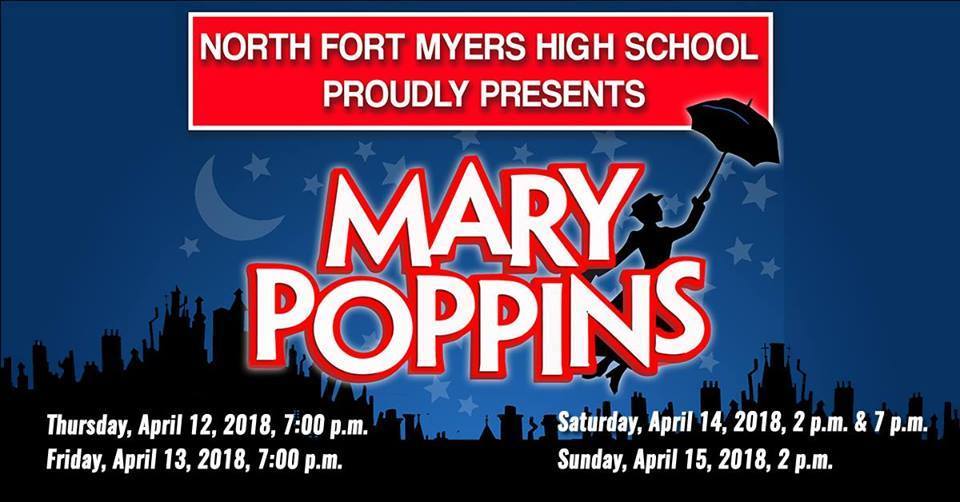 As one of the most infamous local high schools to attend for dance and theatre, it is no surprise that North Fort Myers High School's Center for Arts and Media has once again presented another fantastic show: MARY POPPINS.
Katie Means is a dazzling Mary Poppins; she truly embodies the role, and it is quite amazing to think she is only in high school. She has a very mature stage presence, and her voice is incredibly strong. Her "flight" as Mary is quite a sight to see. Michael Johnson plays Bert, and I was also thoroughly impressed with how spectacular he was in this role. They make a fantastic on-stage pair.
The rest of the cast, along with the orchestra, all did an excellent job at bringing this classic show to life. The set design, by Kevin Ostrowsky and Paul Pescatrice, was wonderful. It was incredibly detailed, and I appreciated how they used the space of the auditorium. It was fun from beginning to end; truly a Practically Perfect production.
Michele Whitener directed the show, and it is her 31st (and final) production at North Fort Myers High School. She truly outdid herself with this production of MARY POPPINS, and I couldn't imagine a better note for her to end on.
The show is only playing through this weekend, so don't miss out! There are three more chances to see this wonderful production: Saturday, April 14, at 2 p.m. and 7 p.m., and Sunday, April 15, at 2 p.m. Tickets to the show are $5 for students and seniors, and $10 for adults. North Fort Myers High School is located at 5000 Orange Grove Blvd, North Fort Myers, FL 33903.