BWW Reviews: MISTER ACT A Hilarious Spoof Done Right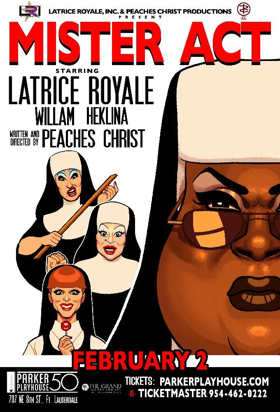 A drag show should be unpredictable, unforgettable, and utterly sensational. Peaches Christ and Latrice Royale are two performers who know that most of all - Peaches writes unforgettable narrative rides, and Latrice is infamously explosive on a stage. Add the vocals and sharp wit of Willam, you've got a recipe for a hell of a night. Mister Act does not disappoint - Peaches Christ made her Florida debut with hometown star Latrice, bringing along Willam, Tiffany Fantasia, Heklina, and more Miami drag legends for a night of hilarious entertainment. The culmination of coast to coast minds, razor sharp wit, and star-power of the cast, makes Mister Act a smash hit of drag talent that hopefully is the first of many Latrice Royale Inc. (LRI)/Peaches Christ productions.
Mister Act is Peaches' satirical rendition of Whoopi Goldberg's classic Sister Act, working in staple drag talents and jokes based around her star power. Yes, Latrice will face out and exclaim, "Get those nuts out of my face!" and there will be Drag Race shade, and 'Sister Willam' will perform one of her singles (spoiler alert: it's one with Latrice in it).
In Mister Act, Royale is a Reno drag performer who witnesses the murder of one of her fellow performers. She goes into hiding in one of Wilton Manors' churches, under Reverend Mother Christ, discovering that her musical (see: lip-syncing) capabilities may be just what the church choir needs.
The show isn't going to wow any literary minds, nor will it shock and awe when it comes to plot.
Then again, he who goes to a drag show for plot should probably have a few more drinks.
Christ's script is side-splitting, sharp, and succinct. Along with her impeccable improv ("I can tell by your silence that you aren't done changing yet"), Christ manages to steal the show that she wrote. With Royale's unbeatable stage presence, the comedy is ensured. Most surprising may be Judas Elliot, the current reigning Mr. Pride South Florida, as the funniest bishop to grace Wilton Manors.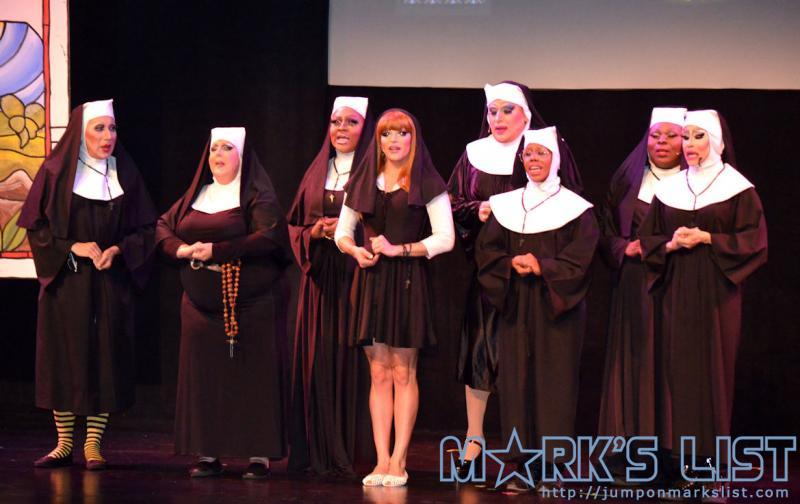 Perhaps the only disappointment was that Willam didn't sing live - a qualm quickly wrapped up when his backup dancers joined in, and the lip sync became plot based. His performance may be what brought many audience members in, and, as usual, never failed to please.
Special shout out to Elishaly D'witshes (famed for doing a split drop off of a double decker bus last summer) who, on her stomach, twerked across the stage as she cleaned it. Sickening.
Honestly, at the end of the night, the only question you can ask is - was it a thrilling, sensational experience? After all the screaming, cheering, sobbing laughter, and gasping chuckles, there can't be any doubt that Mister Act deserved a run of at least a few weekends. With LRI and Peaches Christ cementing this first success, one can only hope and pray that her next shows may well premiere on our sunny shores.
---
Photo Credits: Mark's List
Related Articles View More Fort Lauderdale

Stories

Shows
Trevor Durham has been covering theatre for years, starting off as a Cappies Critic before he became a staff writer for ULoop, the FSView, working (read more...)