TTT-Klub's February Starts With Visits From Top Guitarists and Black Humor From Iceland
Learn more about the lineup here!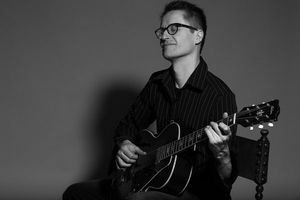 The season of Tampere Työväen Teatter's restaurant stage has started off lively. During February, you can feel the atmosphere of 17 performances in the intimate hall of TTT-Klub. The whole includes theatre, music, stand up - according to the viewer's choice.
The Spring Music Program kicks off nicely with concerts by two great guitarists. Teemu Viinikainen , who represents the European top of jazz guitar , will surprise you with all the nuances of his solo gig on 4.2. A week later, 11.2. it's time for blues guitar lovers to celebrate, when Ilkka Rantamäki and his bands dive into the best moments of British blues, e.g. Following in the footsteps of John Mayall, Peter Green and Cream.
Diversity still best describes February's concerts: we serve different sub-audiences as best we can. 18.2 will take you to the world of progressive rock legend Pink Floyd. a new line-up called Drink Floyd , where the Finnish masters of the genre give their best, the band includes, among others, Bryn Jones , Ben Granfelt and Jukka Jylli . On the last weekend of February, we'll throw ourselves into unruly ethno-techno ( Suistamon Sähkö 24.2.) and the rebellious rite of theater music pioneers ( Motelli Skronkle 25.2.).
As the home of stand up, TTT-Klubi has established itself as the most popular place in the city. The international program will be enjoyed on 2.2. and 3.2. With Hugleikur Dagsson's visit. Dagsson is a comedian, comic artist and playwright who graduated from the Icelandic Academy of Arts, who is now touring several locations in Finland. About impressions 3.2. is sold out.
Instead, there will be local color on February 10, as Tomi Haustola and Heikki Vilja have put together a special Tampere-themed stage comedy coverage. What does Manse look like through the eyes of a comedian? They celebrate their sixties - 3 x 20 years of tireless gigging - on 24.2. conkers Tommi Mujunen , Jape Grönroos and Pete Kosonen . In February, we will also see the last performances of Erikka Väliahti's stand up show Vanhete paranee , which follows the stages of a middle-aged woman (1.2. and 18.2.).