Lauri Maijala: MEANINGFUL THEATRE ARISES FROM ARTISTS' OWN THEMES AND TOPICS, a BroadwayWorld Finland interview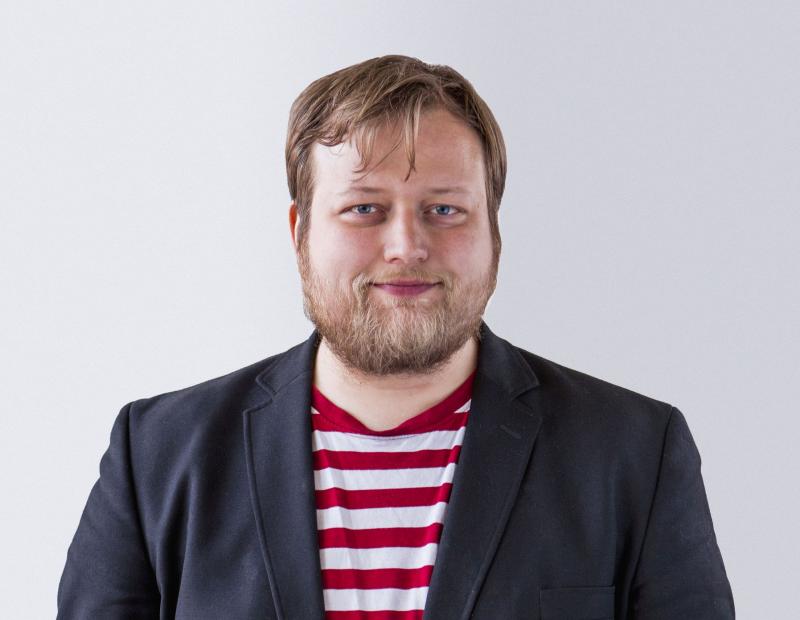 Lauri Maijala is currently directing Chekhov's classic at the Helsinki City Theatre, The Cherry Orchard (Kirsikkatarha), which is premiering 26 of February. Last Monday I had the honor to sit down and watch their rehearsals for a few hours, which went by very quickly. After that me and Lauri strolled through the halls of the Helsinki City Theatre to a meeting room, got some snacks from the cafeteria and started the interview.
Do you design the colors of the lights yourself? As far as I've seen you've used neat complimentary colors on stage.
-No, I do not. I work with different lightning designers, with the same ones I worked as early as in the Theatre Academy or designers straight from the theatres I'm working in. It's true that I might like a certain kind of mood or atmosphere, so thus on stage there might be glimpses that remind each other, even in different pieces that I do. The scenographer Janne Vasama who I'm currently working with and whom I worked with in the Seven Brothers at Turku City Theatre as well, there for example we had a clear, shared vision. In theatre lights are easier to change than the set designs for example, so in this particular production with the lightning designer Mika Ijäs we try out and change the lights throughout the rehearsal process.
Do you feel like you have a trademark of some kind as a director?
- It might be a thing that others define... But I've heard descriptions of daringness and roughness. Someone has spoken about a musical rhythm as well. Well, music is important to me, music that is not only played but which is found in the contact and rhythm between people. I'm also that kind of a director who changes things a few weeks before the premiere.
Good that you mentioned the music because my next question is that what is the meaning of music in a performance to you, especially of your own directing?
- To me music is rarely just a mere background tune. It has to arise from things happening on stage. In theatre music shouldn't ever be used as a savior so to speak, or to be used simply as a transition between scenes. Many times, if I'm stuck in a scene as a director, and put on a song to listen to-- that helps me to get rid of the block, though the song itself wouldn't be left in the final performance. So yes, music is important to me. Lauri Porra is going to do the music to this production, the Cherry Orchard. There's going to be a string quartet playing live on stage.
So, things we experience with our senses in theatre can never be unattached from the performance itself. How many things and links do you hide inside a performance and do you remember someone interpreting something outside of them?
- There's always some kind of interpreting I've heard of and thought to myself that whoa, well that's cool thinking! The director can only affect the mood, and of course there are no right or wrong interpretations. But there always is something I haven't thought of that someone else interprets and finds from a show. And I'm happy about the fact that I'm going towards being a director that doesn't thrust things through the throats of the audience. I can present questions. There has to be a question, but not a finished proposition, I think.
The director also sets the focus, that what should the audience look at, what is the most important thing in this scene etc. How do you handle these things yourself and do you have any examples?
- The most important thing in any performance and the very first task is to introduce the characters: who they are and what they want. Even a little hint of it. If a lot is going on on stage it's easier to the audience to keep up with it if they know who's who and what are the characters aims: aah, he's like that, that is his problem etc. Of course it's very challenging.
Are you annoyed by the ongoing rant, which loudly states what theatre should be and what kind of topics it should deal with in a modern world?
- Yes and I do recognise that. Mostly there's the social media and the people of the profession themselves and some journalists who lead the ongoing conversation, the rant. For there are trends, things that people are looking for, themes that are fancied and themes that are not fancied.

Is the Theatre Academy like this?
- My experience of the Finnish Theatre Academy is that they didn't state that much about of how things should be done. Nevertheless, the teachers' and other students' own tastes and personal preferences affected and created somewhat of a peer-pressure. The general conversations inside the school possibly led into a certain kind of similar aesthetics of the students, which is far from what I think the art of theatre might be at its best:
- Everyone should find their own themes and topics. Only thus there can be meaningful theatre, because every person's own themes and ideas are special and unique, just like every person is. Of course people do fall into the ongoing trends at some point of their lives for sure.
- I think the theatre political conversation has the same kind of effect that advertisements have. Everyone is saying that no no, ads don't affect me. Well, not always but from time to time you do make a decision to buy something just because you remember an advertisement of it.
- Of course there are good aspects to it too like when people have started to talk about gender equality in the theatre, how there are too many men in power in theatres and how we hear only men's stories. The conversation about that too can get a little too heated as well, and I think that the aim still could be to actually see what the author, actor, director ect. has tried to say and bring to life, in spite of the external things like gender, skin color or whatever there might be. If not, I think then the conversation turns into pedantry. It'd be more important to judge people by their acts and deeds, not by who they are outwardly.
I agree. So, everyone should find their own themes. What kind of challenges does a director meet when he's directing his own script, like you have yourself in the past?
- It's the feeling that everything is possible and nothing is possible. It's the moment when you realise that you cannot blame anyone else than yourself of the outcome. Most of all I'm a director, so when I write a text, a play, I write it alongside with the directing, so the play gets developed throughout the rehearsals. It's hard as hell to do it that way, though! I might pause the rehearsals and say that hold on a moment, I have to write another scene now or develop the current one. The texts become finished, but might be rather absurd. That kind of style is popular in Germany for example. A few times someone has asked to have a text of mine, but I've refused. I've felt it is not ready, like I'd need to explain something, though once I even got awarded of a play I wrote.
Who directors or playwrights have inspired you? Eugene O'Neill perhaps?
- The realistic plays, like ones from Eugene O'Neill, are so perfect themselves that it's difficult to find anything I could bring into it as a director. Plays from Millers are the same. But Brecht has been meaningful to me. An example of Brecht's style, which I often use myself, is the moment in the performance where we're clearly in some kind of imagined world, a distinctive mood created by the show, but then it's broken or ceased in some kind of way and the audience is brought back to the reality, the reality that they're watching a show in a theatre.
What do you think of the idea that an artist or director should firmly believe in themselves in order to be successful? Because there are people who belittle themselves and yet are very successful.
- I think that people who at their deep core don't actually believe in themselves can't be successful. It's tough to be a director, an artist, if one gets a bad review for example, so a good self-esteem is really necessary. My life has always been surrounded by theatre to a such extent that I've sank my identity into it. At its best it can feel good, encouraging and passionate, that I forget all the insecurities I have while I direct. But when the artistic self esteem takes a hit one can become really murky. And it doesn't have to be a bad review, it can also be the fact that you're not employed quite straight away after you graduate. You either have your own style or then you just don't have the guts to get to know the right people and talk to them, networking.
- On this field there are many demons, like the fog of stardom, jealousy, defining yourself through your fame... We would love to say these things don't affect but they do. And when people are passionate the internal conversation can be cruel too, for example if one theatre group gets a bad review of their show, the other, rivaling one claps in joy about it, celebrating it at their rehearsals. And it's horrible.
You've done theatre in various forms. So here's a challenge.
EXPLAIN SHORTLY THESE PROFESSIONS and what they do in a few sentences:
AN ACTOR
- There's a song called Under the lights of the Heavens (Taivaan valojen alla) and there's a part that's set in a circus world, which goes like this:
One's not better than the other,
We have the tightrope walker,
No one dares to take a breath (when he takes the steps),
He could reel and lose his balance.
And when he finally bows,
The people can sigh in peace.
That man,
He walks on a tightrope,
On behalf of everyone.
So the actor is the body that suffers, laughs, dies, loves and is being loved-- on behalf of everyone else.
A DIRECTOR
- It'd be cruel to say that "the brains of the show", though it's not so but... It can be so many things... Oh, yikes...
The director determines how the show should feel like. It includes everything, the genre, the rhythm, the relations of different aspects, everything. Everything is done by thinking what kind of mood or feeling would I want to arouse in the audience.
A BAD ACTOR
- A bad actor is insecure and lets it show. No, let me correct myself: a bad actor is insecure and doesn't admit it, nor to himself or to the others. An actor cannot stay in a hide.
A BAD DIRECTOR
- The same description... Someone who doesn't admit his mistakes. Someone who's not open for the process. Someone's who's inside their shell.
/SOME FAMOUS CLAIMS, I'd like you to answer them as shortly, with a YES or NO, and with an explanation in a few sentences:
1: SENSITIVITY IS A STRENGTH
- YES. Theatre is based on vulnerability that is showed. If there's no sensitivity, you cannot show your vulnerability.
2: WHEN THE ACTOR CRIES, THE AUDIENCE DOESN'T
- NO. The situation is bad if the audience doesn't cry with the actor.
3: EVERYTHING'S CONNECTED
- *Snickers* YES. Everything's connected. For the audience the theatre performance is like being on drugs: the experience they have is only in their own heads, the interpretations, the images. And what they experience is connected to everything they've gone through in their lives. The theatre experience starts as early as the audience member hears or reads the title of the show. And it ends when he forgets the show he's seen completely.
4: EVERYTHING HAS A MEANING
- NO. Nothing *laughs* nothing has a meaning, I think. Nothing has a meaning unless we create them ourselves. But fundamentally nothing has a meaning, not in life nor in the theatre. Things just are. People create meanings and purposes to things.
5: THE THEATRE ACADEMY / DRAMA SCHOOLS ACCEPT ONLY THE BEST AND THE MOST TALENTED PEOPLE
- *Extremely quickly* NO. That's not correct... Certainly not. It's extremely hard to even define that who's the best and who's the most talented. The trends of the current time, the personal preferences and likings of the judges, however subconscious they might be, affect. Even the face of the auditionee though it shouldn't matter. I know myself that many people more talented than I are left without the education of the school.
6: TURKKA* WAS A GENIUS.
*Jouko Turkka was a revolutionary, much discussed and conflicting director and headmaster of the Theatre Academy of Finland in the 1980s. Theatre and its studying, and especially its ethics that Turkka had his own ideas of, went through a massive change.
- NO. My basis is that no one is a genius. The philosophy of being a genius itself is very horrible and heavy to the theatre world in any case. But Turkka was exceptionally talented in what he did.
7: THE MOST ESSENTIAL PURPOSE OF THEATRE IS TO ENTERTAIN
- YES. As long as we define what it means to be entertained: the person is entertained when she feels feelings, when she gets thoughts she hasn't thought of before. When she gets even physical experiences. Thinks differently, gets surprised. Then the person is entertained. And that is the purpose of theatre. Especially if we think it in an opposite way that the theatre's purpose is absolutely not to entertain. So yes. I think that it is its purpose.
Thank you, we're almost done, just the last question: One shouldn't put all his eggs in the same basket. What else do you have in your life than theatre?
- Very little. To the point that I know very little people, friends, from outside the theatre circles, people whose jobs wouldn't be linked to theatre in any way. I'd say one can count them on the fingers of one hand. So yeah, I don't have very much going on outside the art of theatre. Even a walk in a park can bring me ideas. Or now when I've glanced outside the window, seeing those buildings has given me scenographic images for a show. So it feels like I'm always at work. And it's not good, it's not a good thing. One should find something else. On the other hand then, why should one find something else, if one doesn't want to? Well, it's a big question, I've used that term you mentioned in the question myself. It's a tragedy that it is so, but that's how it is now.
Well, if one can do what he loves, is it then such a bad thing after all, especially if the basket is neatly safe somewhere?
- Certainly! But then one has to build a shelter to them... A protecting egg for the eggs!
We titter a little and pause for a moment. I view through my notes. Well, there it was, I say, thank you! Lauri thanks likewise, joyfully. After the interview we sit for a while and talk one on one on theatre and its philosophies.
Lauri is undoubtedly a very keen and intelligent in terms of theatre and life itself. The world needs more individual thinkers who are ready to tell the truth they see-- whether in theatre or outside of it.
A separate kudos for the cafeteria, reception and Kaisa Pelkonen of the Helsinki City Theatre for a very warm and pleasant take on me.
Article: Rosanna Liuski
Related Articles View More Finland

Stories

Shows