BWW Review: GODSPELL at Fargo Moorhead Community Theatre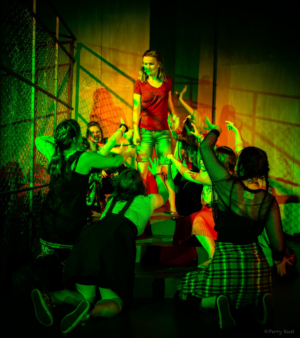 Fargo Moorhead Community Theatre Presents GodSpell
For those not familiar with GodSpell it is structured as a series of parables, primarily based on the Gospel of Matthew.
For this production director Natalie Novacek decided to go with an all female cast (this was decided after open auditions for male and female). This is a great production with 10 very talented women. All of the songs are performed very well and with such a small cast we get to hear every single member do a solo.
Megan Hovinen as Jesus is absolutely wonderful. She is a very talented actress, singer and dancer and I was lucky to see her earlier this year in Mamma Mia! And also The Curious Incident of The Dog In The Night. Megan really stood out on Save The People, All for the Best (with Kathryn Tyler), Alas for You and Beautiful City.
Kathryn Tyler as John The Baptist / Judas was another great casting choice. Another fine acting and singing job and she get to start off the show with Prepare Ye, and as mentioned earlier the amazing performance on All for the Best (with Megan Hovinen) was one of my favorite numbers of the show. She also sings beautifully on the song On The Willows.
As mentioned each cast member got at least one solo so we are going to give them all some well deserved recognition. First from Act I.
Day by Day (he original cast recording of this from 1972 hit #13 on Billboard) performed by Hanna Stout. Learn Your Lessons Well is performed by Emma Woodward. Bless The Lord performed by Annie Dunnuck. All Good Gifts sung by Kathryn Erickson. Light The World by Sara Simenson.
Now for Act II. Turn Back, O Man sung by Krissy Borud. By My Side performed by Jeanie Smith-Murphy. We Beseech Thee sung by Megan DuChene.
All 10 of these amazing performers should be extremely proud of this show, This was a great production with wonderful music .
Speaking of the music congrats to the orchestra conducted by Ryan Hardy.
For an extended review please check out my podcast. The link is below.
https://www.spreaker.com/user/11091085/stagenotesepisode5
**Photo Credits Perry Rust
Related Articles View More Fargo

Stories

Shows
Brian Michaels got his start in radio at the age of 15 back in 1989. The early 90s saw a move to Moorhead, MN (Fargo, (read more...)