Photo Flash: First Look at The Human Race Theatre Co's THE GLASS MENAGERIE
The Human Race begins the second half of its 29th season with Tennessee William's first great masterpiece, THE GLASS MENAGERIE. The production at The Human Race's downtown Dayton home at The Loft Theatre is directed by Greg Hellems and features actors Scott Hunt, Jennifer Joplin, Claire Kennedy and Drew Vidal. The preview performance of THE GLASS MENAGERIE is tomorrow, February 4. Opening night is Friday, February 5. The production runs through February 21. BroadwayWorld has a first look at the cast in action below!
Memories come alive and love becomes desperate in this shimmering drama of a family on the edge. Tom struggles to make it in a modern day world while his reclusive sister hides amongst the small glistening crystalline creatures she collects. Their mother holds tight to a fantasy of Southern gentility and the belief that a certain gentleman caller will be the answer to their problems. With an edge as sharp as broken glass, it's a story that cuts deep into the longing of human hearts. Even after Williams went on to win two Pulitzer Prizes for A Streetcar Named Desire and Cat on a Hot Tin Roof, his THE GLASS MENAGERIE was heralded as a defining work that changed the American Theatre and opened up new ways of writing dramatic literature.
The four-member cast of The Human Race's production features two of the company's Resident Artists, native Daytonian Scott Hunt (Rent and LES MISERABLES on Broadway, Big River and Shenandoah with HRTC) as the troubled son, "Tom," and Cincinnati's Jennifer Joplin (HRTC's Miracle on South Division Street, Other Desert Cities and God of Carnage) as his mother, "Amanda," as well as Wright State University graduate Claire Kennedy (HRTC's Lend Me a Tenor, Twelfth Night, Romeo and Juliet) as sister "Laura" and Ball State University assistant professor Drew Vidal (The Three Musketeers at Illinois Shakespeare Festival, Red Light Winter at Shafer Street Playhouse) as the gentleman caller, "Jim."
Earlham College professor Eric Barker's (The Repertory of St. Louis, CATCO, Richmond Shakespeare Festival) set combines a stylistic setting with real world furnishings in his first turn as scenic designer for The Human Race. Local artist/designer Ayn Kaethchen Wood (The Zoot Theatre Company, Yellow Springs Kids Playhouse, HRTC's Under a Red Moon) serves as costume designer. Resident Artist John Rensel returns to set the mood as lighting designer. Sound designer Jay Brunner (HRTC's The Santaland Diaries, The Full Monty, Family Shots) has created an original musical score to accompany the action onstage. Kay Carver is the production stage manager. The show's producer is Human Race Associate Artistic Director Tara Lail.
Tickets and performance information on THE GLASS MENAGERIE are available at www.humanracetheatre.org or by calling Ticket Center Stage at (937) 228-3630, and at the Schuster Center box office.
Photo Credit: Scott J. Kimmins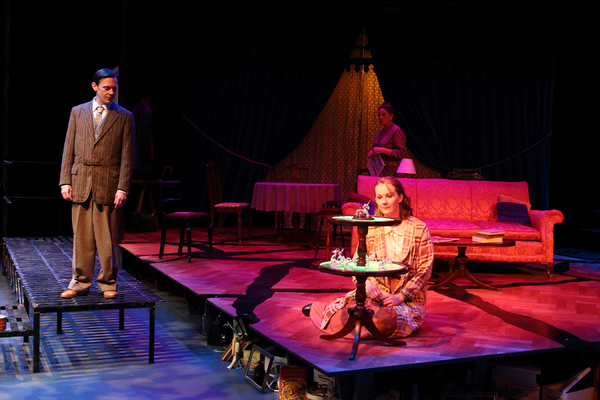 Scott Hunt, Claire Kennedy and Jennifer Joplin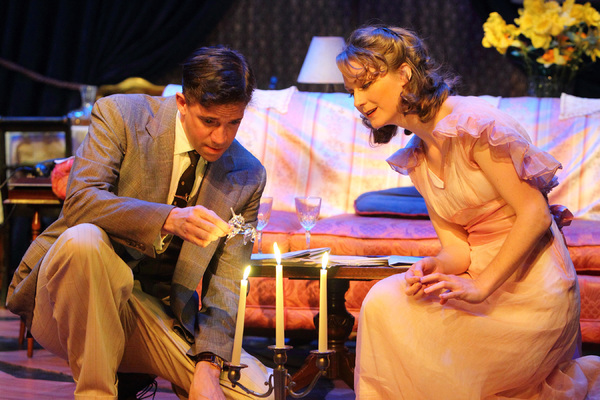 Drew Vidal and Claire Kennedy